VÍCTOR MANUELLE estrena la parte visual de su aclamado álbum MEMORIAS DE NAVIDAD
Haz clic AQUÍ y sigue la lista de reproducción navideña de Víctor Manuelle para participar en el sorteo de un CD autografiado
MIAMI (11 de diciembre de 2020) – El renombrado artista tropical puertorriqueño y dos veces ganador del Latin GRAMMY® Víctor Manuelle celebra el éxito de su ambicioso álbum Memorias De Navidad (2019) con el estreno de la parte visual de esta propuesta por su canal de YouTube mañana 12 de diciembre a la 1:00 p.m. ET. Este álbum alcanzó la posición #1 en el listado Latin Album Sales de Billboard por 6 semanas estableciendo un récord histórico como el álbum navideño con más semanas consecutivas en dicho listado y uno de los más exitosos en los últimos años.
Este especial se transmitió por primera vez el año pasado en la televisión puertorriqueña, y ahora todos los seguidores de Víctor Manuelle pueden disfrutar de este proyecto. El disco se postuló para el Latin GRAMMY® 2020 por Mejor Álbum de Salsa, y está nominado al GRAMMY® 2021 en la categoría de Mejor Álbum Latino Tropical. En la más reciente entrega del Latin GRAMMY®, Víctor también fungió como uno de los maestros de ceremonias, y actuó en un homenaje a Héctor Lavoe "El Cantante".
Contando con solo material original, donde se incluyen cinco temas escritos por el mísmo Víctor, cada canción y video de Memorias De Navidad conllevan un trasfondo y un claro propósito. Su evocador título también se refiere a la importancia de los recuerdos, ya que el padre de Víctor falleció en 2018, después de su batalla con el Alzheimer.
En este especial, Víctor interpreta el papel de un abuelo contento de pasar la temporada con sus seres queridos: "Es la narración de lo que son las memorias navideñas a través de un abuelo que está con la condición de Alzheimer. Y se va contando a sus nietos en esta fiesta familiar donde vemos tantas cosas que se celebran en el barrio donde se identifican las tradiciones, las amistades, las fiestas. Donde vemos el regreso de familiares a su casa en Navidad que es lo que siempre para mi ha sido una de las tradiciones más importantes", expresó Victor.
Este ciclo musical tiene un concepto claramente definido – transferir las tradiciones de la Navidad en el Caribe a la nueva generación, donde sea que estén. Este llega casi 12 años después de su álbum navideño también nominado al Latin GRAMMY®, Una Navidad A Mi Estilo.
"Ya Se Ven Las Bombillitas" pone en marcha el álbum, presentando la anticipación de la temporada venidera, anunciándose por las familias decorando los hogares. "Quiero Parranda" cuenta la historia de un esposo que lleva a su esposa a locura cuando le dice su intención de hacer fiestas en su casa en los días 24, 25 y 31 de diciembre.
"PR Está En Mi Casa" va dedicado a la diáspora puertorriqueña, motivando a los que están lejos de casa a reunirse con sus compatriotas amigos y vecinos, y llevar a cabo los festejos navideños al estilo de Puerto Rico. De esta canción, nos lleva hacia "Ay, Ven en Navidad", que hace el llamado a la tierra aún más explícito, reconociendo la temporada navideña como el momento donde los puertorriqueños abarrotan aeropuertos para regresar a la calidez de su isla.
"Cántico Isabelino" (Para Desearte) es un tributo a la música salsa tradicional de Navidad de los años 1970 a 1980, incorporando el trombón e influenciado por el estilo de Willie Colón y su serie de álbumes Asalto Navideño. La celebración que fue planeada anteriormente en el álbum, se da sitio con "Parranda En Boogaloo",una pegajosa y bailable canción para empezar la fiesta.
Inyectando jocosidad a la mezcla, Víctor Manuelle hace dueto con el veterano vocalista de salsa Charlie Aponte en "El Pavochón", una canción sazonada con picardía.
Casi llegando metafóricamente al final de la temporada festiva, Víctor interpreta "Travesía de los Reyes", enfatizando la importancia de la Epifanía (6 de enero) y su tradicional costumbre de dar regalos, especialmente a los niños.
El proyecto concluye con un tema atemporal, "Yo Vivo", una canción explosiva al ritmo de bomba en la cual Víctor les recuerda a sus compatriotas Boricuas que viven en una isla paradisiaca, donde gente de todo el mundo viaja miles de kilómetros solo para visitarla por un tiempo. El video muestra el esplendoroso paisaje de Puerto Rico e incluye cameos de sus muchas celebridades.
Contando historias de la Navidad en Puerto Rico mientras que presentan escenas con familia, músicos, bailarines y la belleza natural Boricua, este especial de YouTube es el evento perfecto para impregnarse del espíritu navideño.
---
VÍCTOR MANUELLE Releases The Longform Video Of His Acclaimed Album MEMORIAS DE NAVIDAD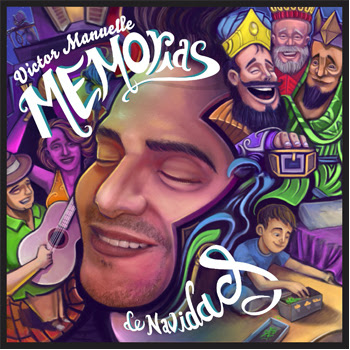 Click HERE To Follow Víctor Manuelle's Seasonal Playlist And Enter To Win An Autographed CD
MIAMI (December 11, 2020) – The renowned Puerto Rican tropical artist and 2x Latin GRAMMY® Winner Víctor Manuelle celebrates the success of his ambitious album Memorias De Navidad (2019) with the YouTube premiere of its longform video tomorrow December 12 at 1:00 p.m. ET. This album reached #1 on Billboard's Latin Album Sales chart for 6 weeks setting an all-time record as the Christmas album with the most consecutive weeks on the chart and one of the most successful in recent years.
This video special was first broadcast in 2019 on Puerto Rican television. Now, all of Víctor Manuelle's followers can enjoy this expertly crafted project. The LP was nominated for Best Salsa Album at the 2020 Latin GRAMMYs®, where Víctor co-hosted and participated in a tribute to the legendary salsa singer Héctor Lavoe(1946-1993). It is also nominated for Best Latin Tropical Album at the 2021 GRAMMYs®.
Comprising all-original material including five tracks written by Víctor himself, each song and video of Memorias De Navidad come with a backstory and a clear purpose. Its evocative title also refers to the importance of memories, as Víctor's father passed away in 2018 after a battle with Alzheimer's.
In the video special, Víctor weaves the songs' storylines together by playing the role of a grandfather: "It's the narration of Christmas memories from the point of view of a grandfather who has Alzheimer's. And he tells stories to his grandchildren in this family get-together where we see so many things that are celebrated in the barrio, where we can identify the traditions, the friendships, the parties. Where we witness families returning home which for me has always been one of the most important traditions," expressed Victor.
This song cycle has a clearly defined concept – passing down the traditions of Christmas in the Caribbean to a new generation, wherever they may live. It comes some 12 years after his Latin GRAMMY®-nominated Christmas album Una Navidad A Mi Estilo.
"Ya Se Ven Las Bombillitas" (The Christmas Lights Are Appearing) kicks off the album with anticipation about the upcoming season, heralded by families hanging decorations. "Quiero Parranda" (I Want a Bash) tells the story of a husband who drives his wife to distraction by declaring his intention to throw house parties on December 24, 25 and 31.
"PR Está En Mi Casa" (Puerto Rico Is In My Home) turns to the Puerto Rican diaspora, encouraging those far from home to get together with their Boricua friends and neighbors and carry on the traditions of Christmas celebrations Puerto Rico style. This song leads into "Ay, Ven en Navidad" (Come At Christmas), which makes the call of the homeland even more explicit, recognizing the Christmas season as a time when Puerto Ricans make their way through airports to return to their island's warmth.
"Cántico Isabelino" (Para Desearte) (To Wish You) is a tribute to classic Christmas salsa music of the 1970s and 1980s, incorporating trombone and influenced by the style of Willie Colón's seminal Asalto Navideño albums. The bash that was being planned earlier in the album gets going on "Parranda En Boogaloo," a catchy, easy-to-dance track that's a real party-starter.
Injecting some jocosity into the mix, Víctor Manuelle duets with the veteran salsa vocalist Charlie Aponte on "El Pavochón" (The Big Turkey), a song stuffed with cheeky humor.
Reaching the end of the holiday season, Víctor interprets "Travesía de los Reyes" (Journey of the Wise Men), emphasizing the importance of the Epiphany (January 6) and its traditional role in gift-giving, especially for children.
The project concludes with a non-seasonal track, "Yo Vivo" (I Live), a bomba-styled song in which Víctor reminds his fellow Boricuas that they come from a paradisiacal isle that people travel from thousands of miles away just to visit. The video shows off Puerto Rico's gorgeous scenery and includes cameos from its many celebrities.
Telling the stories of Christmas in Puerto Rico through its scenes of family, musicians, dancers and Puerto Rico's natural beauty, the YouTube premiere of Memorias De Navidad is the perfect event to get us into the Christmas spirit.
Sigue a VÍCTOR MANUELLE en // Follow VÍCTOR MANUELLE on:
www.facebook.com/victormanuelleonline
www.twitter.com/victormanuelle
www.instagram.com/victormanuelleonline