VÍCTOR MANUELLE estrena el video de su tema "DECIDÍ TENER PANTALONES" que forma parte de su álbum LADO A LADO B
Míralo AQUÍ
MIAMI (6 de septiembre de 2022) – El reconocido cantante, compositor y productor, Víctor Manuelle, estrenó el nuevo video oficial de su tema "Decidí Tener Pantalones", que forma parte de su exitosa producción discográfica Lado A Lado B, la cual, ha tenido una gran aceptación por parte del público y sus fans desde su lanzamiento oficial.
"Decidí Tener Pantalones" es un tema que servirá de himno a las personas que se arman de valor para salir de relaciones en las que no se sentían valoradas y se despiden de la relación; la canción fue compuesta por Romeo Santos y cuenta con un arreglo de Jay Lugo.
"Este tema es una composición de Romeo Santos, porque yo le pedí que me escribiera, ya que quería algo que tuviera su estilo particular. Decidí tener pantalones es la frase que se utiliza cuando se toman cartas en el asunto, y uno se cansa de seguir sufriendo en la relación. Es una canción que es completamente de despecho, que me vuelve a los inicios de mi carrera", expresó el artista.
Cabe destacar, que el video musical de esta exquisita salsa, bajo la dirección de Justin Graham, fue filmado en la ciudad de Medellín, Colombia; en donde se puede apreciar la historia de una pareja, una relación que refleja el significado de esta canción, en donde el cantante aparece en cada una de las escenas, interpretando la canción como si estuviera narrando la historia de esa mujer que le pone punto final a esa mala relación para seguir adelante.
Para ver el video oficial de "Decidí Tener Pantalones", haz clic AQUÍ.
Lado A Lado B es la nueva propuesta musical de Víctor Manuelle, publicada el pasado mes de abril en la que rinde un homenaje a la salsa de la época de la década de 1970 y en el que logra rescatar la voz del "Sonero del Pueblo", Marvin Santiago, con su recordado "Fuego a la jicotea" (1979). Para escucharlo y/o descargarlo, haz clic AQUÍ.
En esta nueva entrega musical, Víctor Manuelle ofrece arreglos musicales muy agresivos para el bailador fanático de la salsa vieja, los que va refrescando con la integración de sonidos urbanos.
Víctor Manuelle es reconocido por ser uno de los primeros en su género en tener colaboraciones con artistas del género urbano en sus producciones. El entonces dúo de reggaetón Héctor y Tito fue el primero en unirse al salsero en el tema "Ay Amor" y tuvieron una presentación juntos en el concierto en el Carnegie Hall de Nueva York. Luego, figuras como Yomo, Tego Calderón, Don Omar, Voltio, Jowell y Randy, Bad Bunny y Yandel, entre otros, han colaborado con el salsero en sus producciones musicales de salsa.
Por otro lado, cabe mencionar que el superastro multiplatino, Víctor Manuelle, será galardonado este fin de semana en la Ciudad de Nueva York, con el premio el premio David Melendez Lifetime Achievement por el Congreso Internacional de la Salsa (NYISC) de la mano del Museo Internacional de la Salsa (ISM),  por su dedicación a la enseñanza de la salsa y por su extraordinaria carrera como ícono de este género latino.
---
VÍCTOR MANUELLE Releases New Music Video "DECIDÍ TENER PANTALONES" From His Latest Album LADO A LADO B
Watch HERE
MIAMI (September 6, 2022) – Renowned singer, songwriter and producer, Victor Manuelle, released his latest music video for single "Decidí Tener Pantalones," off his latest album Lado A Lado B, which has received critical acclaim since its release.
"Decidí Tener Pantalones" is destined to become an anthem for all of those who have the courage to leave unhealthy relationships. The track was written by Romeo Santos with musical arrangements by Jay Lugo.
"This song was composed by Romeo Santos. I asked him to write it for me because I really wanted something with his particular style. 'Decidí Tener Pantalones' is an expression used when one takes control of one's life. It is a song about heartbreak and moving on, and it takes me back to the beginnings of my career," the artist expressed.
The music video for this amazing salsa track, directed by Justin Graham, was filmed in Medellin, Colombia. The video follows the story of a couple, a relationship that reflects the lyrics of this song, featuring the singer as a storyteller.
To watch the official video for "Decidí Tener Pantalones," click HERE.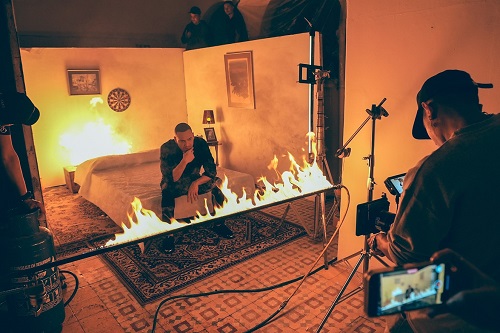 Lado A Lado B is Victor Manuelle's twentieth studio album under the Sony Music Latin label. In this production, "Lado A" (Side A) is devoted to very modern sounds, with collaborations from the urban side that captures the attention of the new generation. "Lado B" (Side B), on the other hand, contains traditional sounds and elements, recorded on two-inch tape, which includes analog sounds, live musicians, a grand piano and all the instrumental styles of the 70s and 80s, when salsa became popular. To listen to and/or download it, click HERE.
Victor Manuelle is recognized for being one of the pioneers in his genre and for his collabs with urban artists in his productions. Reggaeton duo Héctor y Tito were the first to join the salsa artist in the song "Ay Amor". Since then, artists such as Yomo, Tego Calderón, Don Omar, Voltio, Jowell y Randy, Bad Bunny and Yandel, among others, have collaborated with the artist.
In addition, Victor Manuelle will be honored this weekend in New York City with the David Melendez Lifetime Achievement Award by the International Salsa Congress (NYISC) and the International Salsa Museum (ISM) for his dedication to Salsa education and his extraordinary career as an icon of this Latin genre.
Sigue a Víctor Manuelle en / Follow Víctor Manuelle on:
www.instagram.com/victormanuelleonline
www.facebook.com/victormanuelleonline