ROMBAI y JOHN C lanzan su sencillo y video "RECONÓCELO"
El sencillo y video ya se encuentran disponibles en todas las plataformas digitales de música
MIAMI (3 de diciembre de 2020) – Mezclando la cumbia urbana con el reggaetón, Rombai colabora con el cantante y rapero argentino John C en el rítmico y romántico single "Reconócelo". Esta canción ya se encuentra disponible en todas las plataformas digitales de música, y el video oficial se podrá disfrutar en el canal de YouTube de Rombai.
Los respectivos estilos de Rombai y John C se complementan a la perfección en esta canción que es de la autoría de ambos y es producida por Dime Lauro, quien también ha colaborado con Rombai en éxitos como "Me Voy", "2 Pa 2" y "Ganitas".
La letra intrigante se trata del deseo de convertir una aventura amorosa en una relación de pareja: "Baby reconócelo, que fui yo, al que le escribías cuando él no te contestó".
Rombai (Fer Vazquez) originario de Uruguay, afirma que este tema tiene fuertes influencias urbanas: "'Reconócelo'es una canción bien especial para mi. La participación de mi amigo John fue la clave para que la combinación de la cumbia y lo urbano se escuche tan cool. Me encanta el sonido que logramos. Trabajar con John y su equipo es increíble, lo admiro y respeto mucho como artista, y me pone muy feliz compartir de esta manera la linda amistad que tenemos. Tenemos mucha fe en esta canción. El video quedó súper fresh y acompaña súper bien a la canción. ¡Salimos con todo, estamos motivados! Esperamos que les guste tanto como a nosotros. ¡Si te encanta, RECONÓCELO en tus redes sociales…!"
John C se dio a conocer en grande este año por su gran éxito viral "C90", y desde ese momento sigue creciendo exponencialmente su proyecto musical.
Cargado de imágenes metafóricas, el videoclip fue filmado en Buenos Aires y Miami por el director Davy Space y el co-director Whaire.
"Reconócelo" sigue los pasos de "Te Extraño 🙁 Remix", el éxito de Rombai junto a MYA y Montano que nos fascina de principio a fin con su mezcla de voces, versos y géneros que nos brindan lo mejor que el movimiento musical joven de Sudamérica nos tiene que ofrecer.
Acerca de ROMBAI:
El uruguayo Fer Vázquez es el vocalista principal, compositor y productor de Rombai. Este grupo que nació en el 2013 llegó a firmar con Sony Music Latin y WK Entertainment en el 2018. Rombai llegó a dominar las listas de popularidad con "Me Voy", su primer sencillo de la mano de Sony, que sobrepasa los 147 millones de reproducciones en YouTube además de 55 millones en Spotify. El lanzamiento de "Me Voy (Remix)" junto a Abraham Mateo y Reykon retomó una fuerza imparable. "Me Voy" recibió RIAA Disco de Oro en Estados Unidos y Puerto Rico, al igual que Triple Disco de Platino en Chile, y Disco de Platino en Argentina, Perú y Uruguay. Adicionalmente, las plataformas digitales se han unido a este movimiento, y el grupo estelarizó la portada de la lista de reproducción oficial de Spotify "Esto Es Cumbia". Su segundo sencillo "2 Pa' 2" cuenta con más de 48 millones de vistas y 30 millones de streams de audio, y se ha colocado en el Spotify Top 50 en Uruguay, Bolivia y Ecuador. En el 2019, Rombai fue nominado a Los Premios HEAT como Mejor Artista Sur, y a los Premios Juventud como La Nueva Generación Urbana. El grupo fue nombrado por Billboard como 10 Latin Artists To Watch in 2019 gracias a su impresionante desarrollo internacional en el 2018. Rombai describe su estilo como cumbia-urbana.
---
ROMBAI  And JOHN C Release Their Single And Video "RECONÓCELO"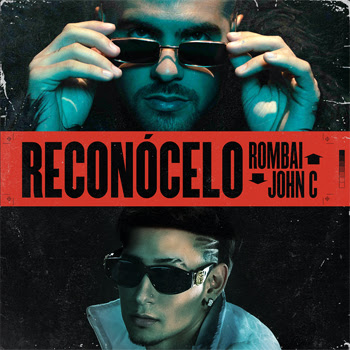 The Audio And Video Are Available Now On All Digital Music Platforms
MIAMI (December 3, 2020) – Mixing urban cumbia with reggaetón, Rombai collaborates with the emerging Argentine singer and rapper John C on the rhythmic and romantic single "Reconócelo" (Acknowledge It). This song is available on all digital music platforms, and the official video can be enjoyed on Rombai's YouTube channel.
The respective styles of Rombai and John C are perfect complements on this song written by both artists and produced by Dime Lauro, who has also collaborated with Rombai on hits such as "Me Voy", "2 Pa 2" and "Ganitas."
With intriguing lyrics, "Reconócelo" tells the story of a taboo fling that has a chance to turn into a relationship: "Baby reconócelo, que fui yo, al que le escribías cuando él no te contestó" (Baby acknowledge it, that it was I who you texted when he ghosted you.)
Fer Vázquez, Uruguay native and Rombai vocalist notes that this song has strong urban influences: "'Reconócelo'is a very special song for me. The participation of my friend John was the key to making such a cool combination of cumbia and urban styles. I'm thrilled with the sound we came up with. Working with John and his team is incredible. I admire and respect him greatly as an artist, and it makes me very happy to share our friendship in this way. We have a lot of faith in this song. The video came out really fresh and is the perfect companion to the music. We're giving it our all, we are very motivated! We hope that you like it as much as we do. If you love it, 'acknowledge it' on social media…!"
John C vaulted to fame this year with his hip-hop smash "C90," and from that moment his musical project continues to grow exponentially.
Filled with metaphorical images, the music video was filmed in Buenos Aires and Miami by the director Davy Space and co-director Whaire.
"Reconócelo" follows in the steps of "Te Extraño 🙁 Remix," the hit single by Rombai with MYA and Montano that engages us from beginning to end with its attractive mix of voices, verses and styles that display the best that South America's young talent has to offer.
About ROMBAI:
The Uruguay native Fernando "Fer" Vázquez is the lead vocalist, songwriter and producer of Rombai. Founded in 2013, it signed with Sony Music Latin and management company WK Entertainment in 2018. Rombai burst onto the international Latin charts with its first Sony single, "Me Voy," which has surpassed 147 million YouTube views and 55 million Spotify streams. The release of "Me Voy (Remix)" featuring Abraham Mateo and Reykon gave this song renewed momentum. "Me Voy" went RIAA-certified Gold in the United States and Puerto Rico, Triple Platinum in Chile, and Platinum in Argentina, Uruguay and Peru. Major streaming services have eagerly added Rombai to their curated playlists, and the group recently appeared on the cover of Spotify's "Esto Es Cumbia" list. Their second single "2 Pa' 2" has over 48 million YouTube views and 30 million audio streams. It made the Spotify Top 50 in Uruguay, Bolivia and Ecuador. In 2019, Rombai was nominated at Los Premios HEAT for Best Artist (South), and at Premios Juventud for The New Urban Generation. In addition, Billboard named the group to its 10 Latin Artists To Watch in 2019 on the heels of its 2018 breakout. Rombai describes its style as cumbia-urbana.
Sigue a Rombai // Follow Rombai on: