REIK y RAUW ALEJANDRO unen sus talentos y versatilidad artística con la canción del verano "LOQUITA"
REIK han sido anunciados como finalistas en dos categorías de los Premios Billboard de la Música Latina 
MIAMI (13 de agosto del 2021) – El grupo musical mexicano más escuchado del mundo, Reik, realizan el estreno de su nuevo sencillo "Loquita" junto al artista internacional, Rauw Alejandro. Siendo uno de los pocos actos del pop latino que han logrado realizar una transición perfecta hacia una fascinante fusión de géneros, el aclamado grupo multi-platino continúa manteniéndose a la vanguardia de la música latina, logrando expresar su versatilidad artística y mostrando nuevas facetas que les permiten marcar tendencias y lanzar música refrescante. 
Con su nuevo sencillo, "Loquita", Reik unen talentos junto a uno de los artistas más populares del momento, Rauw Alejandro, logrando sumergir a los oyentes en un mundo vibrante, perfecto para escuchar y disfrutar en este verano. "Loquita" ya se encuentra disponible en todas las plataformas digitales de música.
La nueva canción fue escrita por Reik de la mano del aclamado compositor y productor colombiano, Keityn – creador de éxitos como "Perfecta", "Tusa", "Hawaii", "Agua", entre otros. Los artistas lograron indagar en las influencias del reggaetón, entregando una faceta más lenta, pegajosa y vibrante del género. El tema se enriquece con el talento y las melodías cautivantes que aporta Rauw Alejandro, mientras que entrega una interpretación atrevida y transcendental de parte de REIK. Por su parte, el video musical fue dirigido por Fernando Lugo, donde los artistas presentan la canción en medio de un escenario fantasioso y alucinante, lleno de colores, diversión y un estilo influenciado por el arte psicodélico. El video ya se encuentra disponible por el canal de YouTube de Reik.
Demostrando su estatus como uno de los actos más prominentes de la música latina, recientemente Reik fueron anunciados como finalistas para la próxima edición de los Premios Billboard de la Música Latina 2021. Los artistas participan en las categorías, "Artista 'Latin Pop' del Año, Dúo o Grupo" y "Canción 'Latin Pop' del Año" por su éxito "Si Me Dices Que Sí" junto a Farruko y Camilo.
En los últimos meses, REIK ha causado gran impacto tras el éxito de su último sencillo "Perfecta" junto a Maluma. Desde su estreno, la canción ha generado más de 38 millones de streams combinados a nivel mundial y más de 27 millones de visitas en su video musical en YouTube. Dominando los listados y conquistando las plataformas digitales de música, la canción debutó dentro del Top 10 del listado "Top Global Songs Debut" de Spotify. Asimismo, alcanzó la posición #7 en el listado "Latin Pop Airplay" de Billboard y entró en los listados de "Hot Latin Songs", "Latin Rhythm Airplay", "Latin Digital Song Sales" y "Latin Airplay".
---
REIK & RAUW ALEJANDRO Release The Perfect Mid Summer Song Demonstrating
Their Artistic Versatility With New Single "LOQUITA"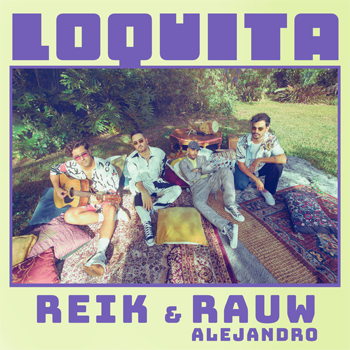 Reik Were Announced 2X Finalist At The Billboard Latin Music Awards 2021
MIAMI (August 13, 2021) – The most listened to Mexican group in the world, Reik, released their new single "Loquita" alongside one of the most prominent artists in Latin music, Rauw Alejandro. As one of the few Latin pop acts that have seamlessly transitioned their music into a fusion of genres, the acclaimed multi-platinum group remains at the forefront of Latin music, managing to further prove their artistic versatility and showing new facets that allow them to set new trends and release refreshing records. Uniting their talents with one of the hottest artists of the moment, this new single immerses listeners in a vibrant world, making it a perfect song for the summer. "Loquita" is now available on all digital music platforms. 
The song was written by Reik at the hand of acclaimed Colombian composer and producer, Keityn – creator of hits such as; "Perfecta," "Tusa,""Hawaii" and "Agua," among others. The artists were able to incorporate the influence of reggaeton with a more slow jam feel yet catchy vibe. The track is enriched with the talent and captivating melodies of Rauw Alejandro, while also providing a daring and transcendental performance from Reik. The official music video was directed by Fernando Lugo, sets a fun summer tone, amidst a fanciful and hallucinatory setting, full of colors, fun and style influenced by psychedelic art. The video is now available on Reik's YouTube channel.
Proving their status as one of the most prominent acts of the Latin music industry, Reik were recently announced as finalists for the upcoming Billboard Latin Music Awards 2021, in the following categories: "Latin Pop Artist of the Year, Duo or Group" and "Latin Pop Song of the Year" for their hit song "Si Me Dices Que Sí" with Farruko and Camilo. In recent months, Reik also made an impact with the success of their latest single "Perfecta" alongside Maluma. The song has generated over 38 million worldwide streams and the official video has amassed more than 26 million views to date. Dominating the charts and conquering digital music platforms, the song debuted within the Top 10 of Spotify's "Top Global Songs Debut" list. Similarly, it peaked #7 on the "Latin Pop Airplay," chart by Billboard and it entered the "Hot Latin Songs," "Latin Rhythm Airplay," "Latin Digital Song Sales" and "Latin Airplay" charts.   
Sigue a Reik en // Follow Reik on: