RAUW ALEJANDRO llega al puesto #1 como artista principal por primera vez en su carrera con "TATOO – REMIX" en colaboración junto a CAMILO
MIAMI (10 de septiembre de 2020) – Hoy, la estrella emergente de la música latina Rauw Alejandro ocupa el puesto #1 de las listas "Latin Airplay" y "Latin Rhythm Airplay" de Billboard con su éxito "Tattoo – Remix" junto a Camilo. ¡Haz clic aquí para escucharlo! Este sencillo ha obtenido Doble Disco de Platino en Estados Unidos, Platino en México y España, al igual que Oro en Colombia. El tema ha acumulado más de 129 millones de streams, y el video ha superado los 252 millones de views en tan solo dos meses. Provocando revuelo en las redes, esta canción se ha convertido en un fenómeno de TikTok, apareciendo en más de 2.5 millones de videos creados por los usuarios. El hashtag #TattooChallenge ha generado más de 633 millones de views.
Tanto Rauw como Camilo han participado como invitados en otros temas que han llegado al #1. Rauw colaborando con Sebastian Yatraen"TBT" y Camilo junto a Reik en "Si Me Dices Que Sí".
El lanzamiento más reciente de Rauw es "Elegí – Remix," con Dalex y Lenny Tavarez, feat. Anuel AA, Dimelo Flow, Farruko, Justin Quiles y Sech. Su versión original "Elegí" feat. Dimelo Flow rápidamente fue certificada Doble Platino por la RIAA en Estados Unidos y obtuvo más de 179 millones de streams en Apple Music y Spotify.
Próximamente tendremos más música nueva de Rauw, mientras su álbum debut Afrodisíaco se espera para finales de año.
---
RAUW ALEJANDRO Lands First #1 Song With "TATTOO – REMIX"
In Collaboration With CAMILO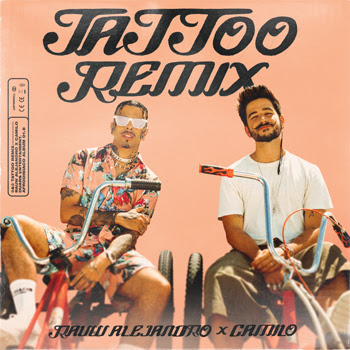 MIAMI (September 10, 2020) – Today, rising Latin star Rauw Alejandro landed his first #1 song on Billboard's "Latin Airplay" and "Latin Rhythm Airplay" charts with "Tattoo – Remix" — Listen to the track here! "Tattoo – Remix" with Camilo has reached 2X Platinum in U.S. Latin and Peru, Platinum in Mexico and Spain, and Gold in Colombia. The track has amassed over 129M streams, with the video hitting a staggering 252M views in just two months. A viral phenomenon, the song has also dominated on the video platform, TikTok. Users have posted more than 2.6M videos using the song, and the hashtag #TattooChallenge has garnered more than 633M views.

Rauw and Camilo have both been previously featured on #1 songs, with Rauw on Sebastian Yatra's "TBT" & Camilo on Reik's "Si Me Dices Que Sí."

Rauw most recently released "Elegí – Remix," with Dalex and Lenny Tavarez, feat. Anuel AA, Dimelo Flow, Farruko, Justin Quiles and Sech. The original version of "Elegí" feat. Dimelo Flow quickly achieved 2X Platinum certification by the RIAA in the U.S. and exploded on digital platforms, garnering more than 179M streams combined between Apple Music and Spotify.

More new music from Rauw is on the way, with his debut album Afrodisíaco coming later this year.


Sigue a Rauw Alejandro en // Follow Rauw Alejandro on:
www.instagram.com/rauwalejandro/
www.twitter.com/rauwalejandro/
www.facebook.com/rauwalejandro/
www.youtube.com/rauwalejandro/
Sigue a Camilo en // Follow Camilo on: