RAUW ALEJANDRO lanza su sencillo "TODO DE TI SUMMER REMIX" junto a CALEB CALLOWAY
Haz clic AQUÍ para escucharlo
Haz clic AQUÍ para escuchar VICE VERSA, el nuevo álbum de Rauw que continua en el puesto #1 en ventas
MIAMI (23 julio de 2021) – La sensación de la música latina Rauw Alejandro hoy lanza "Todo De Ti Summer Remix" junto a Caleb Calloway y El Zorro.
Haz clic AQUÍ para escucharlo.
Este remix llega trás el rotundo éxito de su álbum VICE VERSA, el cual debutó en el puesto #1 de la lista Top Latin Albums de Billboard, convirtiéndose en su primer #1 en ventas en Billboard. Esta producción ha obtenido Disco de Platino en los Estados Unidos. Con más de 290 millones de streams, este disco sigue en la cima de las listas Top Latin Albums y Latin Rhythm Albums. Su éxito multi-Platino (6X) "Todo De Ti" cuenta con más de 376 millones de reproducciones de audio y video. Esta canción rompió récord en España con 1.68 millones de streams en un solo día, llegando al puesto #1 in España, México, Colombia, Chile, Perú, Costa Rica, El Salvador, Guatemala, Panamá, Nicaragua, Honduras, y la República Dominicana. "Todo De Ti" viene acompañado de un video muy nostálgico dirigido por Marlon Peña, que nos deleita con una actuación especial del legendario jugador de baloncesto Shaquille O'Neal. Este cortometraje también destaca las excelentes coreografías y el carisma natural de Rauw. Haz clic AQUÍ para verlo.
La semana pasada, Rauw Alejandro emprendió su gira masiva por los Estados Unidos, la cual continuará hasta el 18 de septiembre. Haz clicAQUÍ para conseguir entradas.
---
RAUW ALEJANDRO Drops "TODO DE TI SUMMER REMIX" With CALEB CALLOWAY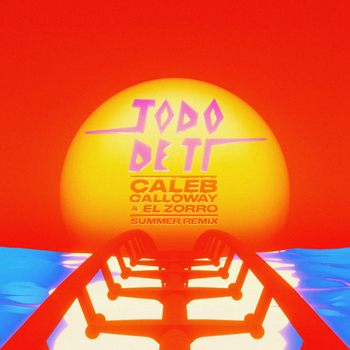 Rauw's #1 Album VICE VERSA Is Out Now. Listen HERE
MIAMI (July 23, 2021) – Today, breakout Latin music sensation, Rauw Alejandro released "Todo De Ti Summer Remix" with Calleb Calloway and El Zorro.
Listen HERE.
The remix follows the massive success of Rauw's explosive platinum album VICE VERSA, which debuted at #1 on Billboard's Top Latin Album chart, making it Rauw's first #1 album on any Billboard albums chart. With more than 290 million streams, he currently holds the #1 spot for both Top Latin Album and Latin Rhythm Albums. The 6X platinum hit "Todo De Ti," boasts over 376 Million streams to date. The song broke records in Spain with 1.68 million streams in a single day, reaching the top of the charts in Spain, Mexico, Colombia, Chile, Peru, Costa Rica, El Salvador, Guatemala, Panama, Nicaragua, Honduras, and the Dominican Republic. "Todo De Ti" is paired up by an atmospheric video directed by helmer Marlon Peña, boasting a guest appearance by basketball legend Shaquille O'Neal. A video that showcases both Rauw's dancing abilities and his natural charisma. Watch it HERE.
Earlier this month Rauw Alejandro kicked off a monumental U.S. Tour, which will run through September 18th. Get tickets HERE.
Sigue a Rauw Alejandro en // Follow Rauw Alejandro on:
www.instagram.com/rauwalejandro/
www.twitter.com/rauwalejandro/
www.facebook.com/rauwalejandro/