RAUW ALEJANDRO lanza su sencillo "ALGO MÁGICO (R3HAB REMIX)" acompañado por un video vibrante
Haz clic AQUÍ para conseguir su álbum más reciente Afrodisíaco
MIAMI (11 de marzo de 2021) – El día de hoy, la estrella emergente de la música latina Rauw Alejandro hace mancuerna con el productor y DJ neerlandés-marroquí R3HAB para lanzar "Algo Mágico (R3HAB Remix)", una brillante versión del tema que forma parte de su álbum Doble Platino Afrodisíaco. Escúchalo AQUÍ. R3HAB aporta nuevos sabores a esta canción que ha acumulado más de 70 millones de reproducciones en YouTube, 57 millones de streams, y 150 mil videos publicados en TikTok desde su lanzamiento en junio 2020. Dirigido por Sebastián Mejía y filmado en Carolina, Puerto Rico, por Buena Vibra Group, el nuevo video animado continúa el concepto propuesto por el video original, retratando un viaje de ensueño y romanticismo.
Rauw llena este remix de frescura, colaborando con el renombrado DJ R3HAB, un innovador de la música dance durante la última década, incluyendo himnos mundiales como "Give Me Everything" de Afrojack, Pitbull y Ne-Yo, al igual que "All Around The World (La La La)" y "Lullaby", los cuales han acumulado más de 600 millones de streams en total.
Originalmente lanzado en junio 2020, "Algo Mágico" narra la historia de una relación que comienza sin compromisos para luego convertirse en un fuerte romance de sentimientos honestos.
El sencillo anterior de Rauw Alejandro es "Perreo Pesau",tema que dio mucho de que hablar y que sigue los pasos de "Baila Conmigo", su colaboración con Selena Gomez, cuyo video oficial ha acumulado 61 millones de reproducciones, haz clic AQUÍ para verlo. Rauw recientemente publicó el video musical de "Dile a El",otro éxito que se desprende de Afrodisíaco. Haz clic AQUÍ para disfrutar de este cortometraje que cuenta con más de 13 millones de vistas.
Lanzado en noviembre 2020, Afrodisíaco se ha hecho acreedor a doble disco de Platino en Estados Unidos y América Latina, superando los 2.7 mil millones de streams de audio y video hasta la fecha.
Afrodisíacotambién llegó al puesto #1 en la lista Latin Albums de Apple Music, y al puesto #2 en la lista mundial de estrenos de Spotify. Rauw celebró el éxito de su álbum en la 21a entrega anual del Latin GRAMMY®, donde dio una actuación explosiva y recibió una nominación a "Mejor Nuevo Artista".
Afrodisíaco se destaca con artistas invitados de la talla de Anuel AA, J Balvin, Trippie Redd, Wisin & Yandel, Tainy, Zion, Lennox, Arcángel, Myke Towers, Sky Rompiendo, Dalex, Lenny Tavárez, Farruko, Sech, Dímelo Flow, Camilo y más.
---
RAUW ALEJANDRO Drops "ALGO MÁGICO (R3HAB REMIX)" Accompanied By Electric New Video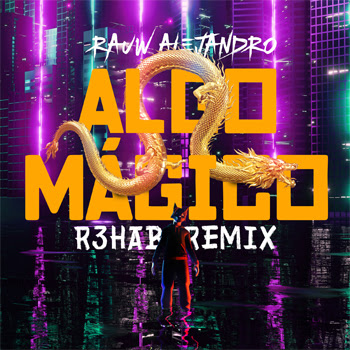 Get Rauw's Latest Album Afrodisíaco HERE
MIAMI (March 11, 2021) – Today, Breakout Latin music sensation Rauw Alejandro teamed up with Dutch/Moroccan DJ and producer R3HAB to release "Algo Mágico (R3HAB Remix)," an electrifying new dance remix of the hit track off his 2X Platinum album Afrodisíaco. Listen to it HERE. R3HAB brings a new twist to the original version which has amassed over 70M YouTube views, 57M+ streams, and 150K+ TikTok videos since its June 2020 release. Rauw also dropped a unique new video for the remix directed by Sebastián Mejía and filmed in Carolina, Puerto Rico by Buena Vibra Group. Watch it HERE. The animated video takes on the same vibe as in the original, a fantasy trip full of romanticism.
Rauw gives the track whole new vibe by collaborating with superstar DJ R3HAB, who has been trailblazing his way through dance music for the better part of the last decade. From his breakthrough hit remix of Afrojack, Pitbull and Ne-Yo's "Give Me Everything" to his dance anthems, such as "All Around The World (La La La)" and "Lullaby," which have collectively amassed over 600M streams.
Originally released in June 2020, "Algo Mágico" tells the story about a relationship that starts casually but unexpectedly turns into a strong romantic situation with true and honest feelings.
Most recently, Rauw Alejandro made waves by releasing a new video for "Perreo Pesau," which came on the heels of his recent collaboration with Selena Gomez on "Baila Conmigo." The official video for "Baila Conmigo" has already reached a staggering 61 Million views to date. Check it out HERE. Rauw alsorecently released the music video for "Dile a El", another popular song from the hit album. The video has garnered 13 million views to date, check it out HERE.
Released in November 2020, Afrodisíaco has reached 2x Platinum status in the U.S. and Latin America with over 2.7 billion audio and video streams to date. Afrodisíaco also hit #1 on Apple Music's Latin Albums and #2 on Spotify's Top 5 Debut Albums Worldwide. Rauw celebrated the success of his album at the 21st annual Latin GRAMMYs®, where he was nominated for "Best New Artist," and took the stage to perform.
Afrodisíaco includes superstar features from Anuel AA, J Balvin, Trippie Redd, Wisin & Yandel, Tainy, Zion, Lennox, Arcángel, Myke Towers, Sky Rompiendo, Dalex, Lenny Tavárez, Farruko, Sech, Dímelo Flow, Camilo and more.
Sigue a Rauw Alejandro en // Follow Rauw Alejandro on:
www.instagram.com/rauwalejandro/
www.twitter.com/rauwalejandro/
www.facebook.com/rauwalejandro/