PLAY-N-SKILLZ unen fuerzas en su nuevo sencillo "TRANKI" junto a DE LA GHETTO y ÑENGO FLOW
MIAMI (1 de junio de 2021) – El dúo de productores de éxitos globales, Play-N-Skillz, lanzan su nuevo éxito "Tranki" junto a los legendarios músicos y artistas del género urbano, De La Ghetto y Ñengo Flow. La canción, con un video que la acompaña, rinde homenaje al estilo latino inspirado en el hip-hop sureño de los principios del dúo. "Tranki" ya se encuentra disponibles en todas las plataformas digitales.

Para "Tranki", Play-N-Skillz querían llevar a los fanáticos de regreso al lugar donde el dúo comenzó su ilustre carrera incorporando todos los sonidos, ritmos y flows por los que se han dado a conocer y al mismo tiempo rindiendo homenaje a sus raíces. Para darle vida al tema, contaron con la ayuda de Ñengo Flow y De La Ghetto, quienes con su destreza lírica distintiva y sus flows dominantes llevaron la canción a convertirse en lo que Play-N-Skillz había imaginado. La canción comienza primero con un solo de guitarra del artista emergente Rey Santana que establece el tono y proporciona el ritmo subyacente con el que Play-N-Skillz construyó la canción. El dúo de productores y los artistas crearon este tema que no solo es emotivo musicalmente, sino también líricamente, además de que tejen una historia sobre la recuperación después de un desamor.

Play-N-Skillz reveló: "Consideramos que 'Tranki' es un tema de calle que tiene un elemento pop muy contagioso. Al escribir la canción, imaginamos colaborar con legendarios artistas urbanos en ella para darle vida. Ahí es donde entraron Ñengo Flow y De La Ghetto. Cuando les mostramos la canción, a ambos les encantó lo que teníamos visualizado para este tema. "Tranki" es un tema latino de calle mezclado con toques de hip-hop y nos lleva de regreso a nuestras raíces de Play-N-Skillz. Los fanáticos podrán escuchar nuestro hip-hop de Texas con tambores de hip-hop sureño con letras y melodías en español que culminan con una producción clásica de Play-N-Skillz. También queríamos crear algo con un mensaje fuerte y "Tranki" lo logra con su letra que detalla una historia de redención después de una ruptura o una situación amorosa difícil. El cuidado personal y el amor propio es muy importante y ese es el mensaje principal de la canción".

El video, filmado en Miami, Florida fue dirigido por Michael García y producido por 305 Films. A pesar de las emociones sombrías que retrata la canción, Michael García muestra la sensación del video con tonos y matices esperanzadores en todo momento. Tanto Ñengo Flow como De La Ghetto están acompañados por bailarines mientras entregan sus conmovedoras líneas sobre la recuperación después de sentirse desconsolados y traicionados por sus ex intereses amorosos. Intercalados a lo largo del video, los fanáticos pueden ver a Play-N-Skillz tocando en su mesa de producción, lo que agrega un ambiente divertido de club nocturno al video.

Previo a "Tranki", Play-N-Skillz lanzó su exitosa canción "Billetes" junto al ícono de la música puertorriqueña Nicky Jam y el prometedor artista mexicano Natanael Cano. La canción fue una forma para que el artista líder en las listas y el dúo de productores rindieran homenaje al ajetreo diario requerido para salir adelante en la vida y lograr realmente los mayores objetivos. El tema acumuló más de 4.12 millones de vistas en YouTube. "Bésame", su canción con los pioneros de la músicaDaddy Yankee y Zion & Lennox, obtuvo más de 37.2 millones de vistas en YouTube y más de 50 millones de reproducciones globales. Play-N-Skillz también hizo historia en la música con su canción "Lo Siento", junto a SUPER JUNIOR y Leslie Grace, que se convirtió en el primer himno de K-Pop en aparecer en las carteleras de Billboard Latin. El dúo de productores también se unió al súper grupo K-Pop en 2018 para su gira de estadios en Sudamérica y México. Play-N-Skillz también ha recibido varias certificaciones de la RIAA: "Si Una Vez" fue certificada 4x Platino, "Azukita" 2x Platino, "Bésame" 1x Platino, "No Es Ilegal" 1x Platino y "Cuidado" Oro.
---
PLAY-N-SKILLZ Release Latest Single "TRANKI" Alongside DE LA GHETTO & ÑENGO FLOW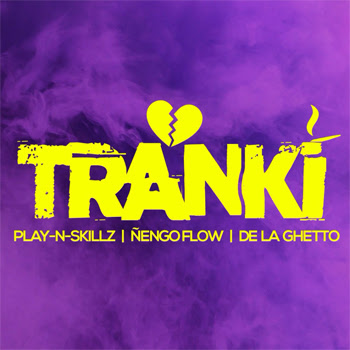 MIAMI (June 1, 2021) – Global hit making producing duo, Play-N-Skillz, releases their latest hit song "Tranki" alongside legendary Urbano musicians and artists De La Ghetto and Ñengo Flow. The song, with accompanying video, plays homage to the duo's early Southern hip-hop inspired Latin flair. "Tranki" and its video are available now for streaming on all digital platforms.

For "Tranki," Play-N-Skillz wanted to take fans back to where the duo began their illustrious career by incorporating all the sounds, rhythms, and flows that they have become known for while also paying tribute to their roots. To bring the song to life, they enlisted the help of Ñengo Flow and De La Ghetto, who with their distinctive lyrical prowess and commanding flows pushed the song to become what Play-N-Skillz had envisioned. The song first begins with a guitar solo from emerging artist Rey Santana setting the tone for the song as well as providing the underlying rhythm with which Play-N-Skillz built the song. The producing duo and artists created a song that not only is emotive musically, but also lyrically as well as they weave a story about bouncing back after a heartbreak.

Play-N-Skillz revealed, "We consider 'Tranki' a street record that is laced with a very catchy pop element to it. When writing the song, we envisioned collaborating with legendary Urban artists on it to really bring it to life. That's where Ñengo Flow and De La Ghetto came in. When we played them the song, they both loved what we were going for. 'Tranki' is a Latin Street record laced with hip-hop vibes and takes us back to our Play-N-Skillz roots. Fans will get to hear our Texas hip-hop layered with Southern hip-hop drums with Spanish lyrics and melodies culminating with a classic Play-N-Skillz sonic production. We also wanted to create something with a strong message as well and 'Tranki' achieves this with its lyrics detailing a story of redemption after a breakup or a tough love situation. Self-care and self-love is very important and that's the main premise of the song."

The video, which was filmed in Miami, Florida was directed byMichael Garcia and produced by 305 Films. Despite the sombered emotions the song portrays, Michael Garcia exposed the feel of the video with hopeful tones and hues throughout. Both Ñengo Flow and De La Ghetto are accompanied by dancers as they deliver their poignant lines about bouncing back after feeling heartbroken and betrayed by their former leading ladies. Interspersed throughout the video fans get glimpses of Play-N-Skillz as well manning their production table adding a fun nightclub vibe to the video.

Prior to "Tranki," Play-N-Skillz released their hit track "Billetes" alongside Puerto Rican music icon Nicky Jam and up-and-coming Mexican artist Natanael Cano. The song was a way for the chart-topping artist and producing duo to pay tribute to the everyday hustle required to get ahead in life and truly achieve one's biggest goals. The song amassed over 4.12 million views on YouTube. "Bésame," their song with music pioneers Daddy Yankee and Zion & Lennox, garnered over 37.2 million views on YouTube and over 50 million global streams. Play-N-Skillz also made music history with their song "Lo Siento," alongside SUPER JUNIOR and Leslie Grace, which became the first K-Pop anthem to chart on Billboard's Latin Charts. The producing duo also joined the K-Pop super group in 2018 for their stadium tour across South America and Mexico. Play-N-Skillz has also received several certifications from the RIAA: "Si Una Vez" went 4x Platinum, "Azukita" went 2x Platinum, "Bésame" went 1x Platinum, "No Es Ilegal" went 1x Platinum and "Cuidado" went Gold.


Sigue a PLAY-N-SKILLZ en // Follow PLAY-N-SKILLZ on:

www.facebook.com/PlayNSkillz
www.twitter.com/playnskillz
www.instagram.com/playnskillz
www.youtube.com/user/PlayNSkillz