PLAY-N-SKILLZ Junto A Guaynaa, Ovi Y Randy Lanzan Nueva Colaboración "EL DOGGY (PERREO)"
MIAMI (11 de marzo de 2022) – El dúo productor nominado al GRAMMY® Play-N-Skillz se apodera de las pistas de baile de nuevo con su tema contundente "El Doggy (Perreo)" junto a una baraja de estrellas de música urbana y hip-hop – Guaynaa, Ovi y Randy. Esta colaboración se encuentra disponible a partir de hoy en todas las plataformas de música digital. Con su coro avasallador de "todo lo que veo perreo perreo, a mi si me gusta perreo perreo", todo amante de la buena fiesta llegará directo a la pista de baile desde las primeras notas. Producida por Play-N-Skillz y Scott Summers, esta canción que fue grabada en los estudios The Spaceship de Miami es una fusión ardiente de trap, reggaetón, música electrónica y rap americano. "Siempre estamos buscando unir diferentes culturas y sonidos y con esta canción en particular queríamos volver a nuestras raíces de DJ y de hip-hop y mezclar el perreo con el estilo del Louisiana bounce club en una canción", comentó Play-N-Skillz. "Sentimos que juntamos a los artistas perfectos en una canción única. Con las letras y el flow de Guaynaa, el clásico y legendario perreo de Randy, con la nueva escuela y el ambiente carismático de Ovi, tenemos la fórmula ganadora". Play-N-Skillz de nuevo reafirma su gran habilidad de unir artistas de clase mundial para crear un tema alquimista. El cantante de reggaetón Guaynaa representa la nueva oleada de talento de Puerto Rico, mientras su coterráneo Randy mezcla su trayectoria experimentada y Ovi nos deleita con su sabor cubano. "Trabajar junto a Play-N-Skillz ha sido un gran honor para mí, este dúo hace magia con la música y estoy seguro de que 'El Doggy (Perreo)' será el próximo éxito que sonará en todo el mundo" expresó Guaynaa. "El Doggy (Perreo)" promete ser un himno de fiestas y reuniones esta temporada. ¡Sube el volumen y disfrútala! El lanzamiento de "El Doggy (Perreo)" viene tras otros recientes triunfos para Play-N-Skillz, incluyendo "Baila Asi" junto a Thalia, Becky G y Chiquis, "Tranki" junto a De La Ghetto y Ñengo Flow, "Billetes" junto a Nicky Jam y Natanael Cano, y "Bésame" junto a Daddy Yankee y Zion & Lennox. Acerca De Play-N-SkillzCon más de una década de trayectoria, el dúo de hermanos de ascendencia argentina/venezolana Juan "Play" y Oscar "Skillz" Salinas, quienes pasaron su infancia en Dallas, se perfilan como uno de los equipos de producción/DJ más aclamados de la industria. Play-N-Skillz saltaron a la fama a principios del milenio produciendo éxitos de la talla de "Got Money" de Lil Wayne y "Ridin (Dirty)" de Chamillionaire. Su sonido ha evolucionado a través de los años, y han cosechado el éxito en géneros tan distintos como EDM, Latino, Hip-Hop, Pop, Trap, y K-Pop. En el 2016, firmaron con Latium Entertainment/Sony Music Latin, y un año después tuvieron un éxito con su nueva versión de "Si Una Vez", grabada originalmente por Selena. Además, sobresalieron con su éxito latino "No Es Ilegal" junto a Daddy Yankee. Quedaron como finalistas en los Premios Billboard por Dúo/Grupo del Año en dos años consecutivos. En el 2018, se convirtieron en los primeros artistas latinos en tener seis sencillos actuales a través de seis géneros musicales, incluyendo el mega-éxito "Azukita" junto a Steve Aoki, Daddy Yankee, y Elvis Crespo. Además, hicieron historia produciendo la primera canción K-Pop en aparecer en las listas latinas de Billboard.
---
PLAY-N-SKILLZ With GUAYNAA, OVI And RANDY Release Their New Collaboration "EL DOGGY (PERREO)"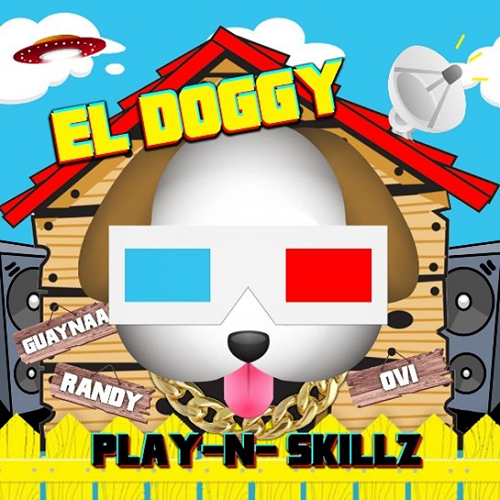 MIAMI (March 11, 2022) – GRAMMY® nominated production duo Play-N-Skillz reigns over the dancefloor with its powerful track "El Doggy (Perreo)" with a plethora of leading lights of hip-hop and Latin urban music – Guaynaa, Ovi and Randy. This collaboration is available today on all digital streaming platforms. With its imposing chorus of "todo lo que veo perreo perreo, a mi si me gusta perreo perreo," every partygoer will make a beeline for the dancefloor from the very first listen. Produced by Play-N-Skillz and Scott Summers, this song which was recorded in Miami's The Spaceship studios is a fiery fusion of trap, reggaeton, EDM and American rap. "We are always looking to bring different worlds and sounds together and with this particular song we wanted to go back to our DJ and hip-hop roots and mix the perreo and Louisiana bounce club feeling on a song," shared Play-N-Skillz. "We feel like we grouped the perfect artists to come together for this fresh song. With Guaynaa's lyrics and flow, Randy's classic legendary perreo, to the new school and charismatic vibe of Ovi, we feel like it's a great formula." Play-N-Skillz reaffirms their outstanding ability to bring together world-class artists who create something even greater than the sum of their contributions. The reggaeton vocalist Guaynaa represents the new wave of talent from Puerto Rico, while his countryman Randy contributes his experience and confidence and Ovi delights us with his Cuban flow. "Working with Play-N-Skillz has been a great honor for me, this duo makes magic with music and I'm sure that 'El Doggy (Perreo)' will be the next hit to be played around the world" expressed Guaynaa. "El Doggy (Perreo)" promises to be a party and club anthem this season. Turn it up and enjoy it! The release of "El Doggy (Perreo)" follows in the footsteps of other recent hits for Play-N-Skillz, including "Baila Asi" with Thalia, Becky G and Chiquis, "Tranki" with De La Ghetto and Ñengo Flow, "Billetes" with Nicky Jam and Natanael Cano, and "Bésame" with Daddy Yankee and Zion & Lennox.
About Play-N-SkillzWith a career spanning over a decade, the Dallas-bred brotherly duo, Juan "Play" and Oscar "Skillz" Salinas have built a name for themselves as one of the most respected DJ/production teams in the industry. Play-N-Skillz got their big break in the mid-2000s producing hits such as Lil Wayne's, "Got Money" and Chamillionaire's "Ridin (Dirty)." Throughout their careers, they have gradually evolved their sound and talent for global reach amongst genres like EDM, Latin, hip-hop, pop, trap, and K-Pop. Signing to Latium Entertainment/Sony Music Latin in 2016, they topped the charts in 2017 with their hit remake of the classic Selena song, "Si Una Vez" and their Latin break-out record, "No Es Ilegal" ft. Daddy Yankee. They were named Latin Billboard Award finalists for Best Duo/Group for two consecutive years. In 2018 they made history becoming the first Latin artists to have six simultaneous releases across six different genres, including the smash "Azukita" alongside Steve Aoki, Daddy Yankee, and Elvis Crespo. They also made history by producing the first ever K-Pop song to break onto the Billboard Latin charts. Sigue a PLAY-N-SKILLZ en // Follow PLAY-N-SKILLZ on:
www.facebook.com/PlayNSkillz
www.twitter.com/playnskillz
www.instagram.com/playnskillz
www.youtube.com/user/PlayNSkillz