PEDRO CAPÓ presenta su nuevo tema "VOLVER A CASA"
La canción llega luego de que el artista entrara al "Billions Club" de Spotify gracias a su éxito "Calma Remix", que sobrepasó mil millones de reproducciones
MIAMI (15 de septiembre de 2022) – El cantautor puertorriqueño Pedro Capó lanza hoy su nuevo tema "Volver A Casa", una balada con un toque pop/urbano donde el artista abarca el sentimiento de la soledad, la decepción, la tristeza y el anhelo de estar junto a sus seres queridos. Escúchala AQUÍ.
"Es un tema muy personal de experiencias vividas en lo que es esta carrera donde puedes estar rodeado de muchas personas y a la vez sentirte solo. Después de canciones que eran más alegres como 'Gracias', que también es una muy personal, quise exponer otro tipo sentimiento con el que muchas personas también se pueden identificar. No todo es tan bonito y perfecto como queremos aparentar, esa es la realidad y hay mucha gente pasando por momentos difíciles", expresó el ganador de dos Latin GRAMMYs®.
El video de "Volver A Casa" fue filmado en el pueblo de Ceiba, Puerto Rico y sigue al cantante en un estado de desesperación mientras está solo en casa. A medida que sus pensamientos toman control, el apartamento comienza a temblar y las cosas comienzan a desmoronarse. Dándole vida a la letra de la canción, el video demuestra cuando estás perdido y quieres volver a casa. Añadiéndole a la intimidad de la canción, al principio del video se ve una foto de los hijos de Capó.
Para el sencillo "Volver A Casa", que ya está disponible en todas las plataformas digitales, se realizó un video en el pueblo de Ceiba, Puerto Rico donde se ve al cantante y actor solo en un apartamento y en el que se aprecia al principio una fotografía junto a sus tres hijos.
Recientemente el cantante y compositor multi-Diamante se unió al "Billions Club" de Spotify gracias a su éxito "Calma Remix", la cual ya cuenta con más de mil millones de reproducciones.
---
PEDRO CAPÓ  Releases His New Song "VOLVER A CASA"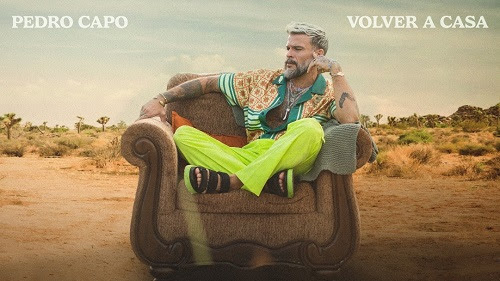 The Song Arrives Shortly After The Artist Made It To Spotify's "Billions Club" With His Song "Calma Remix," Which Surpassed A Billion Streams
MIAMI (September 15, 2022) – Today, Puerto Rican singer-songwriter Pedro Capó releases his new song "Volver A Casa" a ballad with a pop-urban touch, in which the artist conveys the feelings of loneliness, disappointment, sadness, and the longing to be with his loved ones. Listen HERE.
"It's a very personal track that shares the experiences lived in this career, where you can be surrounded by people yet feel alone. After songs that were more cheerful like 'Gracias,' which is also a very personal one, I wanted to express another feeling that people can also identify with. Not everything is as nice and as perfect as we want to pretend, that's the reality and there are many people going through difficult times," said the two-time Latin GRAMMY® winner.
The video for "Volver A Casa" was filmed in the town of Ceiba, Puerto Rico and follows the singer in a state of despair while home alone. As he begins to dwell in his thoughts the apartment begins to shake and things begin to fall apart, giving life to the lyrics' description of the feeling when you're lost and want to return home. Furthering adding to the intimacy of the song is a photo of Capó's children you see at the beginning of the video.
Recently, the multi-Diamond singer and songwriter joined Spotify's "Billions Club" thanks to his hit "Calma Remix."
Sigue a Pedro Capóen // Follow Pedro Capó on: