PALOMA MAMI anuncia que su muy esperado álbum debut SUEÑOS DE DALÍ se lanzará el 19 de marzo y hoy estrena la visualización de su nuevo sencillo "RELIGIOSA"
MIAMI (18 de febrero de 2021)— Hoy, la emergente artista global Paloma Mami anunció que el 19 de marzose lanzará su muy esperado álbum debut Sueños de Dalí. El álbum ya se puede pre-ordenar y cuenta con cuatro temas como instant grat (gratificación instantánea): "Mami", "Goteo", "For Ya" y "Religiosa".Haz clic AQUÍ para pre-ordenar Sueños de Dalí.
Simultáneo con el estreno del álbum, Paloma estrenó "Religiosa", el nuevo tema de su álbum — haz clic AQUÍ para escucharlo y AQUÍ para ver la visualización de la canción.
Hablando sobre su producción discográfica, Paloma Mami comentó "Decir que estoy emocionada es poco. Este es mi primer álbum y estoy ansiosa por compartirlo con el mundo. Cada canción te lleva por un viaje distinto y sé que te identificarás con cada uno de las vivencias y los sentimientos que comunico a través de ellas".
Paloma Mami comenzó el 2021 con mucho impulso, lanzando el video oficial de su gran éxito con Major Lazer, "QueLoQue". Haz clic AQUÍ para verlo. En noviembre 2020, estrenó el video musical de su sencillo "For Ya,"que ha superado los 9.5 millones de vistas. Un mes antes, Paloma dio la premiere de "Goteo", que cuenta con más de 13.7 millones de reproducciones.
Acerca de Paloma Mami:
La artista chilena nacida en Nueva York provocó revuelo en las redes en el 2018 con "Not Steady", lanzado de manera independiente y siendo el primer tema que había grabado en toda su vida. El éxito de este sencillo la llevó a firmar un contrato en exclusiva con Sony Music Latin. Después de su descubrimiento, Paloma decidió enfocar toda su energía y pasión en establecer su carrera musical. Sus esfuerzos la convirtieron en la primera artista chilena de su generación en tener la potencial de alcanzar la fama mundial. En tan solo dos años de trayectoria, Paloma ha generado más de 1 billón de streams y cuenta con más de 1.8 millones de suscriptores en YouTube. Se ha hecho acreedora de discos de Multi-Platino, Platino y Oro, y su música es admirada por artistas de la talla de Maluma, J Balvin y Farruko entre otros. Con su voz a la vez poderosa y vulnerable, su música fusiona géneros como urbano, R&B, trap y soul, creando un sello único. A Paloma Mami le queda muy claro lo que quiere lograr a través de su música.
---
PALOMA MAMI Set To Release Anticipated Debut Album SUEÑOS DE DALI On March 19TH Drops Electric Visualizer For New Single Today
"RELIGIOSA"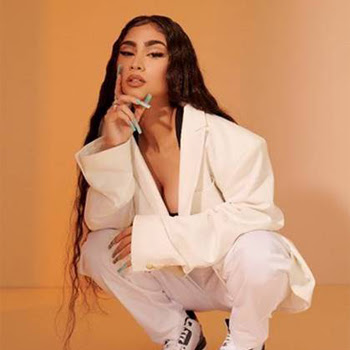 MIAMI (February 18, 2021) – Today, rising global artist Paloma Mami announced her anticipated debut studio album Sueños de Dali is set for release on March 19th. The countdown to Sueños de Dali is on as album pre-orders launch today with 4 instant grat tracks "Mami," "Goteo," "For Ya," and new song "Religiosa." Pre-order Sueños de Dali HERE.
Alongside todays album announcement, Paloma released a new track off her forthcoming album, "Religiosa" — listen to it HERE. Paloma also debuted a visualizer accompanying the new song — watch it HERE.
When asked about her debut album, Paloma Mami said, "I'm overwhelmed with excitement to say the least. This is my first album, and I can't wait to share it with the world. Every song takes you on a different journey and I know so many will identify with each of these moments and feelings that I've expressed through each song."
Paloma Mami started off 2021 with a bang, dropping the official music video for her hit with Major Lazar, "QueLoQue" — watch it HERE. In November 2020, she released the video for single "For Ya," which has garnered over 26 million worldwide audio and video streams. Paloma also released "Goteo" in October, which has more than 46 million worldwide audio and video streams to date.
About Paloma Mami:
Paloma Mami The New York born, Chilean artist exploded onto the scene in 2018 with her independently released single "Not Steady," a Spanglish viral sensation that left a huge digital footprint. The track was the first she ever recorded (!) and set her up to ink her first major recording contract. After her discovery, Paloma decided to focus her efforts and passion on establishing a musical career. Her efforts have proved to be successful, as she is the first Chilean artist of her generation with the potential to become a global artist. In only 2 years, Paloma has generated 1B+ Streams WW, 1.8M+ YouTube subscribers and has released various multi-platinum, platinum and gold singles capturing the eye of some of Latin music's biggest names including Maluma, J. Balvin and Farruko amongst others. With a delicate but powerful voice, her music mixes Latin Urban, R&B, and Trap/Soul, creating an undeniably unique sound. Paloma Mami is very clear about what she intends to accomplish with her music.
Sigue a Paloma Mami en // Follow Paloma Mami on: