OMAR MONTES lleva el sonido global del flamenco urbano al mundo con su sencillo "VETE" junto a CAMELA
MIAMI (24 de junio de 2021) – La estrella del flamenco urbano Omar Montes le dice al mundo por qué es el artista que ha logrado, en un tiempo record, el éxito y el reconocimiento en España; y ahora va a luchar por conseguir lo mismo en los mercados internacionales empezando con su sencillo "Vete", junto al querido dúo español de tecno-rumba, Camela. La canción y el video musical ya se encuentran disponibles en todas las plataformas digitales de música.
Omar ha liderado el movimiento de la música trap en España desde finales de la década del 2010, ganando millones de fanáticos con su profunda voz, amor por el género, su atractivo sentido de la moda y habilidad natural para fusionar estilos españoles en sus composiciones. Recientemente Omar Montes, firmó con Sony Music Latin y tiene muchos proyectos emocionantes por venir.
Camela por su parte, tomó a España por asalto en la década de los noventa al crear una mezcla irresistiblemente bailable de rumba y música de club.
Omar canta esta canción para todos los que han buscado el valor para terminar con una pareja poco confiable: "Vete de mi vida y vete para siempre, coge tus maletas…"
Dirigido por Gus Carballoen Madrid, el video musical deja en claro el respeto mutuo entre Omar Montes y Camela, ya que ambos artistas iluminan la pantalla con su carisma en este video nocturno y con temática de vampiros que seguramente deleitará a los seguidores de toda la vida de cada artista, así como a los nuevos oyentes.
Acerca de Omar Montes:
Omar Montes es uno de los creadores de la nueva escena trap y de la vanguardia urbana en España y uno de los artistas españoles con mas éxito de los últimos años.
Continuando con la tradición que empezó a finales de la década de los '70, de fusionar el flamenco con ritmos afroamericanos se ha convertido en unos de los máximos exponentes del nuevo "flamenco urbano" fusionando trap, hip hop, EDM,reggae y reggaetóncon flamenco.
Después del éxito cosechado con sus primeras canciones y videoclips como "CONMIGO" junto a Moncho Chavea, "FUEGO" o "PANTERA", entre otros singles de gran repercusión, a primeros del 2019 Omar Montes lanzó su primer álbum, LA VIDA MARTIR, realizando firmas de discos por toda España.
Después del lanzamiento de su primer albúm Omar vivió una enorme explosión de popularidad mediática al convertirse en el ganador de SUPERVIVIENTES 2019 con un 40,6% de cuota de pantalla, anotando un rating histórico del programa.
Ha lanzado varias canciones que han entrado al top 50 directamente y ha conseguido una gran cantidad de discos de Oro y Platino con la mayoría de ellos. Estos son algunos de sus lanzamientos más importantes: "Prendio" junto a RVFV y DAviles de Novelda, "Pegamos tela" con Lerica y Abraham Mateo, "Hola Nena" junto a Nyno Vargas, "Mas y Mas" con Ñengo Flow, "Normal que se lo crea" con Daviles de Novelda y Rvfv, "Rueda Remix" con Chimbala, "No puedo amar" con Rvfv y "Fake Capo Remix" con Karetta El Gucci.
Durante varios meses del 2020 Omar Montes fue el único artista español con 4 canciones colocadas en el top 50, 5 en el top 100 y 6 canciones en el top 200 de España y ha acabado el año siendo el artista español mas reproducido en las plataformas digitales (Spotify, Apple Music, Amazon, Deezer, Tidal, etc). Todo un logro para un artista que empezó grabando canciones por encargo para eventos familiares.
Con estos datos, Omar Montes se ha convertido en uno de los artistas urbanos mas importante del mercado español y ya está mostrar su talento a nivel internacional a través de sus exitosos temas y de las nuevas canciones que nos tiene reservadas para este 2021.
---
OMAR MONTES Bring Urban Flamenco's Global Sound To The World With Their Single "VETE" With CAMELA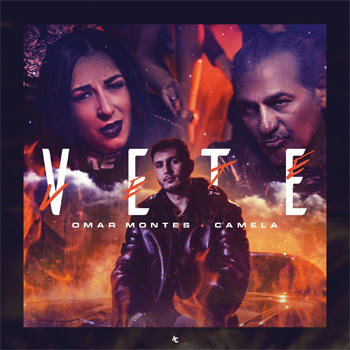 MIAMI (June 24, 2021) – The urban-flamenco star Omar Montes is showing the world why his native Spain embraced his music so swiftly. He makes a giant step toward international fame on his single "Vete" (Get Out),with the beloved Spanish techno-rumba duo Camela. The song and video are available now from all digital-music platforms.
Omar has led the trap-music movement in Spain since the late 2010s, winning over millions of fans with his deep voice, his love of the genre, his attractive fashion sense, and his natural ability to fuse Spanish styles into his compositions. Recently signed to Sony Music Latin, he has many exciting projects in store.
Camela took Spain by storm in the 1990s by creating an irresistibly danceable mix of rumba and club music.
Omar sings this song for everyone who has sought the courage to break up with an untrustworthy partner: "Vete de mi vida y vete para siempre, coge tus maletas…" (Get out of my life and leave forever, pack your bags).
Directed by Gus Carballoin Madrid, the music video makes the mutual respect between Omar Montes and Camela clear, as both artists light up the screen with their charisma on this wild, nocturnal, vampire-themed video that's sure to delight longtime fans of each artist, as well as new listeners.
About Omar Montes:
OMAR MONTES is one of the creators of the Spanish trap scene, where he remains on the cutting edge as a leader of the movement.
Breaking ground in the same vein as the late 1970s flamenco fusions with African American rhythms, Omar Montes has become known as a prominent figure in urban flamenco, mixing trap, hip hop, EDM, reggae and reggaetón with flamenco.
After gaining notoriety with his early singles such as "Conmigo" (With Me) with Moncho Chavea, "Fuego" (Fire) and "Pantera" (Panther), Omar Montes in early 2019 released his debut album La Vida Martir (The Martyr Life), a record that led to him being highly sought-after at public appearances and autograph signings.
Shortly thereafter, he became an audience favorite on the 2019 season of Survivor in Spain, where he won the contest in a program that received a 40.6 percent share, the highest ever in the series' history.
Several of his singles in 2020 debuted in the Top 50 while earning multiple Gold and Platinum certifications in Spain. Among them: "Prendio" (Lit Up) with RVFV and Daviles de Novelda; "Pegamos Tela" (Rubbing Fabric) with Lerica and Abraham Mateo; "Hola Nena" (Hello Babe) with Nyno Vargas; "Más y Más" (More and More) with Ñengo Flow; "Normal que Se lo Crea" (Not Surprising That She Would Believe It) with Daviles de Novelda and RVFV; "Rueda Remix" with Chimbala; "No Puedo Amar" (I Cannot Love) with RVFV; and "Fake Capo Remix" with Karetta El Gucci.
Throughout several months of 2020, Omar was the only Spanish artist with four songs in the Top 50, five in the Top 100 and six in the Top 200 Spanish charts. He finished the year as the most-streamed Spanish artist on digital platforms (Spotify, Apple Music, Amazon, Deezer, Tidal, etc). It's been an amazing ride for an artist who started out recording songs by request for family events.
Now, Omar Montes is ready to further his reach to international audiences as he prepares more musical surprises throughout 2021.

Sigue a Omar Montes en // Follow Omar Montes on:
www.instagram.com/omarmontesofficial/