NICKY JAM & MYKE TOWERS unen fuerzas en el nuevo sencillo "POLVO"
Disponible en todas las plataformas digitales
MIAMI (20 de noviembre del 2020) -Un atrevido, sensual y muy urbano Nicky Jam, anuncia el lanzamiento de su nuevo sencillo "Polvo", acompañado de uno de los grandes representantes de la nueva generación de intérpretes del género urbano: Myke Towers. Su esperada colaboración está disponible en todas las plataformas digitales de música, incluyendo su videoclip oficial en la plataforma de videos YouTube.
Uno de los grandes pioneros del género urbano Nicky Jam, sigue enamorando a sus fanáticos con su estilo orgánico y genuino, y con esas canciones que crean tendencias y marcan un antes y un después en la historia de la música en español. En esta oportunidad, Nicky Jam se une a Myke Towers, en una muy esperada colaboración musical por los fanáticos del género, en el tema "Polvo".
Esta canción de índole sensual, con un concepto muy urbano, surgió de la composición de sus mismos intérpretes junto a Sky Rompiendo, Andrés Jael Correa, Juan Diego Medina y Gerald Oscar Jiménez. El mismo, fue producido por Sky Rompiendo y grabado por Saga Whiteblack, bajo las alas del sello disquero La Industria INC/Sony Music Latin.
El tema se estrena con con su videoclip oficial, de la mano de la casa productora Cinema Giants y bajo la dirección el reconocido cineasta Mike Ho. El video musical posee un concepto muy sensual y moderno, pero, con una historia entrelazada con final sorpresa, que convertirá está producción audiovisual de alta gama, en una pieza insigne en la carrera de Nicky Jam.
Escucha "Polvo"en tu plataforma digital favorita de música.
Acerca de Nicky Jam:
Nick Rivera Caminero, Nicky Jam, es uno de los pioneros del reggaetón en el mundo. A los 11 años de edad grabó su primer álbum llamado "Diferente a los Demás". Nicky Jam llegó a lo más alto de su carrera al lograr varios hits radiales como: "Yo no Soy tu Marido", "Me voy Pal Party", "Fiel a tu Piel", "La Combi Completa", entre otros, que lo llevaron a viajar por el mundo entero y a convertirse en uno de los exponentes internacionales más grandes del género. Se vio obligado a detener su carrera por 3 años debido a problemas personales. En el 2013, debutó su nueva imagen y volvió más fuerte que nunca. Marcó cinco éxitos en la radio: "Piensas en Mí", "Curiosidad", "Juegos Prohibidos", "Voy a Beber" y el éxito global "Travesuras". En febrero del 2015, Nicky Jam se unió a Enrique Iglesias para lanzar "El Perdón", su sencillo más aclamado internacionalmente hasta la fecha. El Perdón alcanzó el número 1 en la lista Hot Latin Songs de Billboard durante 30 semanas (el segundo single más largo de la historia del chart). En enero de 2016, Nicky lanzó "Hasta el Amanecer", que también se convirtió en la canción latina más grande del año. En el año 2017 Nicky Jam lanza su éxito "El Amante", y su primer álbum de estudio titulado "Fenix". El sencillo "El Amante", rápidamente se convirtió en un éxito internacional, alcanzando la certificación de Platino en 7 oportunidades, al igual que su álbum, premiado con 11 certificaciones platino. En el año 2018 logra 3 nuevas nominaciones al Latin GRAMMY, y colabora en el tema "Te Boté Remix", que se convirtió en el video más visto del año a nivel mundial en YouTube. Adicionalmente, Nicky Jam tuvo el honor de cantar el tema oficial del Mundial de La FIFA 2018: "Live It Up", el cual interpretó junto a Will Smith y Era Istrefi. Su serie autobiográfica "El Ganador" se estrenó en Netflix a finales del año 2019, así como su séptimo álbum de estudio "Íntimo". Nicky Jam volvió a las pantallas del cine a inicios del 2020 en la secuela "Bad Boys For Life", actuando junto a Will Smith y Martin Lawrence. Su más reciente sencillo "Desahogo" ha generado un gran impacto a la industria musical, con más de 22 millones de reproducciones a menos de 1 mes de su estreno.
---
NICKY JAM & MYKE TOWERS Join Forces In The Release Of "POLVO"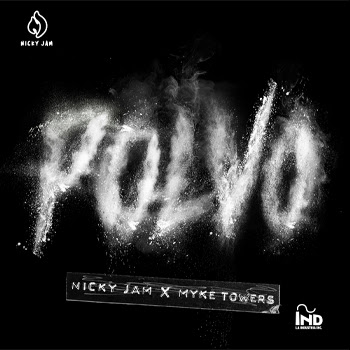 Available Today On All Digital Platforms
MIAMI (November 20, 2020) -A daring-sensual and underground Nicky Jam, announces the release of his new single "Polvo", together with one of the best urban-representatives today: Myke Towers. Their long-awaited collab is available for streaming on all digital platforms, including its official music video on YouTube.
One of the greatest urban genre pioneers Nicky Jam continues to make his fans fall in love with his organic and genuine style, and with those songs that create trends and become a before and after in the history of Spanish music. Today, Nicky Jam joins Myke Towers, in a highly anticipated musical collaboration named "Polvo".
This urban song with sensual lyrics and an underground essence was born by the composition of its interpreters, alongside Sky Rompiendo, Andrés Jael Correa, Juan Diego Medina, and Gerald Oscar Jiménez. The hit was produced by Sky Rompiendo and recorded by Saga Whiteblack, under the wings of La Industria INC/Sony Music Latin record labels.
The song premieres together with its official music video, produced by Cinema Giants and under the direction of renowned filmmaker Mike Ho. The music video has a very sensual and modern concept, with an intertwined story and a surprising ending, which will turn this state- of- the- art audiovisual production into an unforgettable piece in Nicky Jam's career.
Listen to "Polvo" on your favorite digital platform.
About Nicky Jam:
Nick Rivera Caminero, known as Nicky Jam, is recognized around the world as a pioneer of Latin Urban music. At the age of 11, he recorded his first album Diferente a Los Demás (Different From the Rest), which attracted the attention of DJs and artists in Puerto Rico. As a young adult, Nicky Jam quickly rose to the top of his genre with radio hits including "Yo No Soy Tu Marido", "Me Voy Pa'l Party", "Fiel A Tu Piel" and "La Combi Completa" among others. He toured the world and became one of Latin urban music's first international stars. He was obligated to stop his music career for 3 years, because of some major personal problems. In 2013, he debuted his new image and returned stronger than ever. He notched five radio hits: "Piensas en Mí", "Curiosidad", "Juegos Prohibidos", "Voy a Beber" and the global hit "Travesuras". In February 2015, Nicky Jam teamed up with Enrique Iglesias to release "El Perdón", his most internationally acclaimed single to date. Tallying over 1 million YouTube views on the day of its release, "El Perdón" was #1 on Billboard's Hot Latin songs charts for 30 weeks (second longest-running single in the chart's history). In January 2016, Nicky released "Hasta el Amanecer", which also became the biggest Latin song of the year. In 2017 Nicky Jam releases "El Amante" and his very first solo album "Fenix". The single "El Amante" quickly became an international hit, reaching a 7X platinum status. Same thing happened with the album, which achieved 11 platinum certifications. In 2018 he achieves three new Latin GRAMMY nominations, and collaborates with the remix "Te Boté", the song became the most watched video on YouTube globally in 2018. Additionally, Nicky Jam had the honor of recording and performing the official soundtrack of the 2018 FIFA World Cup: "Live It Up," featuring Will Smith and Era Istrefi. His autobiographical series "El Ganador" premiered on Netflix at the end of 2019, as well as his seventh studio album "Íntimo". Nicky Jam returned to the big screen in early 2020 in the sequel "Bad Boys For Life", starring alongside Will Smith and Martin Lawrence. His most recent single "Desahogo" has generated a great impact in the music industry, with more than 22 million views less than 1 month after its release.
Sigue a Nicky Jam en // Follow Nicky Jam on:
www.es-la.facebook.com/NickyJamPR