NICKI NICOLE y LUNAY lanzan su sencillo "NO TOQUE MI NAIK"
Mira el video oficial filmado en Puerto Rico AQUÍ
"No Toque Mi Naik" le sigue los pasos a su aclamada colaboración en el remix de Rochy RD "Ella No Es Tuya" que cuenta con más de 200 millones de streams y escala las listas de popularidad en Estados Unidos y Europa
Nicki se destaca en una nueva entrevista y sesión de fotos para VOGUE U.S.
Nicki ganó recientemente un Premio Lo Nuestro como "Mejor Artista Femenina Revelación"; También fue nominada a "Mejor Artista Nuevo" en el Latin GRAMMY® 2020
"Conocida por su destreza vocal y su versatilidad, esta rapera lanza "Mala Vida", un tema de filo duro con ambiente clandestino que destaca su expresiva y rítmica cadencia al hablar, además de su meliflua forma de cantar". – THE FADER

MIAMI (24 de marzo de 2021) – La artista argentina de rap/R&B Nicki Nicole y el artista urbano puertorriqueño Lunaylanzan el sencillo "No Toque Mi Naik". Esta canción es co-producida por Los Honeyboos(Rafa Rodríguez, Daniel Rondón), la alianza dinámica que ha realizado éxitos de la talla de "Tattoo Remix" (Rauw Alejandro, Camilo). El tema también cuenta con co-producción de Mauro DeTommaso y Facu Yalve (Evlay Beats), este último fue productor junto con Bizarrap del gran éxito de Nicki "Colocao".
El video de "No Toque Mi Naik" fue filmado en Puerto Rico por el director Juanky Alvarez. Este cortometraje capta la energía de la vida de isla, con sus escenas de Nicki y Lunay persiguiéndose en motos de motocross en compañía de amigos.
"El rodaje de 'NTMN' fue una experiencia increíble", Nicki afirma. "Llegué a conocer Puerto Rico, su gente, su cultura. Nos dimos un tour con Lunay, y me enseñó lugares históricos desde el Viejo San Juan hasta La Perla".
Lunay afirma que sintió química artística con la talentosa rapera y compositora, "Nos reunimos primeramente en Miami y trabajábamos en esta canción hasta altas horas de la noche. Todo fluía naturalmente. Admiro mucho a Nicki y su flow, ella se entrega por completo. Hicimos clic de una vez y me emociona poder lanzar este tema por fin".
"No Toque Mi Naik" le sigue los pasos a su elogiada colaboración en el reciente remix de Rochy RD "Ella No Es Tuya" junto a Myke Towers. Esta canción está arrasando en todo el mundo con más de 200 millones de streams en total, y recientemente se colocó en Today's Top Hits (27 millones de seguidores) la lista de reproducción más importante de Spotify.
El programa Up Next (Lo Que Sigue) de Apple Music acaba de nombrar a Nicki como artista destacada. Este logro se suma a otros hits importantes como su nominación a "Mejor Nuevo Artista" en el Latin GRAMMY® 2020 y "Revelación del Año" en Premio Lo Nuestro2021. También ha sido elegida para listas importantes como 21 Under 21 de Billboard y Latinx Artists on the Rise de Entertainment Tonight.
"No Toque Mi Naik" es el primer sencillo de Nicki del año. Su sencillo anterior como artista principal, "Verte" junto al cantante emblemático del reggae argentino Dread Mar I y el joven productor en ascenso Bizarrap, fue lanzado en diciembre. Su video musical retrata un día de campo lleno de paisajes naturales de su país natal, amistad y diversión.
Lunay también forma parte de la lista 21 Under 21 de Billboard, y su actuación en "No Toque Mi Naik" lo posiciona entre la nueva generación de estrellas de reggaetón. Después de irrumpir en las listas de reproducción y las pantallas de sus seguidores alrededor del mundo con "Soltera" que luego brilló con su aclamado remix 'Song of Summer' junto a Daddy Yankee y Bad Bunny, Lunay cuenta con dos #1 en la lista Latin Airplay, además del pocas veces logrado #1 con su álbum debut "ÉPICO," al igual que un billón de vistas en YouTube. Contando con el apoyo de super-productores de la talla de Chris Jedi, Gaby Music, y el sello de ambos Star Island, Lunay ha escalado hacia la fama, ganando importantes premios revelación como 'Nuevo Artista del Año' en los Latin American Music Awards.
Mientras continúa trabajando en el lanzamiento de su segundo álbum, este año ya ha visto a Lunay presentar una segunda colección de moda con Pull & Bear y aparecer en el estreno de la segunda temporada de la aclamada serie "Tiny Audience" de HBO con una actuación musical.
---
NICKI NICOLE And LUNAY Release New Single "NO TOQUE MI NAIK"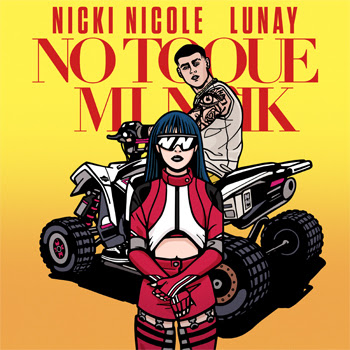 Watch The Official Music Video Filmed In Puerto Rico HERE
"No Toque Mi Naik" Follows Nicki's Recent Viral Remix For Rochy RD's "Ella No Es Tuya"; The Song Has 200 Million Total Streams And Is Charting Across The U.S. And Europe
Nicki Is Featured In A New VOGUE U.S. Interview And Photo Shoot
Nicki Recently Won A Premio Lo Nuestro For "Best New Female Artist"; She Was Also Nominated For "Best New Artist" At The Latin GRAMMYs® 2020
"A dexterous, shape-shifting MC… Nicole has an impressive, lilting spoken cadence as well as a honeyed singing voice." – THE FADER

MIAMI (March 24, 2021) – Argentine rap/R&B artist Nicki Nicole and Puerto Rican urban artist Lunay release the new single "No Toque Mi Naik." The song was co-produced by Los Honeyboos(Rafa Rodriguez, Daniel Rondon), the dynamic duo behind hits like "Tattoo Remix" (Rauw Alejandro, Camilo). It was co-produced by Mauro DeTommaso and Facu Yalve (Evlay Beats), this latter producer also worked alongside Bizarrap on Nicki's smash hit "Colocao."
The "No Toque Mi Naik" music video was directed by Juanky Alvarez and filmed in Puerto Rico. It captures the energy of island life, showcasing Nicki and Lunay chasing each other on Motocross motorcycles with friends.
"Recording the 'NTMN' video was an incredible experience," Nicki says. "I got to know Puerto Rico, the people, and its culture. We took a tour with Lunay, he showed me historical places from old San Juan to La Perla."
"We originally met in Miami and worked on this song late into the night," Lunay shares. "Everything just flowed naturally. I really admire Nicki and her flow, she goes hard. We clicked right away and I'm excited to finally have this track out."
"No Toque Mi Naik" follows Nicki's recent viral remix for Rochy RD's "Ella No Es Tuya" with Myke Towers. The song has exploded across the globe with more than 200 million total streams. It was recently added to Spotify's biggest playlist "Today's Top Hits" (27 million followers).
Nicki was just announced as a new featured artist in Apple Music's "Up Next" program. This spotlight follows her "Best New Artist"nominations at the Latin GRAMMYs® and Premio Lo Nuestro 2021. She was also selected for Billboard's '21 Under 21' and Entertainment Tonight's 'LatinX Artists on the Rise.'
"No Toque Mi Naik" is Nicki's first release of the year. It follows the breezy reggae-inspired single/video "Verte" which was released in December. "Verte" features Argentine reggae icon Dread Mar I and rising production star Bizarrap. The music video portrays a sun-dappled road trip across rural Argentina as the three artists revel in their friendship.
Also one of Billboard's '21 Under 21′ selections, Lunay's participation on "No Toque Mi Naik" continues his ascent as one of Reggaeton's top next generation stars. After bursting into playlists and video streams of fans across the world with "Soltera" and it's widely regarded 'Song of Summer' remix with Daddy Yankee and Bad Bunny, Lunay's credits already boast two #1 Latin Airplay singles, a rare #1 full album debut with "ÉPICO," and over a billion YouTube views. With the support of super-producers Chris Jedi, Gaby Music, and their Star Island label, Lunay's rapid rise has already resulted in a trophy case full of notable breakthrough artist awards including the Latin American Music Award's 'New Artist of the Year.'
As he continues work on a soon to come second album release, this year has already seen Lunay unveil a second fashion collection with Pull & Bear and appear as the season premiere performer on the return of HBO's acclaimed "Tiny Audience" series.
Sigue a Nicki Nicole en // Follow Nicki Nicole on:
www.instagram.com/nicki.nicole