NICKI NICOLE reúne a DREAD MAR I & BIZARRAP para compartir la buena vibra en su sencillo y video "VERTE"
MIAMI (11 de diciembre de 2020) – La cantante, rapera y compositora argentina Nicki Nicole, quien ha sido aclamada por Billboard por "la frescura de su R&B y soul" que ella está aportando a la explosiva escena urbana en Argentina, y quien fue halagada por The Fader como "una MC diestra" hoy lanza su alegre y divertido sencillo "Verte" junto a Dread Mar I y Bizarrap a través de Sony Music Latin/DALE Play. Haz clic AQUÍ para verlo.
Esta artista de 20 años, quien recientemente obtuvo su primera nominación al Latin GRAMMY®, en poco tiempo ha superado los 300 millones de streams con sus canciones, y cuenta con más de 6.6 millones de seguidores en Instagram. En esta ocasión, se encuentra acompañada por su entrañable colaborador de ritmos, el joven productor Bizarrap; al igual que Dread Mar I, uno de los cantantes más emblemáticos del reggae argentino y creador del éxito mundial "Tú Sin Mi".
Al estilo de reggae, Nicki Nicole nos brinda su tema más romántico hasta la fecha, mostrando su voz expresiva en el coro: "Verte es lo que me hace falta en esta ocasión, como le pico a mi interior toda esta confusión".
Nicki Nicole asegura que los tres talentos aprovecharon de su creatividad a la perfección: "Para mí, 'Verte' es una de las colaboraciones que más soñé. Dread Mar I siempre estaba sonando en mi casa, mi mamá y mis hermanos escuchaban su música. El hecho de que Bizarrap la produzca también es algo súper inesperado. Nos reunimos en Miami y cabe destacar que Biza la rompió. Honestamente, no podía creer que estaba haciendo una canción con Dread Mar I, producida por Bizarrap, fue como… no sé, era redondo todo. 'Verte' fue escrito en una hora más o menos. Mariano [Dread Mar I] y yo teníamos la melodía en la cabeza y Biza tenía el beat. Cuando terminamos nos trasmitía un montón de cosas, no podíamos dejar de cantar y bailar. Creo que lo reproducimos como 45 veces esa noche".
El cortometraje de esta canción es dirigido por Jess "La Polaca" Praznik, quien también estuvo a cargo de el video de su sencillo anterior, la superproducción "Mala Vida" que rápidamente ha superado los 20 millones de reproducciones. Haz clic AQUÍ para ver el video.
Los visuales complementan la cálida vibra de los arreglos. Después del éxito del video de "Mala Vida" que nos transporta a los 40s, "Verte" revive los 80s y las cintas familiares de video, retratando un día de campo lleno de paisajes naturales, amistad y diversión entre los tres talentosos artistas.
"Verte" sigue los pasos de sencillo debut influenciado por Drake, "Colocao" con más de 93 millones de reproducciones en YouTube – Haz clic AQUÍ para verlo; "Mamichula", su apasionante colaboración con Trueno y Bizarrap que ha superado las 216 millones de vistas, y el antes mencionado "Mala Vida".
El periódico The Guardian recientemente destacó a Nicki Nicole como "la estrella que desafía la cultura machista del rap argentino", empoderando a las artistas femeninas por todo el mundo. Además, Nicki forma parte de las prestigiosas listas "21 Under 21" de Billboard y "LatinX Artists En Ascenso" de Entertainment Tonight.
Su potencial para el estrellato mundial es también evidente en la variedad de medios estadounidenses e internacionales donde se ha perfilado incluyendo Rolling Stone,  Billboard, The Guardian, Variety, The Fader, Genius,Remezcla, Los 40, HYPEBAE, Highsnobiety, La Nación, and Telehit entre otros.
Recientemente la artista rosarina se postuló para su primer Latin GRAMMY® en la categoría de Mejor Nuevo Artista. Además, actuó en vivo en los Premios Gardel 2020, donde se hizo acreedora a cuatro nominaciones. La plataforma de streaming Pandora la elegió como una Latin Artist To Watch 2021.
A principios de marzo, Nicki hizo historia en la primera edición anual de los Spotify Awards, obteniendo los premios Radar Trap In Spanish Artist y Most-Streamed Female Artist in Gaming Consoles (Artista Femenina Con Más Streams En Consolas de Videojuegos). También puso al público de pie, dando una interpretación cautivante de su éxito viral "Wapo Traketero". Nicki volvió a interpretar esta canción a principios de abril para el evento Digital FORT de The Fader.
---
NICKI NICOLE Brings Together DREAD MAR I & BIZARRAP For Good Vibes On New Single And Video "VERTE"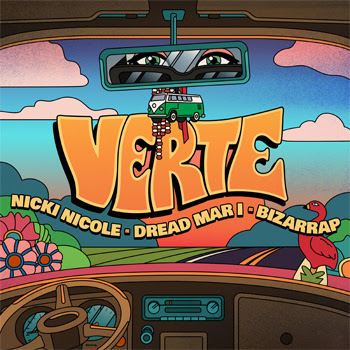 MIAMI (December 11, 2020) – Argentine singer, songwriter and rapper Nicki Nicole – praised by Billboardfor the "fresh… R&B and soul" she is bringing to Argentina's exploding urban scene and highlighted by The FADERas a "… dexterous, shape-shifting MC…" – releases a fresh, breezy and reggae-inspired single and video "Verte" ("Seeing You") today with Dread Mar I and Bizarrap via Sony Music Latin/DALE Play — Watch HERE.
The 20-year-old first-time Latin GRAMMYs®nominee who has racked up more than 300 Million streams internationally and surpassed 6.6 Million Instagram followers is joined by her frequent beat-collaborator, the young producer Bizarrap, along with one of Argentine reggae's most emblematic figures Dread Mar I, known for his global smash "Tú Sin Mi."
Over an easygoing reggae rhythm, Nicki Nicole offers up her most romantic song to date, showing off her expressive singing voice on the catchy chorus: "Verte es lo que me hace falta en esta ocasión, como le pico a mi interior toda esta confusión" ("Seeing you is what I miss most on this occasion, how this confusion stings my insides.")
"For me, 'Verte' is a dream collaboration." Nicki Nicole remembers "Dread Mar I's music was always playing in my house from my mom and my brothers listening to it. The fact that Bizarrap produces it is also something super unexpected. We met in Miami and Biza killed it. I never imagined being able to share a studio with Dread Mar I and Biza. I honestly couldn't believe I was doing a song with Dread Mar I, produced by Bizarrap, it was like… full circle and great. 'Verte' was created in an hour or so. Mariano [Dread Mar I] and I had the melody in our heads and Biza had the beat. When we finished, it made us feel so many things. We couldn't stop singing, dancing. I think we played it like 45 times that night."
The visual for "Verte" portrays a sun-dappled day of picnicking, music and nature as the three talented artists revel in their friendship. Complementing the music's warm vibes, the Jess "La Polaca" Praznik-directed video uses a 1980s videotape look and incorporates nostalgia just as "Mala Vida" did with its 1940s theme, a video which has quickly surpassed 20 million views — Watch HERE.
"Verte" follows her Drake-influenced debut single "Colocao" with over 93 million views on YouTube— Watch HERE; "Mamichula," her sultry collaboration with Trueno and producer Bizarrap that has surpassed 216 million views; and the aforementioned "Mala Vida."
A win for female artists around the world, The Guardianrecently named Nicki Nicole "the star defying Argentinian rap's macho culture." Nicki was also selected for Billboard's '21 Under 21' and Entertainment Tonight's 'LatinX Artists on the Rise'. Nicki's stardom is picking up internationally with editorial coverage in the US to prove her prominence, including profiles in Rolling Stone,  Billboard, The Guardian, Variety, The Fader, Genius,Remezcla, Los 40, HYPEBAE, Highsnobiety, La Nación, and Telehit, & more.
Born in Rosario, Argentina, she was recently nominated for "Best New Artist" at the 2020 Latin GRAMMYs®. She also performed live for the 2020 Premios Gardel award ceremony in Argentina, where she was a four-time nominee. Additionally, she is one of the Pandora Latin Artist to Watch 2021.
Earlier this spring, Nicki made history at the first-ever Spotify Awardsreceiving awards for "Radar Trap In Spanish" and "Most-Streamed Female Artist in Gaming Consoles." Bringing the crowd to its feet, she also took the stage for a fiery performance of the hit "Wapo Traketero." Nicki also performed the track at The FADER's Digital Fort this spring.
Sigue a Nicki Nicole en // Follow Nicki Nicole on:
www.instagram.com/nicki.nicole