NATTI NATASHA se entrega al ritmo Dance Urbano con "NOCHES EN MIAMI"
Este sencillo formará parte de su próximo álbum que incluirá los temas No. 1s "Antes Que Salga El Sol" y "Ram Pam Pam"
Producido y escrito por uno de los compositores más codiciados del momento y ganador de GRAMMY® Édgar Barrera
Escucha "Noches en Miami" AQUÍ
MIAMI (6 de agosto de 2021) – A dos semanas de haber estrenado mundialmente su tema "Philliecito" junto a Nio García y Brray a una audiencia de 5.3 millones de televidentes en Premios Juventud, Natti Natasha demuestra que esta nueva etapa en su carrera ha llegado más retante que nunca. Natti Natasha nos presenta un nuevo sencillo "Noches en Miami", caracterizado por su ritmo pintoresco y explosivo conocido como Dance Urbano. Con la magistral producción y composición del ganador del Premio GRAMMY®, Édgar Barrera, este nuevo tema se posiciona para ser el próximo hit global de la estrella dominicana, y un preámbulo al lanzamiento de su esperado segundo álbum que se lanzará este otoño.
El tema, lanzado bajo el sello de Sony Music Latin/Pina Records, fue compuesto por Édgar Barrera, Natti Natasha, Raphy Pina, Andrés Mauricio Costas y Santiago Munera Penagos, y fue producido por Édgar Barrera junto a Golden Mindz (AEME & Dark Lion).Cabe mencionar que "Noches en Miami" formará parte de su próximo álbum de estudio que incluirá los temas No. 1 "Antes Que Salga El Sol" y el hit global "Ram Pam Pam", al igual que team de empoderamiento femenino "Las Nenas" y "Philliecito", entre otros.
"Noches en Miami" es el primer tema en solitario que lanza Natti Natasha desde que comenzó el año y desde el primer beat demuestra que sigue evolucionando por el ritmo de la canción, en donde fusiona el Dancehall con lo urbano: algo que nunca había intentado anteriormente. Además, con la letra de la canción, Natti expone la importancia de la sanación personal y que, aunque el camino sea complicado, "En el fondo siempre sabemos lo que debemos hacer por nuestro bienestar y, en este caso, olvidar y seguir hacia delante con nuestra vida", expresó la cantante dominicana. "Y mientras la letra cuenta una historia de despecho, el ritmo nos invita a bailar. Así que ese es el mensaje: no se puede vivir en el pasado, podemos sufrirlo un poco, pero la vida continúa así que es momento de bailar", concluyó.
Recientemente, Natti Natasha alcanzó otro éxito en su carrera con la conquista de la radio latina en Estados Unidos, Puerto Rico y México con su éxito "Ram Pam Pam" junto a Becky G, sumando su octavo No. 1en los listados Latin Airplay Chart y Latin Rhythm Airplay Chart de Billboard. Además, ha sido certificado Platino en Estados Unidos, Perú y Oro en España. Como una de las reuniones musicales más esperadas del 2021, esta segunda colaboración entre Natti y Becky G se encuentra en los Global Charts de Spotify en 19 países y ha superado los 110 millones de reproducciones y los 280 millones de vistas en YouTube.
---
NATTI NATASHA Seduced By Urban Dance Rhythms On "NOCHES EN MIAMI"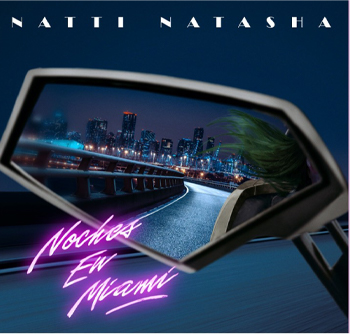 The New Single Will Be Part Of Natti's Upcoming Sophomore Album, Which Includes The No. 1 Hits "Antes Que Salga El Sol" And "Ram Pam Pam
"Noches En Miami" Was Produced And Written By One Of The Industry's Most Respected Songwriters And GRAMMY® Award Winner, Édgar Barrera
Stream "Noches En Miami" HERE
MIAMI (August 6, 2021) – Two weeks after making a worldwide TV premiere of her single "Philliecito" alongside Nio García and Brray to an audience of 5.3 million viewers on Premios Juventud, Natti Natasha is ready to shift her career once again into high gear. Dominican global artist Natti Natasha releases a new solo single "Noches en Miami" (Nights in Miami), characterized by its picturesque and explosive rhythm known as Urban Dance. Featuring a masterful production and songwriting by the GRAMMY® Award winning songwriter and producer Édgar Barrera, the new single will become the Dominican star's next global hit and will set the stage for the release of her eagerly awaited second album set for release early this fall.
Released under the Sony Music Latin/Pina Records, the single was composed by Édgar Barrera, Natti Natasha, Raphy Pina, Andrés Mauricio Costas and Santiago Munera Penagos, and was produced by Édgar Barrera alongside Golden Mindz (AEME & Dark Lion). "Noches en Miami" will be part of Natti's sophomore album which will feature the No.1 global hits "Antes Que Salga el Sol" and "Ram Pam Pam," as well as the women empowerment track "Las Nenas" and "Philliecito."
"Noches en Miami" is the first solo track Natti Natasha has released since the beginning of the year, where she fuses into her sound for the first time ever dancehall with urban rhythms. Additionally, through the lyrics Natti emphasizes the importance of personal healing regardless of how hard things get, "Deep down we always know what we must do for our well-being and, in this case, it's forgetting and moving forward with our life," expresses Natti. "While the lyrics of the song tell a story of spite, the rhythm invites us to dance. Hence, that's the message behind the track: you can't live in the past, we might go through a couple of hardships, but life goes on so it's time to dance," she concluded.
Recently, Natti Natasha achieved another milestone in her career conquering Latin radio in theUnited States, Puerto Rico and Mexicowith her hit "Ram Pam Pam" alongside Becky G, making it her eighth No. 1 on the Latin Airplay Chart and Billboard's Latin Rhythm Airplay Chart. Additionally, the hit has been Platinum Certified in the United States, and Peru and Gold Certified in Spain. As one of the most anticipated musical reunions of 2021, this second collaboration between Natti and Becky G is on Spotify's Global Charts in 19 countries and has surpassed 110 million streams and 280 million views on YouTube.
Sigue a Natti Natasha en // Follow Natti Natasha on:www.youtube.com/channel/NattiNatashawww.instagram.com/nattinatasha/www.facebook.com/NattiNatashaOfficial/www.twitter.com/NattiNatasha