NATALIA JIMÉNEZ Presenta Su Video Musical "FUISTE MÍA" Junto a GERARDO ORTÍZ
El Más Reciente Sencillo De Su Aclamado Álbum México De Mi Corazón II
MIAMI (3 de diciembre del 2021) – Regresamos al hermoso Guanajuato, la cuna de José Alfredo Jiménez en donde toma lugar otro de los hermosos videos de la intérprete Natalia Jiménez quien en esta ocasión se une a duo con el cantante y compositor mexicano-estadounidense Gerardo Ortiz en el tema "Fuiste Mía", de autoría de Gerardo, en una nueva versión que forma parte del álbum México de Mi Corazón II.
Con la elegancia que la caracteriza y vestida del diseñador Benito Santos de pies a cabeza, Natalia interpreta esta canción desde el hermoso e icónico Templo Expiatorio rodeada de una impresionante escenografía, papel picado, flores y en compañía del Mariachi CHG.
Puedes ver el video musical AQUÍ.
"Desde que llegué a México, este país me ha dado bastante trabajo y el público siempre ha querido mucho mi música. Quiero apoyar mucho a este estado porque siento que tiene muchísimas ofertas turísticas y es un estado precioso. Me gustaría que la gente internacionalmente conozca un poquito más de este hermoso lugar en México. Grabar allí fue una experiencia maravillosa porque estuvimos en un montón de sitios preciosos como Dolores Hidalgo, Salvatierra, Mineral de Pozos; lugares que son realmente bellos y que quiero que la gente también vaya a conocerlos," agregó Natalia.
Nazareno Pérez Brancatto de Media Block, quien dirigió el video musical logró capturar la esencia de este impresionante lugar y continuar con la magia que captura el álbum México de Mi Corazón II, que muy pronto será lanzando de manera física en México, Colombia entre otros países.
Sin duda alguna Natalia continua con un año lleno de buena música y trabajo. Luego de formar parte de la exitosa gira, por Estados Unidos, de Banda MS, la artista se prepara para finalizar sus compromisos en el 2021 y prepararse para el 2022 que promete ser un gran año para la cantante.
Escucha México de Mi Corazón II AQUÍ.
---
NATALIA JIMÉNEZ Premieres Her Music Video "FUISTE MÍA" With GERARDO ORTÍZ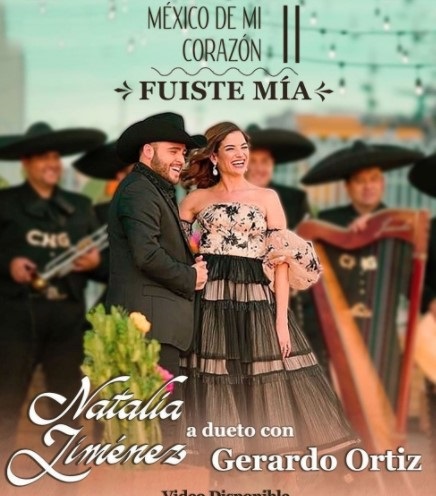 The Most Recent Single From Her Acclaimed Album México De Mi Corazón IIMIAMI (December 3, 2021) – Today, Spanish singer and songwriter Natalia Jiménez premieres "Fuiste Mía," her music video that serves as a duet with the song's original interpreter and composer, Mexican-American corrido legend Gerardo Ortíz. This music video was filmed in the Mexican state of Guanajuato, birthplace of the iconic ranchera songwriter José Alfredo Jiménez (1926-1973). "Fuiste Mía" is included on Natalia's latest album, the acclaimed production México De Mi Corazón II.
In this video, we are once again captivated by Natalia's elegance, as well as the custom dress she is wearing from her longtime designer Benito Santos. Filming took place at Leon, Guanajuato's emblematic Templo Expiatorio, on a set that includes papel picado paper art, flowers, and the musical backing of Mariachi CHG.
Click HERE to watch the video.
"Ever since I arrived in Mexico, this country has given me lots of work, and its people have embraced my music. I want to support Guanajuato because I feel like it has a lot of tourist attractions and it's a gem of a state. I would like for people around the world to become more familiar with this gorgeous place in Mexico. Filming there was a marvelous experience because we visited a variety of beautiful sites in Dolores Hidalgo, Salvatierra, Mineral de Pozos and more. They are truly spectacular, and I want people to see them for themselves," Natalia notes.
Directed by Nazareno Pérez Brancatto of Media Block, the video captures the essence of this sacred place as well as the musical magic of México de Mi Corazón II, which is available in digital format and will soon be released in physical format in Mexico, Colombia, and other countries.
This year has been filled with artistry and work for Natalia. After touring with Banda MS throughout the United States, she is getting ready to wrap up 2021 and launch more exciting projects in 2022.
Click HERE to enjoy México de Mi Corazón II.
Sigue a NATALIA JIMÉNEZ en // Follow NATALIA JIMÉNEZ on:
www.instagram.com/nataliajimenezoficial/
www.facebook.com/NataliaJimenezOficial/
www.twitter.com/NataliaJimenez
www.youtube.com/user/NataliaJimenezVEVO/videos
Sigue a Gerardo Ortiz en // Follow Gerardo Ortiz on:
http://www.facebook.com/gerardoortiznet
http://www.twitter.com/gerardoortiznet
http://www.instagram.com/gerardoortizoficial