MAU Y RICKY Sorprenden Con Su Nuevo Sencillo Y Video "LLORAR Y LLORAR" Junto A La Estrella De La Música Regional Mexicana CARIN LEÓN
El Dúo Latino También Continúa Con Su Exitosa Participación En "La Voz Kids"
MIAMI (1 de junio de 2022) – Las superestrellas latinas Mau y Ricky han lanzado su nuevo sencillo y video musical "Llorar y Llorar". Los hermanos venezolanos se adentran en la música regional mexicana junto al cantante Carin León en esta emotiva canción que le pone banda sonora al final de una relación. Escúchala AQUÍ.
"Llorar y Llorar" es la canción más reciente del próximo proyecto de Mau y Ricky, Desgenerados, este título es en resumen el cómo Mau y Ricky han conquistado diversos géneros musicales en sus canciones, por lo que su música no se puede encasillar en un solo género. Al lado de Carin León, el dúo le da a la música de banda y mariachi un toque pop latino en "Llorar y Llorar". En el vídeo, Mau, Ricky y Carin ofrecen sus actuaciones más emotivas mientras cantan sobre una relación que está llegando a su fin.
"Llorar y Llorar es una canción que enfrenta la realidad inevitable de que una relación está terminándose." -comentan Mau y Ricky. "Sentimos que estábamos finalmente uniendo nuestra música con un sonido que ha sido parte de nuestra vida desde que éramos niños. Estoy muy orgulloso de esta canción." -agrega Ricky. "Además, trabajar con Carin ha sido una maravilla. Siento que logramos unir los dos mundos con una canción que se siente tan de él como nuestra. Creo que será la primera de muchas que haremos juntos si Dios quiere." -agrega Mau.
La canción fue escrita por Ricky y producida por los creadores de éxitos latinos Jon The Producer y Rafa Arcaute.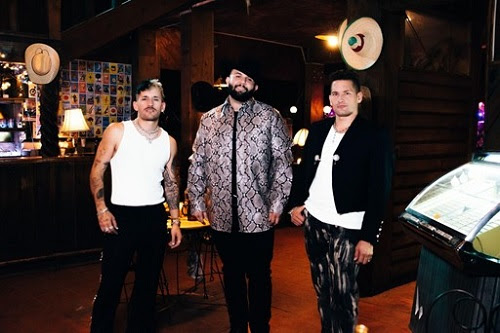 Mau y Ricky y Carin León dan vida al himno de la ruptura en el video musical "Llorar y Llorar". El video en plano secuencia sigue a Mau, Ricky y Carin mientras cantan la canción en un bar de la Ciudad de México. A los chicos incluso se les une la banda mientras beben tragos de tequila. El video musical fue dirigido por Richard Mountainous y Daniel Durán, en quienes Mau y Ricky han confiado para grabar algunos de sus videos más vistos como "La Boca" entre otros. El video musical fue producido por 2Wolves y Rabbit House.
"Llorar y Llorar" llega en un momento importante en las carreras de Mau y Ricky, ya que han regresado como coaches de "La Voz Kids" en México, es así como el dúo de hermanos continúa asesorando a la próxima generación de artistas latinos. Mau y Ricky también están confirmados para regresar como coaches de "La Voz Argentina" a finales de este año. Después de 4 shows con entradas agotadas en el Teatro Gran Rex, 1 show con entradas agotadas en el estadio Luna Park y 17 conciertos más con entradas agotadas en Argentina el dúo cerró su gira el 25 de mayo con un exitoso concierto delante de más de 10.000 personas en el Movistar Arena de Buenos Aires, show que los fanáticos también pudieron disfrutar en línea. Después de esto, Mau y Ricky regresarán al país con su nuevo "Desgenerados Tour" en julio. Actualmente ya están a la venta las entradas para 12 espectáculos incluyendo el enorme Luna Park Stadium para el 3 de septiembre, lo que marca otro gran hito en sus carreras.
Mau y Ricky mantienen una fuerte presencia en redes sociales gracias a su compromiso con los fans. Tienen más de 13 millones de seguidores en sus plataformas digitales. Sus videos musicales tienen más de 2 mil millones de visitas en YouTube. En 2020, Carin León tuvo la canción de música regional mexicana más reproducida en Spotify con "Tú" y actualmente sigue siendo uno de los mejores artistas de México en todo el mundo.
---
MAU Y RICKY Embrace Regional Mexican Music With CARIN LEÓN In New Song And Video "LLORAR Y LLORAR"
The Latin Duo Are Continuing Another Successful Run On "La Voz Kids"
MIAMI (June 1, 2022) – Latin superstars Mau y Ricky have released their new song and music video "Llorar y Llorar". The Venezuelan brothers take on regional Mexican music with Mexican singer Carin León. In their emotional song, Mau y Ricky and Carin soundtrack the end of a relationship. Listen HERE.
"Llorar y Llorar" is the newest song from Mau y Ricky's upcoming project Desgenerados(not to be confused with "Degenerados"). The title Desgenerados is a concept about how Mau y Ricky have conquered many genres of music in their songs, so they can't be boxed into one genre. With Carin León, the duo gives banda and mariachi music a Latin pop twist in "Llorar y Llorar". Mau, Ricky, and Carin give their most emotional performances as they sing about a relationship that's coming to end.
"Llorar y Llorar is a song that faces the inevitable reality that a relationship is ending", Mau y Ricky says."We felt like we were finally uniting our music with a sound that has been part of our lives since we were kids. I am very proud of this song", Ricky adds. "Also, working with Carin has been wonderful. I feel like we managed to bridge the two worlds with a song that feels as much his as it does ours. I think it will be the first of many that we will do together God willing", Mau adds.
The song was written by Ricky and produced by Latin hit-makers JonTheProducer and Rafa Arcaute.
Mau y Ricky and Carin León bring the breakup anthem to life in the "Llorar y Llorar" music video. The continuous shot video follows Mau y Ricky and Carin as they sing the song around a bar in Mexico City. The guys are even joined by a band as they drink tequila shots. The music video was directed by Richard Mountainous and Daniel Durán, who Mau y Ricky have trusted to shoot some of their most-viewed videos like "La Boca", among others. The music video was produced by 2Wolves and Rabbit House.
"Llorar y Llorar" comes at an important time in Mau y Ricky's careers as they've returned as coaches to "La Voz Kids" in Mexico. The duo is continuing to mentor to the next generation of Latin artists. Mau y Ricky are also confirmed to return as coaches to "La Voz Argentina" later this year. After 4 sold-out shows at the Teatro Gran Rex, 1 sold-out show at the Luna Park stadium and 17 more sold-out concerts in Argentina the duo closed their tour on May 25 with a successful concert in front of more than 10,000 people at the Movistar Arena in Buenos Aires, a show that fans could also enjoy online. After this, Mau and Ricky will return to the country with their new "Desgenerados Tour" in July. Tickets are currently on sale for 12 shows including the massive Luna Park Stadium on September 3, marking another milestone in their careers.
Mau y Ricky maintain a strong social media presence thanks to their engagement with fans. They have more than 13 million followers on their digital platforms. Their music videos have over 2 billion views on YouTube. In 2020, Carin León had the most-streamed regional Mexican music song on Spotify with "Tú". He continues to be one of Mexico's top artists around the world.
Sigue a Mau y Ricky en // Follow Mau y Ricky on:
www.youtube.com/user/MauyRickyVEVO
Sigue a Carin León en // Follow Carin León on:
www.facebook.com/carinleonoficial
www.instagram.com/carinleonoficial