MATI GÓMEZ le da la "VUELTA AL MUNDO" en 2 minutos y 40 segundos
l dúo argentino MYA se une a Mati Gómez en su nuevo sencillo promocional
MIAMI (11 de febrero de 2021) – Mati Gómez, el intérprete chileno que inició su carrera artística en medio de la pandemia del COVID-19, ha recibido un gran apoyo de sus fanáticos y, también, de la industria de la música latina con su primera nominación a Premio Lo Nuestro 2021. Hoy, el cantante presenta su nuevo sencillo promocional "Vuelta Al Mundo" en compañía del dúo Pop-Latino que ha revolucionado Argentina MYA: Maxi Espindola y Agus Bernasconi.
Este nuevo tema en colaboración con MYA,es la materialización de un sueño hecho realidad para Mati, ya que finalmente podrá presentarle al mundo una canción sin sufrir todas las limitaciones que, lamentablemente, la pandemia le "impuso" a su carrera artística en el año 2020.
"Vuelta Al Mundo"se estrena bajo las alas del sello discográfico La Industria INC y Sony Music Latin, la producción de Daniel Rondón y Rafael Rodríguez "HoneyBoos" y la composición de Juan Manuel Vegas Romero, Maxi Espindola, Agus Bernasconi y el mismo Mati Gómez.
El sencillo se estrena con su video musical oficial, grabado en estudio en la ciudad de Miami, Florida, bajo la dirección de Martin Seipel y la casa productora Black Cheery INC.
El lanzamiento de "Vuelta Al Mundo"se hace realidad a la par de la primera nominación de Mati Gómez al Premio Lo Nuestro 2021. Aunque el artista aún no sale del asombro, el tema "Yo No Sé" que interpreta junto a los ídolos Nicky Jam y Reik, obtuvo una nominación en la categoría "Remix Del Año" en la gala de este año.
Escucha hoy "Vuelta Al Mundo" de Mati Gómez junto a MYA en tu plataforma digital favorita.
Acerca de MYA:
A lo largo de dos años de carrera como dúo, MYA supera los 457 millones de reproducciones de sus tracks y videos originales, con una gran base de seguidores a lo largo de toda América.
Dueños de un talento inigualable para el canto, la actuación y la composición, Maxi Espíndola y Agus Bernasconi han tenido un gran éxito con su single "Te Olvidaré" junto a Pedro Capó, que superó los 132.2 millones de reproducciones de audio y video, liderando los charts digitales, de radio y TV en Argentina.
Esta canción no solo estuvo #10 en el Argentina Viral 50 de Spotify, sino que también ingresó en los Virales de Spotify de 20 países: España, México, Colombia, Brasil, Portugal, Suiza, Chile, Uruguay, Guatemala, Honduras, Costa Rica, Ecuador, Panamá, República Dominicana, Bolivia, Perú, Nicaragua y El Salvador.
Su álbum debut "Hoy" fue editado en 2019, y además de sus seductoras interpretaciones a dúo contiene otras importantes colaboraciones internacionales con artistas como Abraham Mateo y Feid ("Loco x ti"), Leslie Grace ("Fuego), Rombai ("Piénsalo") y DVICIO ("4 Meses"). Por este material MYA recibió su primera nominación a los Premios Gardel a la Música (Argentina) como "Mejor álbum grupo pop".
En 2020 dieron a conocer su single "Histeriqueo" feat. Emilia, su exitosa colaboración con Mau y Ricky, "Una y mil veces", su segundo encuentro con Abraham Mateo en "25 Noches" y su último éxito "2:50", que tuvo además versiones Acústica y Remix junto al DJ Fer Palacio.
---
MATI GÓMEZ Releases New Single "VUELTA AL MUNDO" In Just Two Minutes And Forty Seconds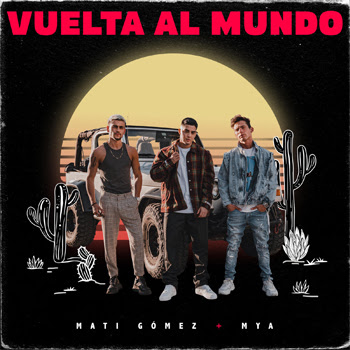 Argentine Duo MYA Joins Mati Gómez On His New Promotional Single
MIAMI (February 11, 2021) – Mati Gómez, the Chilean singer who began his artistic career in the midst of the COVID-19 pandemic, has received great support from his fans and, also, from the Latin music industry with his first nomination for Premio Lo Nuestro 2021. Today, the artist presents his new promotional single "Vuelta Al Mundo" (Around The Globe) together with the Argentines Latin-Pop duo MYA: Maxi Espindola and Agus Bernasconi.
This new collab between Mati Gómez and MYA, is the materialization of a dream come true for the Chilean artist, since he will finally be able to present a song to the world without suffering all the limitations that, unfortunately, the pandemic "imposed" on his career in the past 2020.
"Vuelta Al Mundo" premieres under the wings of La Industria INC and Sony Music Latin record labels, produced by Daniel Rondón and Rafael Rodríguez "HoneyBoos", and composed by Juan Manuel Vegas Romero, Maxi Espindola, Agus Bernasconi and Mati Gómez himself.
The single premieres together with its official music video, recorded in a studio in Miami, Florida, under the direction of Martin Seipel and the production house Black Cheery INC.
The release of "Vuelta Al Mundo" becomes a reality alongside Mati Gómez's first nomination for Premio Lo Nuestro 2021. Although the artist has not yet come out of his own astonishment, the song "Yo No Sé" which he performs with pop-urban-idols Nicky Jam and Reik, received a mention in the category "Remix Of The Year" at this year's gala.
Listen today to "Vuelta Al Mundo" by Mati Gómez and MYA on your favorite digital platform.
About MYA:
Just two years since launching their recording career, the two members of MYA have surpassed 457 million audio and video streams, while growing a devoted fanbase across the Americas.
Multifaceted singers, actors and songwriters, MYA's members Maxi Espíndola and Agus Bernasconi recently ruled the charts with their single "Te Olvidaré" (I Will Forget You) featuring Pedro Capó, which has surpassed 132.2 million audio and video streams, while topping the airplay, TV and digital rankings in Argentina.
"Te Olvidaré" reached #10 on Spotify Argentina's Viral 50 chart, and appeared on the Spotify Viral 50 in 20 other countries, including: Switzerland, Spain, Portugal, Brazil, Uruguay, Chile, Bolivia, Peru, Ecuador, Colombia, Panama, Costa Rica, Nicaragua, El Salvador, Honduras, Guatemala, Mexico and the Dominican Republic.
The duo released its debut album Hoy (Today) in 2019, featuring collaborations with Abraham Mateo and Feid ("Loco Por Ti," Crazy For You), Rombai ("Piénsalo," Think It Over), Dvicio ("4 Meses," 4 Months), and Leslie Grace ("Fuego"). This album earned MYA its first Premios Gardel nomination for Best Pop Album – Group.
In 2020, MYA returned with its single "Histeriqueo" (Hysterics) feat. Emilia. This was followed by "Una y Mil Veces" (A Thousand and One Times), a collaboration with another youthful duo, Mau y Ricky. For its third single of the year, titled "25 Noches," MYA reunited with Abraham Mateo. The group's most recent hit "2:50" was accompanied by an acoustic version, as well as a remix featuring the fast-rising Argentine DJ Fer Palacio.
Sigue a Mati Gómez en // Follow Mati Gómez on:
www.instagram.com/matigomez
www.twitter.com/matigomez
www.youtube.com/channel/matigomez
Sigue a MYA en // Follow MYA on: