MALUMA lanza su nuevo sencillo y video "ADMV"
MIAMI (23 de abril de 2020) – El ídolo global de la música latina, MALUMA, lanza hoy su nuevo sencillo titulado "ADMV" así como su videoclip. "ADMV" es una balada romántica en la cual la voz de Maluma está sencillamente acompañada por una guitarra acústica. El nombre de la emotiva canción es la abreviatura de "Amor De Mi Vida" y la misma, nace en el corazón del artista. "Es una canción que es muy especial para mí, esto es algo que me sale desde el corazón, me recuerda el motivo por el cual comencé mi carrera y me pone a pensar mucho sobre qué va a pasar en el futuro – si nos vamos a tomar el tiempo de amar al otro, abrazar al otro – Hoy la entrego para que la puedan dedicar a todos los seres que amamos antes de que se nos vayan", expresó Maluma. Fue escrita en Jamaica en el mes de enero durante un viaje en dónde Maluma estuvo explorando sonidos. Los autores son Maluma junto a Edgar Barrera, Vicente Barco y Miky La Sensa y fue producida por Edgar Barrera y Maluma. "ADMV" evoca al sentimiento del interprete que escuchamos en "Vuelo Hacia El Olvido" (Pretty Boy Dirty Boy) y "Marinero" (F.A.M.E.). Parte de la letra dice. . ."Cuando nos falle la memoria y sólo queden las fotografías, que se me olvide todo menos que tú eres mía, cuando los años nos pesen y las piernas no caminen, los ojos se nos cierren y la piel ya no se estire, cuando lo único que pese, sea lo que hicimos en vida, y aunque nada de esto pase, eres el amor de mi vida." El director Nuno Gomez estuvo a cargo de la producción del videoclip. La idea original del vídeo era para ser grabada en Grecia en medio del Maluma Word Tour, pero debido a la pandemia mundial se cambió de lugar y terminó en Miami donde se grabó completamente en el pasado mes de marzo. Para escuchar "ADMV" haga clic AQUÍ y para ver el videoclip presione AQUÍ. Maluma recientemente se convirtió en el primer y único artista masculino latino en alcanzar 50 millones de seguidores en Instagram. Acerca de MALUMA:Con tan sólo veintiséis años de edad, Juan Luis Londoño Arias, mejor conocido por su nombre artístico Maluma (compuesto por las primeras letras de los nombres de su madre, su padre y su hermana) se ha convertido en uno de los artistas de mayor impacto en la música urbana y el ídolo juvenil de la música latina a nivel global. Ganador del Latin Grammy 2018 al Album Pop Vocal Contemporáneo (por F.A.M.E.) Maluma es uno de los cantantes más populares con fans activos en las redes sociales y el líder entre cantantes masculinos latinos con más de 50.5 millones de seguidores en Instagram. De hecho él es el primer y único artista latino masculino que ha llegado a los 50 millones de seguidores. Esta cifra se le suma a más de 23 millones de fans en Facebook, 6 millones en Twitter y 23 millones de suscriptores en su canal de YouTube. En el 2017 presentó 105 conciertos en América Latina, Estados Unidos, Europa e Israel, vendiendo más de 1 millón de tickets en su MALUMA WORLD TOUR 2017 y convirtiéndose en el artista latino que vendió la mayor cantidad de tickets de conciertos en el 2017. En el 2018 y el 2019 rompió records con llenos totales en todos sus conciertos en Estados Unidos y Europa con su F.A.M.E. World Tour y 11:11 World Tour llenando a capacidad el Madison Square Garden (Nueva York), American Airlines Arena (Miami) y dos The Forums (Los Angeles) entre otros. En el 2019, agotó las entradas en el estadio más grande de Israel, el Yarkon Park en Tel Aviv con más de 60.000 espectadores; hizo historia en el 18º Festival Anual Mawazine en Rabat, Marruecos, estableciendo un récord de asistencia de todos los tiempos como protagonista del concierto frente a 200.000 personas; y se presentó por primera vez en Riyadh, Arabia Saudita ante 25.000 personas.
Desde firmar con Sony Music Latin en el 2015, Maluma ha lanzado tres álbumes que han debutado en el #1 del listado Latin Albums de Billboard: Pretty Boy Dirty Boy (2015), F.A.M.E. (2018) y 11:11 (2019). Maluma es el artista más joven en obtener simultáneamente #1 y #2 en el listado "Latin Airplay" de Billboard ("Sin Contrato" y "Chantaje") y solamente el sexto en logarlo. Hasta la fecha, Maluma tiene quince éxitos #1 en el listado Latin Airplay de Billboard.
---
 MALUMAReleases His New Single & Video"ADMV"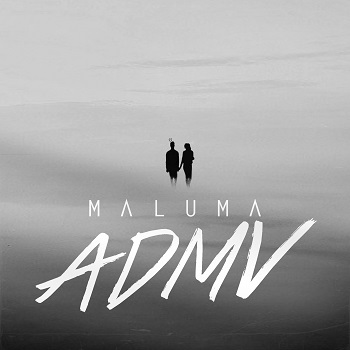 MIAMI (April 23, 2020) – Global Latin music idol MALUMA has just released hisnew single "ADMV" along with its music video. "ADMV" is a romantic ballad in which Maluma's voice is simply accompanied by an acoustic guitar. The name the song stands for "Amor De Mi Vida" which means "Love Of My Life" and it was born in the heart of the artist. "This song is very special for me, this is something that comes from the heart, it has made me realize the reason I started my career and it makes me think about what will happen in the future – if we are going to take the time to love one another, hug one another – Today I release it so that we can dedicate it to all the people we love before they are gone," expressed Maluma. It was written on a January songwriting trip to Jamaica by Maluma, Edgar Barrera, Vicente Barco and Miky La Sensa and was produced by Barrera and Maluma. The feeling behind "ADMV" is reminiscent of the singer's previous ballads "Vuelo Hacia El Olvido" (Pretty Boy Dirty Boy) and "Marinero" (F.A.M.E.). The lyrics say (in Spanish): "When our memory fails and only the photographs remain, may I forget everything except that you are mine, when the years weigh on us and our legs can no longer walk, our eyes close and our skin doesn't stretch anymore, when the only thing that matters is what we did in life, and even if none of this happens, you are the love of my life." Nuno Gomez directed the video that originally was slated to shoot in Greece during the Maluma World Tour but due to the global pandemic was moved to Miami, where it was shot in early March. To listen to "ADMV" click HERE and to watch the music video press HERE. Maluma recently became the first and only male Latin artist to reach 50 million followers on Instagram. About MALUMA:At only twenty-six years of age, Maluma is widely considered one of the leading voices in Latin music and a bona fide global youth idol. Born Juan Luis Londoño in Medellin, Colombia, he formulated his artistic moniker Maluma from the first two letters of the names of his mother, father and sister. The 2018 Latin GRAMMY award winner for Best Contemporary Pop Vocal Album (forF.A.M.E.) is one of social media's most popular artists with over 23 million Facebook fans, 6 million Twitter followers, and a whopping 50.5 million Instagram followers, making him the leading Latin male artist on Instagram and the first and only one to reach 50 million followers. His official YouTube/VEVO channel has garnered over 9 billion views and has more than 23 million subscribers, having earned him a YouTube Diamond Play Button Award. With his Maluma World Tour he has achieved unparalleled success, having sold over one million tickets in 105 worldwide concerts in 2017 alone and becoming the top concert-selling Latin artist in the world. In 2018 and 2019, he broke records achieving full houses in all of his shows throughout the United States and Europe selling out the Madison Square Garden arena (New York), the American Airlines Arena (Miami) and two The Forums (Los Angeles), among others. With his 11:11 World Tour he also sold out Israel's largest venue, Yarkon Park in Tel Aviv (60,000+ audience); made history at the 18th annual Mawazine Festival in Rabat, Morocco, setting an all-time attendance record with his headlining concert in front of 200,000 people; and performed for the first time ever in Riyadh, Saudi Arabia in front of 25,000.  In 2018, Maluma entered the fashion scene with his edgy, youthful and authentic look, and style. He has been named a "Menswear Icon in the Making" and "Men's Fashion Newest Muse" by Vogue. In addition, he was named GQ's "Man of the Year" in 2019 and continues to gain the fashion support of designers such as Kim Jones (Dior), Jeremy Scott (Moschino), Donatella Versace, Calvin Klein, Christian Louboutin, Louis Vuitton and many more. In 2019, he attended the Met Gala for the first time being one of the first Latin urban artists of this generation to be invited by Anna Wintour.  Maluma has also released top campaigns and commercials as the face of these global brand with Moet Hennessy, Michelob and Adidas. Since joining Sony Music Latin in 2015, Maluma has released three albums, all of which have debuted at #1 on Billboard's Latin Albums chart: Pretty Boy Dirty Boy (2015), F.A.M.E. (2018) and 11:11 (2019). Maluma is the youngest artist to simultaneously hold both the #1 and #2 spots on Billboard's Latin Airplay chart (with "Sin Contrato" and "Chantaje") and only the sixth act to ever achieve the feat. To date Maluma has had fifteen #1 singles according to Billboard's Latin Airplay chart. 
 Sigue a MALUMA en / Follow MALUMA on: 
/www.facebook.com/MALUMAMUSIK/
www.youtube.com/user/MalumaVEVO/