LUIS FIGUEROA Se Consolida Como Uno De Los Nuevos Exponentes De La Salsa Con Su Sencillo Y Video "TODAVÍA TE ESPERO"
Luis fue recientemente nominado a "Mejor Artista Tropical" en la 7.a Edición de los Premios Heat 
MIAMI (24 de marzo de 2022) – El cantante y compositor puertorriqueño Luis Figueroa se consolida como uno de los nuevos exponentes de la música salsa con su sencillo "Todavía Te Espero" y su video musical, disponible hoy en todas las plataformas de música digital. El sencillo llega de la mano de la nominación de Luis a "Mejor Artista Tropical" en la 7.a Edición de los Premios Heat. 
"Todavía Te Espero" nos deleita con una percusión tropical, trombones y arreglos innovadores, al mismo tiempo que destaca la enérgica voz de Luis Figueroa. Luis es parte y se destaca dentro de un movimiento musical tropical fuerte y vibrante de la década 2020.  
Escrita por Luis, "Todavía Te Espero" cuenta la historia de un triángulo amoroso donde el protagonista se da cuenta que su ex quiere regresar, pero no logra encontrar el camino de vuelta: "todavía te espero, cada vez que siento que me olvidas me atrapa tu recuerdo" Esta canción fue producida por el reconocido y talentoso venezolano Motiff. El video musical de "Todavía Te Espero", filmado en Miami, nos regala glamorosas locaciones, así como un look elegante por parte de Luis y su compañera de baile. Miralo AQUÍ. 
"Todavía Te Espero" es el primer sencillo de su nuevo álbum de canciones inéditas que saldrá esta primavera. También es el primer lanzamiento del nuevo material de Luis Figueroa desde su exitoso proyecto Canciones del Alma, que incluye un LP y un álbum visual disponibles en su canal de YouTube. 
Canciones del Alma incluye dos exitosos sencillos que rinden homenaje a sus raíces en la música tropical. "Si Tú Me Dices Ven (Versión Salsa)" alcanzó el puesto número 1 en la lista Tropical de Mediabase. En julio, "Hasta El Sol De Hoy (Versión Salsa)" llegó a la cima del listado Tropical Airplay de Billboard, convirtiéndose en su primer éxito en llegar al número 1. También irrumpió fuerte en las emisoras de pop latino, alcanzando el puesto #8, marcando un hito en el género de salsa, sobre todo para un artista en ascenso. 
Podrás disfrutar de las actuaciones de Luis en vivo como invitado especial de El Gran Combo de Puerto Rico en la gira de su 60o aniversario. La lista completa de fechas sigue. 
LUIS FIGUEROA – INVITADO ESPECIAL – EL GRAN COMBO Gira de 60o Aniversario
10 de junio – Bethlehem, PA – Wind Creek Bethlehem Casino
2 de octubre – Tampa, FL – Seminole Hard Rock Casino
7 de octubre – Queens, NY – Kupferberg Center for the Arts
8 de octubre – Newark, NJ – New Jersey Performing Arts Center
18 de noviembre – Bronx, NY – Lehman Performing Arts Center
19 de noviembre – Atlantic City, NJ – Tropicana Showroom
23 de noviembre – Orlando, FL – Hard Rock Live
25 de noviembre – Washington D.C. – The Theater at MGM National Harbor
26 de noviembre – Uncasville, CT – Mohegan Sun Arena 
Acerca de Luis FigueroaLuis Figueroa es uno de los artistas más prometedores de esta década. Egresado del prestigioso Colegio de Música Berklee en Boston, Luis llegó a ser corista de Romeo Santos y provocó revuelo en los Premios Juventud 2016 cantando "Flor Pálida" a dúo con Marc Anthony. Fungió como invitado especial en el éxito masivo "Por Perro" (2018) con Sebastián Yatra y Lary Over, superando los 600 millones de vistas en YouTube. En el 2020, logró colocar sus primeros dos sencillos como solista en la lista Latin Pop Airplay de Billboard – "La Especialista" (#27) y "Te Deseo" (#24). A principios de 2020, Luis Figueroa fungió como telonero de Marc Anthony en su gira Opus Tour por los Estados Unidos, dándole la oportunidad de presentar sus canciones ante un público masivo. Luis sorprendió a sus fans en febrero 2021 lanzando un EP de canciones originales hechas en casa titulado 1807. El mismo mes, fue nominado a Mejor Artista Pop en los Premios Heat de HTV. Luis anotó su primer #1 en Billboard con "Hasta El Sol De Hoy" en julio 2021, tema que también llegó a la cima de las listas de Mediabase y monitorLATINO. Su siguiente sencillo "Si Tú Me Dices Ven" se convirtió en su segundo Top 10, mientras Billboard eligió a Luis como parte de su serie Latin Artist on the Rise. Luis fue nominado a sus primeros Premios Lo Nuestro en 2022 como "Artista Tropical del Año" y "Canción Tropical del Año" por "Hasta El Sol De Hoy".
---
LUIS FIGUEROA Solidifies His Status As Salsa Music's Rising Star With His Single And Video "TODAVÍA TE ESPERO"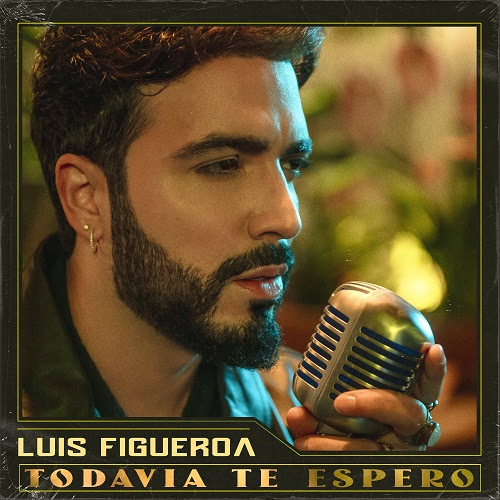 Luis was recently nominated for "Best Tropical Artist" at the 7th Edition of the Heat Latin Music Awards 
MIAMI (March 24, 2022) – Puerto Rican singer and songwriter Luis Figueroa solidifies his status as salsa music's rising star with his single and video "Todavía Te Espero," available today on all digital streaming platforms.The single arrives on the heels of Luis' was nomination for "Best Tropical Artist" at the 7th Edition of the Heat Latin Music Awards.  
"Todavía Te Espero" delights us with tropical percussion, trombones, and energy, while highlighting Luis Figueroa's energetic vocals. Luis is at the forefront of a strong, vibrant tropical-music movement in the 2020s. 
Written by Luis, "Todavía Te Espero" tells the story of a love triangle in which the protagonist realizes that his ex wants to return but hasn't found the way back: "todavía te espero, cada vez que siento que me olvidas me atrapa tu recuerdo" (I still wait for you, every time I feel that you forget me, your memory traps me.) This song is produced by the renowned Venezuelan talent Motiff.  
Filmed in Miami, the music video for "Todavía Te Espero" gifts us glamourous settings as well as elegant fashion statements from Luis and his salsa dancing partner. Watch HERE.  
"Todavía Te Espero" is the first single off his new salsa album coming this spring. This is also Luis' first release of new material since his successful Canciones del Alma project, which includes an LP and a visual album available on his YouTube channel. 
Canciones del Alma produced two hit singles that pay tribute to Luis' tropical-music roots. "Si Tú Me Dices Ven (Versión Salsa)" reached No. 1 on the Mediabase's Tropical chart. In July, "Hasta El Sol De Hoy (Versión Salsa)" made it all the way to No. 1 on Billboard's Tropical Airplay, marking his first No. 1 hit. It also had a major impact on the Latin Pop Airplay chart, reaching No. 8, a major achievement for a salsa recording by a new artist. 
Fans can enjoy Luis performing live as a special guest on El Gran Combo de Puerto Rico's 60th anniversary tour. See below for the list of dates. 
LUIS FIGUEROA – SPECIAL GUEST – EL GRAN COMBO 60th Anniversary Tour
June 10 – Bethlehem, PA – Wind Creek Bethlehem Casino
October 2 – Tampa, FL – Seminole Hard Rock Casino
October 7 – Queens, NY – Kupferberg Center for the Arts
October 8 – Newark, NJ – New Jersey Performing Arts Center
November 18 – Bronx, NY – Lehman Performing Arts Center
November 19 – Atlantic City, NJ – Tropicana Showroom
November 23 – Orlando, FL – Hard Rock Live
November 25 – Washington D.C. – The Theater at MGM National Harbor
November 26 – Uncasville, CT – Mohegan Sun Arena 
About Luis Figueroa
Luis Figueroa is one of the most promising artists of this decade. A graduate of the prestigious Berklee College of Music in Boston, he toured as a backing vocalist for Romeo Santos and generated incredible buzz after duetting on "Flor Pálida" with Marc Anthony at the 2016 Premios Juventud. He performed on the international smash "Por Perro" (2018) with lead artist Sebastián Yatra and Lary Over, surpassing 600 million views on YouTube. In 2020, he made the Latin Pop Airplay chart with his first two solo singles – "La Especialista" (#27) and "Te Deseo" (#24). During early 2020, he opened for Marc Anthony's U.S. Opus Tour, giving him the opportunity to introduce his own songs to massive audiences. In February 2021, he surprised his fans with an EP of original material recorded at home titled 1807, and was nominated as Best Latin Pop Artist for the HTV Heat Awards. Luis scored his first #1 hit on Billboard with the single "Hasta El Sol De Hoy" in July 2021; it also topped the Mediabase and monitorLATINO US tropical charts. Follow up single "Si Tú Me Dices Ven" became his second consecutive top 10 hit and Billboard selected Luis as part of its Latin Artist on the Rise series for these chart achievements. Luis was nominated for his first Premio Lo Nuestro awards in 2022 for "Tropical Artist of the Year" and "Tropical Song of the Year" for "Hasta El Sol De Hoy." 
Sigue a Luis Figueroa en // Follow Luis Figueroa on:
www.twitter.com/IamLuisFigueroa