LOS RIVERA DESTINO lanzan su sencillo "CASTIGO" junto a PEDRO CAPÓ
Mira el video de "Castigo" dirigido por Ángel Cruz; esta canción es un bolero sobre extrañar las noches de bailar pegadito en un centro nocturno

"Castigo" es un adelanto del muy anticipado álbum debut de Los Rivera Destino, producido por Ismael Cancel

El primer sencillo del álbum fue "Sin Ti"; el video oficial retrata las emociones que deben sentir las mascotas cuando los seres humanos salgan de su casa

"Gracias a su sabia composición y su ritmo tropical que nos obliga a levantarnos a bailar, 'Sin Ti' de Los Rivera Destino es una canción que tienes que escuchar". – Billboard

MIAMI (15 de abril de 2021) – La agrupación puertorriqueña Los Rivera Destino acaba de lanzar su sencillo "Castigo" junto a su coterráneo, el renombrado cantante, compositor y actor Pedro Capó. Este tema viene acompañado de un video musical bajo la dirección de Ángel Cruz.

Los Rivera Destino expresan que "Castigo" es un bolero que se trata de extrañar las noches de bailar pegadito en un centro nocturno. "Esta canción une dos géneros musicales que tienen una larga historia cuando se trata de bailar pegadito", la banda afirma. "'Castigo' cuenta con la participación del maestro Pedro Capó, quien nos acompaña en este tema que transporta el bolero hacia una discoteca actual. Compusimos esta canción antes de la pandemia, cuando todavía se podía bailar así. Se siente una tortura tener que esperar la próxima oportunidad de bailar así de nuevo".
Por su parte, Pedro Capó expresó "Para mi es un honor trabajar con los muchachos de Los Rivera Destino, tanto Carlos, Antonio y Fernando, son tremendas personas y muy talentosas trayendo propuestas frescas como es el sonido del momento que si viene de nuestras raices pero mas alla de eso lo acentuan rindiendo tributo a ritmos como el bolero manteniendolo vivo y presentandolo a nuevas generaciones con humor, con austacia y desde que me invito Isma productor del disco dije que si porque me veia en el tema y honradisimo de ser parte de este tipo de propuestas que mantienen viva nuestras raíces".

"Castigo" es el segundo sencillo de su muy anticipado álbum debut, producido por Ismael Cancel, el cual se lanzará este verano. Esta nueva canción sigue los pasos de "Sin Ti", cuyo video musical mezcla el humor con el drama y se trata de extrañar a las personas y las cosas en nuestras vidas.
Los Rivera Destino son aclamados por su letra jocosa y su conciencia social y política. Su popular colaboración "Flor" junto a Benito Martinez (Bad Bunny), cuenta con más de 20 millones de reproducciones. Su letra reta los estereotipos de la paternidad y el machismo.

Benito buscó a la banda después de que su cóver de su éxito "Te Boté" se hizo viral. Además, la banda grabó el mega-éxito de Daddy Yankee"Dura" al ritmo de cha cha chá, acompañando la canción con un video que plantea un concurso de baile al estilo 70's.

Con nueve años de trayectoria, Los Rivera Destino fue fundado por estudiantes de una universidad en San Juan quienes crearon un programa de comedia que publicaron en YouTube.
---
LOS RIVERA DESTINO Release New Single "CASTIGO" Featuring PEDRO CAPÓ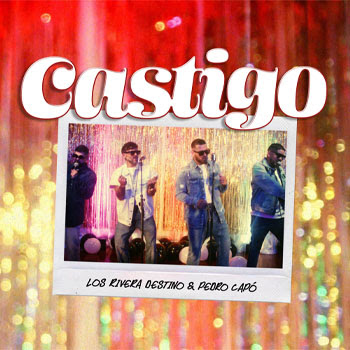 Watch The "Castigo" Music Video Directed By Angel Cruz; The Song Is A Bolero About Missing The Nights Of Dancing Close At The Club

"Castigo" Previews Los Rivera's Long-Awaited Debut Album Produced By Ismael Cancel

The Album's First Single Was "Sin Ti"; Its Music Video Embodies The Feeling That Pets Must Have When Their Owner Leaves Their Home

"Thanks to clever songwriting and a tropical beat that will make it impossible not to get up and dance, Los Rivera Destino's "Sin Ti" is a must-listen." – Billboard
MIAMI (April 15, 2021) – Puerto Rican group Los Rivera Destino have released the new single "Castigo" featuring Pedro Capó. The song is accompanied by an official music video directed by Ángel Cruz.

"Castigo" is a bolero about missing the nights of dancing close at the club. "This song unites two musical genres that have a long history when it comes to couples dancing close," the band says. "'Castigo' features the maestro Pedro Capó, who joined us for this song which brings the bolero to the modern club. We wrote this song before the pandemic, at a time when we could dance close together. It feels like torture as we wait for the next time to dance again."
As Pedro Capó puts it: "For me it's an honor to work with the boys of Los Rivera Destino. Carlos, Antonio and Fernando are amazing and talented people. They are bringing fresh concepts and modern sounds that are inspired by our heritage. Even better, they accentuate it by paying tribute to rhythms like the bolero, keeping it vital and sharing it with new generations while adding a dash of sly humor. When Ismael, the producer, invited me to join the recording, I instantly said 'yes' because I could picture myself on it, and I am extremely honored to be part of this type of project that keeps our roots alive."

"Castigo" is the second single on the band's long-awaited debut album, produced by Ismael Cancel, which will be released this summer. It follows the single "Sin Ti," whose music video plays is a dramedy about those things that we miss the most in our lives. The narrative of the video conveys what a dog must feel when their pet-parents leave them home alone.

Los Rivera Destino is renowned for their hilarious songwriting alongside social and political commentary. Their break-out collaboration "Flor," with Benito Martinez (Bad Bunny), now has more than 20 million total streams. It was written to challenge stereotypes of fatherhood and machismo.

Benito had originally reached out to the band after their viral bolero cover of "Te Boté." They have also converted the Daddy Yankee smash "Dura" into a cha cha track and filmed a throwback 1970s dance contest for the video.

Los Rivera Destino have been performing together for eight years. They started as a YouTube comedy show when they were students at a university in San Juan.
Sigue a Los Rivera Destino en // Follow Los Rivera Destino on:
www.instagram.com/LosRiveraDestino
www.twitter.com/LosRiveraDestino
www.facebook.com/LosRiveraDestino
www.youtube.com/c/LosRiveraDestino
Sigue a Pedro Capó en // Follow Pedro Capó on:
www.pedrocapomusica.com
www.instagram.com/PedroCapó