LEONEL GARCÍA y NATALIA LAFOURCADE reunidos en "CUANDO SALE LA LUNA" segundo capítulo de AMOR PASADO
Haz clic a la imagen para ver la presentación del tema.
El nuevo track de Amor Pasado ya está disponible en todas las plataformas digitales y cuenta con un lyric video animado inspirado en las tradiciones mexicanas.
MIAMI (17 de agosto de 2020) – Dos de los cantautores que han definido la canción latinoamericana en los últimos tiempos, Leonel García y Natalia Lafourcade se reúnen una vez más para celebrar y homenajear al ícono de la canción José Alfredo Jiménez y su tema "Cuando Sale la Luna (Deja Que Salga la Luna)". 
Fue el jueves de la semana pasada que conocimos una desconocida faceta de Leonel García, la del cálido anfitrión de talk show. Esto con la miniserie en este formato que el cantante y compositor está lanzando para darnos a conocer algunos de los tracks que formarán parte de su nueva producción discográfica, Amor Pasado. Es así que Leonel  nos está trayendo semana a semana lo que hay detrás de algunos de los lanzamientos de los animados y coloridos lyric videos.  
En el capítulo de esta semana, dedicado a "Cuando Sale la Luna (Deja que Salga la Luna)", Leonel contó con la participación de su amiga y colega Natalia Lafourcade, con quien entre otras colaboraciones, escribieron clásicos modernos como "Hasta la Raíz", que lo hicieron merecedores del Latin GRAMMY® en el 2015.  
En este capítulo, nos lleva a 1954, año en que José Alfredo compuso "Cuando Sale la Luna", popularmente conocido como "Deja que Salga la Luna" tema que obsequiaría a su inolvidable compadre Pedro Infante. También en el programa nos enteramos de cómo Jiménez desarrolló ese curioso método de composición que le permitiría crear las conmovedoras canciones que años después influenciarían a artistas como Lafourcade, quien confiesa en esta segunda entrega de Amor Pasado cómo fueron sus primeros pasos en la música cobijados por una canción del inolvidable  José Alfredo Jiménez.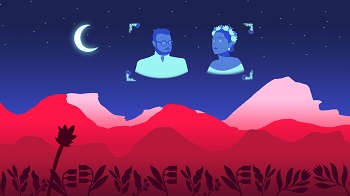 Con esta cálida conversación entre dos grandes íconos de la música contemporánea nos acercamos a esa eterna vitalidad de la que gozan algunos de los clásicos mexicanos que García ha elegido para su nuevo álbum, Amor Pasado. Con éste, el artista concluirá su trilogía iniciada en 2014 con Amor Futuro y continuada con el álbum visual del 2018 Amor Presente. Esta conclusión, gracias al extraordinario catálogo elegido, tiende un puente entre las raíces de la música mexicana y los nuevos sonidos internacionales. Su lanzamiento, acompañado por materiales que se estrenarán todos los jueves en punto de las 8:45 PM EST en el canal de YouTube de García, está creando gran expectativa ente los fanáticos de la música. Y es que el compositor está haciendo sentir, como pocos pueden, ese cariño que le tiene a las canciones que forman parte de su Amor Pasado.
---
LEONEL GARCÍA & NATALIA LAFOURCADE Reunite For "CUANDO SALE LA LUNA" The Second Chapter Of His Album AMOR PASADO
Click The Above Image To See The Presentation Of The Song.
The Latest Single From Amor Pasado Is Available On All Digital Platforms Featuring An Animated Lyric Video Inspired By Mexican Traditions.
MIAMI (August 17, 2020) – Two singer-songwriters who have composed many of the classics of the early 21st century, Leonel García and Natalia Lafourcade, come together once again to make amazing music. This time, it's to pay tribute to Mexico's legendary ranchera songwriter José Alfredo Jiménez (1926-1973) and his romantic hit "Cuando Sale la Luna (Deja Que Salga la Luna)" (When the Moon Comes Out). 
This track is to be included on Leonel García's upcoming album Amor Pasado (Past Love), which he is promoting via a YouTube series. For last Thursday's installment of the series, he tried on a new hat – that of the genial talk-show host, interviewing his collaborator Natalia Lafourcade. Every week, Leonel is sharing the stories behind the songs of his album, along with vibrant animated music videos.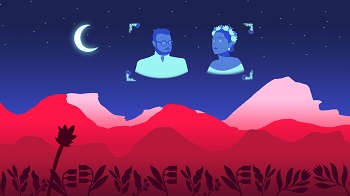 Click The Above Image To Listen to The Song. Last week's episode was dedicated to "Cuando Sale la Luna (Deja que Salga la Luna)." Natalia is not only Leonel's duet partner on this song, but also a close friend and colleague. Their best-known co-write to date is her 2015 chart-topper and Latin GRAMMY® award-winning "Hasta la Raíz" (Down to the Root). 
José Alfredo Jiménez wrote "Cuando Sale la Luna," commonly known as "Deja Que Salga la Luna," in 1954, and gave it to Mexico's most iconic actor and singer, Pedro Infante (1917-1957), to record. Leonel also reveals Jiménez's unique songwriting style that resulted in dozens of gems that influenced artists like Natalia. She used the episode to talk about how her first steps in the music industry two decades ago were shepherded by a Jiménez song. 
Listening to Leonel and Natalia give a fascinating music-history lesson while discussing the classic Mexican songbook was an enlightening experience for fans of both artists. Such timeless songs comprise the material of Amor Pasado, which finalizes the trilogy that Leonel began with Amor Futuro (2014) and continued with his visual album Amor Presente (2018). 
Amor Pasado builds a bridge between Mexican roots music and contemporary production. Leonel continues his weekly series for this album at 8:45 p.m. EST every Thursday on his YouTube channel, building anticipation for the record release and helping us appreciate, treasure, and learn about the songs he selected for it.  
Sigue a Leonel García en / Follow Leonel García on: 
www.instagram.com/leoelleon/?hl=es-la
www.facebook.com/LeonelGarciaOficial/
www.twitter.com/leonelgoficial?lang=es