LALI envia un mensaje positivo con el estreno de su nuevo sencillo "LO QUE TENGO YO"
MIAMI (26 de mayo de 2020) – No existen obstáculos que se puedan interponer frente al talento de Lali y la fuerza de sus canciones. Ante la actual cuarentena, la estrella multi-platino del pop latino, estrenó su nuevo sencillo, "Lo Que Tengo Yo", acompañado de una innovadora campaña que promete causar un impacto positivo sobre toda su audiencia. La divertida canción ya se encuentra disponible en todas las plataformas digitales.
"Lo Que Tengo Yo", es otra de las entregas de Lali que formará parte de su próxima producción discográfica, la cual estará disponible en el segundo semestre de este 2020. Es una canción emocionante, llena de ritmos pegajosos y bailables característicos del Pop/Urbano. Fue escrita por Mau y Ricky, Camilo y Tainy, quien también se encargó de la producción musical del tema.
El video musical de la canción fue dirigido por Guido Adler, Lautaro Esposito y la misma Lali. Realizado durante este periodo de distanciamiento social, contó con la participación de amigos, bailarines de Argentina, Brasil, Israel, entre otros lugares del mundo. Todos entregaron su talento bailando y divirtiéndose desde sus hogares, utilizando cosas que tenían a mano, con el fin de generar empatía hacia los espectadores, buscando demostrar que bailar es una buena opción para mantenerse alegre y motivado.
"Esta canción nace desde las ganas de compartir música para divertirnos y movernos en casa, dentro de esta situación tan extraña para todos. Es mi manera de compartirles mi música en esta nueva era y es una muestra del sonido que viene en mi proyecto. El video es una invitación a bailar conmigo y a seguir conectados por las redes que tanta compañía nos están haciendo a todos. LO QUE TENGO YO es la reafirmación, para mí, de que todos somos especiales desde nuestra individualidad. Es una canción libre y despojada. Así me siento y eso quiero contagiarles", expresó la artista.
"Lo Que Tengo Yo" da seguimiento al último lanzamiento de Lali, "Como Así" junto a CNCO, el cual obtuvo más de 25 millones de visitas en su video musical y logrando posicionarse #1 en los listados de radio en Argentina. Este nuevo sencillo, nos invita a disfrutar con un mensaje que nos contagia de energía positiva, Lali utiliza "Lo Que Tengo Yo" como herramienta para invitar a sus fanáticos como apredender de sus coreografías e interactuar con ella a través de todas sus redes.
Haz clic en la imagen para ver el video de "Lo Que Tengo Yo"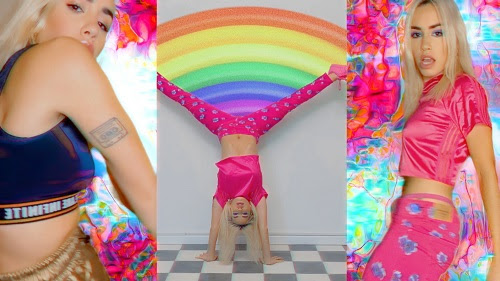 "Lo Que Tengo Yo" disponible en todas las plataformas digitales de música
---
LALI Sends A Positive Message In Her New Single "LO QUE TENGO YO"
MIAMI (May 26, 2020) – Nothing can stand against Lali's talent and the power of her music. Faced with the current quarantine, the multi-platinum Latin pop star premieres her new single, "Lo Que Tengo Yo," accompanied by an innovative campaign that promises to make a positive impact on her entire audience. This exciting song is now available on all digital platforms.
"Lo Que Tengo Yo" is Lali's new single that will be a part of Lali's next album, which will be available in the second half of 2020. This song features a joyful sound and is full of catchy and danceable rhythms. This urban-pop song was written by Mau y Ricky, Camilo and Tainy, who also produced the record.
The official music video was directed by Guido Adler, Lautaro Esposito and Lali, herself. The video was filmed remotely and features Lali's friends and dancers from Argentina, Brazil, Israel, and other places around the world. Everyone who participated showcased their talent dancing and having fun from their homes, using only things they had on hand, seeking to demonstrate that, during times like these, dancing is a good option to stay cheerful and motivated.
"This song was born from the desire to share music to have fun and move around at home, during this strange situation that everyone is in. It is my way of sharing my music in this new era and it is a sample of the sound that comes in my new project. The video is an invitation to dance with me and to stay connected through social media which is giving us all so much company. 'LO QUE TENGO YO' is the reaffirmation, for me, that we are all special together, and apart. I feel free when I sing this song and I want to share that feeling with everyone," expressed the artist.
This single follows Lali's latest release, "Como Así," with CNCO, which garnered over 25 million views on its music video and reached #1 on the radio charts in Argentina. Created to be a song to enjoy, full of joy and positive energy, Lali uses "Lo Que Tengo Yo" as a tool to send a positive message, interact with her fans, inviting them to learn her choreographies through all her social media accounts.
Click on the image below to watch the music video for "Lo Que Tengo Yo"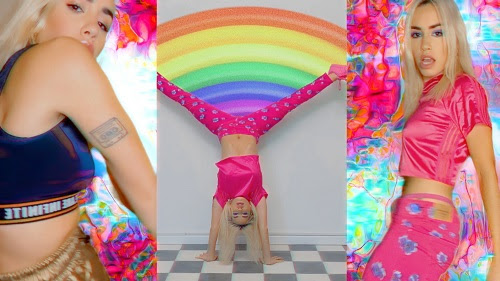 "Lo Que Tengo Yo" available now on all digital music platforms
Sigue a LALI en / Follow LALI on:
www.instagram.com/lalioficial/