KANY GARCÍA estrena el video de su sencillo "BÚSCAME" junto a CARLOS VIVES
MIAMI (17 de noviembre de 2020) – La cantante y compositora Kany García estrena hoyjunto al cantautor Carlos Vives el video del sencillo "Búscame", el cual está nominado en la categoría "Mejor Canción Tropical" en la 21ª Entrega Anual del Latin GRAMMY®.
Filmado en Miami, este video plasma la historia que resume esta hermosa canción donde la empatía, el amor, la amistad y el apoyo siempre triunfan sobre todas las cosas.
"Búscame" es parte de la más reciente producción musical de Kany García el cual recibió este año cinco nominaciones alLatin GRAMMY®, convirtiéndose en la artista femenina más nominada. Su álbum Mesa Para Dos está nominado a "Álbum Del Año" y "Mejor Álbum Cantautor". Además, de la nominación del tema "Búscame" junto a Carlos Vives, como "Mejor Canción Tropical", su primer sencillo Lo Que En Ti Veo con Nahuel Pennisi, recibió dos nominaciones: "Grabación del Año" y "Canción del Año".
"Todo fue muy especial con Kany y 'Búscame', grabar la canción por supuesto, pero también lo fue pasar todo ese dia juntos paseando en esa moto. Así que ya sabes cuando se apaguen todas la' farola aquí estaré para ti", expresó Carlos Vives.
"Grabar con Carlos fue una experiencia única. Carlos es una escuela para mí, siendo un gran conocedor del folkore de su país, tiene una hermosa manera de crear puentes entre esos sonidos y la música popular. Grabar con él fué un verdadero honor, pero hacer este video juntos, fué vivir en carne propia lo que confesamos en la canción; una amistad cargada de honestidad y complicidad. Es el video mas divertido que he he hecho en mi carrera y sólo deseamos que muchos encuentren en él una manera de visibilizar cada relación en la vida que nos hace bien y nos acompaña", expresó Kany García.
Mesa Para Dos, presenta 10 canciones – siete completamente compuestas por Kany más tres co-autorías con sus compañeros de dueto.

Siendo su séptimo álbum de estudio, Mesa Para Dos fue producido por el legendario Julio Reyes Copello en su Art House Studios en Miami. Reyes Copellotambién fungió como productor en su álbum homónimo ganador del Latin GRAMMY® en el 2012.

Los sumamente talentosos invitados en Mesa Para Dos provienen de gran variedad de naciones. El antes mencionado Pennisi, viene de Argentina. De España, se le une el cantautor Leiva; desde Chile, Mon Laferte; de Brasil, Gusttavo Lima; de su natal Puerto Rico, Pedro Capó; desde México, el trío de pop Reik y el solista Carlos Rivera; y de Colombia, Carlos Vives, así como un tema en colaboración con Goyo (ChocQuibTown) y Cata (Monsieur Periné), además una canción con Camilo.
---
KANY GARCÍA Releases The Video Of Her Single "BÚSCAME" With CARLOS VIVES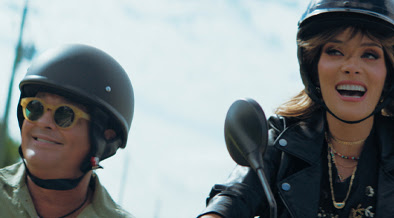 MIAMI (November 17, 2020) – The singer and songwriter Kany García today premieres the video of her single "Búscame" (Look for Me), her collaboration with Carlos Vives. This song is nominated for Best Tropical Song at the upcoming 21st annual Latin GRAMMYs®.
Filmed in Miami, the music video features imagery that dovetails perfectly with the song's lyrics about the power of empathy, love, friendship and support.
"Búscame" is included on Kany's seventh studio album, the highly acclaimed Mesa Para Dos (Table For Two). Kany has garnered a total of five Latin GRAMMY® nominations this year, making her the most-nominated female artist of 2020. Mesa Para Dos is up for Album of the Year and Best Singer-Songwriter Album. Meanwhile, its first single "Lo Que En Ti Veo" (What I See in You), with Nahuel Pennisi, is competing in the "Record of the Year" and "Song of the Year" categories, while "Búscame" is nominated for Best Tropical Song.
"Everything was very special with Kany. Recording 'Búscame' was fantastic of course, but spending the day riding around on that motorcycle was also amazing. So as the song says, when all the streetlights go out, I'll be there for you," Carlos Vives said.
"Recording with Carlos was a unique experience. Carlos is so educational, because he is extremely knowledgeable about the folklore of his country. He has a gorgeous touch for building bridges between traditional sounds and popular music. Recording with him was a true honor. But making the video together turned the lyrics we were singing into reality – a friendship filled with honesty and complicity. This is the most enjoyable video that I have ever made and we hope that it will help you find the way to shine a light on every relationship in life that does you good and that accompanies you," Kany García observed.
Mesa Para Dos is produced by the legendary Julio Reyes Copelloat his Art House Studios in Miami. He also produced her Latin GRAMMY®-winning self-titled third album in 2012. This album includes 10 songs, seven entirely written by Kany, while three were co-writes with her duet partners.
Her highly talented guests on Mesa Para Dos hail from a variety of countries. The acclaimed guitarist Nahuel Pennisi is from Argentina. From Spain, she is joined by the singer-songwriter Leiva; from Chile, Mon Laferte; from Brazil, Gusttavo Lima; from her native Puerto Rico, Pedro Capó; from Mexico, the pop trio Reik and the vocalist Carlos Rivera; and from Colombia, the aforementioned Carlos Vives, along with a track featuring Goyo (of ChocQuibTown) and Cata (of Monsieur Periné), plus a song with Camilo. Her duet partners who also served as co-writers are Leiva, Vives and Camilo.
Sigue a Kany García en // Follow Kany García on:
www.youtube.com/user/kanygarciaVEVO
Sigue a Carlos Vives en // Follow Carlos Vives on:
www.instagram.com/carlosvives/
www.facebook.com/carlosvivesoficial/