Ha*Ash Abre Nuevos Shows en Estados Unidos de su exitosa gira SOLD-OUT "100 años contigo" 
Tras varios meses de un éxito sin precedentes con su gira de conciertos SOLD OUT, el dúo mexicano Ha*Ash continúa añadiendo fechas a su exitosa #Gira100AñosContigo. Al inicio de la gira se habían confirmado 52 fechas, de las cuales aún no se han presentado en su totalidad, sin embargo debido a su gran éxito y a la popularidad que el dúo ha adquirido a lo largo de años y meses, abrieron NUEVAS FUNCIONES en Estados Unidos para el mes de Octubre.
La Pre-venta comienza hoy aquí: https://bit.ly/2KiprIf
Hanna y Ashley no han dejado de sorprender a su público y a toda la industria musical pues todo su recorrido con su gira tanto en Estados Unidos como en Latinoamérica ha traído un éxito sin igual a su carrera. Su Gira se ha caracterizado por agotar cada una de las localidades de sus presentaciones, en las cuales el público las ha recibido con brazos abiertos y euforia para cantar junto a ellas sus más exitosos temas como "Perdón, perdón", "Lo aprendí de ti", "No pasa nada" y "100 años". Este último, que es la inspiración del título de la gira, ha tenido gran acogida por parte del público y su vídeo ya cuenta con más de 88 millones de vistas en el canal de YouTube de las artistas.
Entre los éxitos que han tenido durante estos meses de gira están los 5 shows Sold Out en Argentina, el Sold Out en Montevideo, Uruguay, con un Palacio Peñarol abarrotado y donde fueron nombradas Visitantes Iustres de la Ciudad, y Santiago de Chile, con otro lleno total en la Arena Movistar. Además, en una de sus presentaciones en el Auditorio Nacional de la Ciudad de México, las hermanas recibieron un Disco de Platino por su álbum 100 años. Conmovidas por la sorpresa, Hanna y Ashley agradecieron el apoyo del público pues gracias a ellos las han colocado como uno de los duetos musicales consentidos del pop.
Ahora con estas nuevas funciones en Estados Unidos, el dueto pop más exitoso del momento espera lograr lo que antes: shows SOLD OUT en un mercado tan importante como el americano, que para ellas ha significado la oportunidad de llevar su música a otro nivel. A continuación las nuevas funciones confirmadas:
10 de Octubre: House of Blues, Chicago
13 de Octubre: Irving Plaza, Nueva York
15 de Octubre: Buckhead Theatre, Atlanta
La Pre-Venta de boletos exclusiva inicia HOY miércoles 1 de agosto
Códigos de promo
Ticketmaster: GIRLPOWER
LiveNation: REMIX
HA*ASH
Announces New U.S. Dates For Their Sold-Out Tour
"100 Años Contigo"
MIAMI (August 2, 2018) – Several months into #Gira100AñosContigo, the biggest tour of their career, the Mexican duo Ha*Ash announce new dates. Prior to the tour's kickoff, 52 concerts had been confirmed. Now, newly confirmed shows will take the tour into October in the United States.
Pre-sale begins today – click here to order tickets: https://bit.ly/2KiprIf
Sisters Hanna and Ashley have impressed fans and music-industry observers with the massive attendance at their concerts in the United States and Mexico. With packed venues and euphoric audiences, Ha*Ash has delighted concertgoers by performing hits such as "Perdón, Perdón", "Lo Aprendí de Ti", and "No Pasa Nada" , along with the tour's theme song and new album's title track "100 Años". This song's video has racked up over 88 million views on the duo's YouTube channel.
South America has also warmly embraced this group, with sold-out concerts in Argentina (five in total); Arena Movistar in Santiago, Chile; and the Palacio Peñarol of Montevideo, Uruguay, where the duo was officially proclaimed Distinguished Visitors to the City. During the sisters' concert at Mexico City's Auditorio Nacional, they received a Platinum record for their latest single 100 Años. Visibly moved, Hanna and Ashley thanked the audience for making them Latin pop's most beloved duo.
With their newly announced U.S. dates, Ha*Ash make their record-breaking tour even sweeter. See below for the list of confirmed dates:
October 10: Joe's Live, Chicago
October 13: Irving Plaza, New York
October 15: Buckhead Theatre, Atlanta
Exclusive pre-sale for these tickets begins today, August 1. Use these promo codes: Ticketmaster: GIRLPOWER. LiveNation: REMIX
Don't miss the chance to witness one of the year's best tours!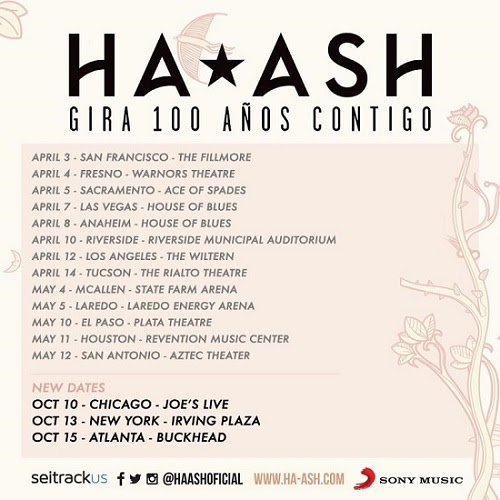 Sigue a HA*ASH en / Follow HA*ASH on:
www.ha-ash.com
www.facebook.com/haashoficial
www.twitter.com/haashoficial
www.instagram.com/haashoficial
www.youtube.com/user/HaAshVEVO