FONSECA comienza el 2022 con nueva canción y video "HÁBLAME BAJITO" junto al artista cubano CIMAFUNK
Escucha "Háblame Bajito" AQUÍ
Disfruta el video de "Háblame Bajito" AQUÍ 
MIAMI (28 de enero de 2022) – El cantautor colombiano Fonseca presenta "Háblame Bajito", una canción que invita a resolver los problemas escuchando al otro. Para este sencillo invitó al artista cubano Cimafunk conocido por mezclar el funk con sonidos afrocaribeños. Para él "Háblame bajito": "Es un regreso al barrio, a la manera en la que me criaron, respeta para que te respeten. A mí me enseñaron así, que incluso cuando no había manera de llegar a un entendimiento mutuo, siempre se cuidaba la forma en la que se decían las cosas y por supuesto el volumen. Como decía Antonio Maceo, 'se puede decir más alto, pero no más claro'". El coro lo dice todo: "Háblame bajito, que con calma todo se resuelve, habla suavecito, no te pases, no te estreses". "Háblame Bajito" es un cadencioso tema que une ritmos latinos como el son cubano, con beats modernos y por supuesto la esencia tropical de Fonseca y funk de Cimafunk. Grabada en Bogotá, esta canción es producida por Simón Mejía y José Castillo, miembros del galardonado grupo colombiano Bomba Estéreo. Cimafunk asegura que entre los dos intérpretes hay química: "Siempre me han gustado las canciones de Fonseca, y sus letras. Crear esta canción junto con él, fue una super experiencia porque ambos estábamos conectados con el mismo canal del barrio y el respeto mutuo".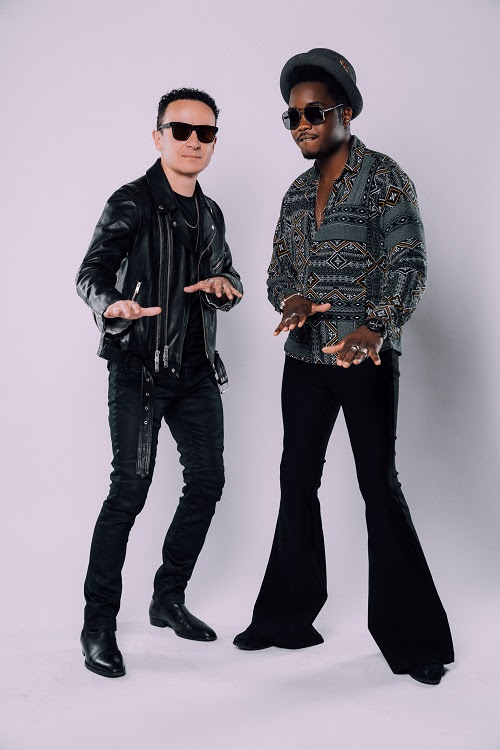 Crédito fotografía: Sony Music Descarga las imágenes AQUÍ 
El video de esta canción fue grabado entre Miami, Bogotá y Barranquilla, usando técnicas mixtas de diseño y composición gráfica, como la pintura, el dibujo digital, animación cuadro a cuadro, papel rasgado entre otros, para crear un mundo abstracto en donde el diálogo y el respeto se expresan en un lenguaje universal que rompe barreras entre las personas, invitando a disfrutar la vida y a bailar. Este cortometraje es dirigido por Leo González y producido por María José Marulanda para la compañía Nueve Voltios. Rubén Antorveza está a cargo de la animación y post-producción. 
Próximos conciertos: Marzo 5: Cali, Arena Cañaveralejo. "Compadres Tour" junto a Andrés Cepeda.
Marzo 17: México Auditorio Nacional
Acerca de Fonseca
Juan Fernando Fonseca, cantautor colombiano, nominado 17 veces al Latin Grammy®, ganador de siete gramófonos y nominado al GRAMMY®, incursionó por primera vez en el ámbito artístico en el año 2002 con su álbum Fonseca. La internacionalización de su carrera musical llegó en 2005 con su segundo disco Corazón y el éxito "Te Mando Flores". A estos éxitos se sumaron ocho trabajos discográficos que han contado con múltiples #1 en radio y chart en Billboard, ellos son: Gratitud (2008), Ilusión (2011), Fonseca Sinfónico con la Orquesta Sinfónica Nacional de Colombia (2014), Conexión (2015), Homenaje a la música de Diomedes Díaz (2015), Agustín (2018) y Compadres (2020).
Fonseca también ha hecho parte de importantes iniciativas filantrópicas y sociales, primero, con la creación en el año 2017 de su Fundación Gratitud, y segundo, con su participación en varias oportunidades en la Gala Anual de la Fundación Maestro Cares, del cantante Marc Anthony, la actuación más reciente fue en diciembre de 2021 en New York.
Fonseca, quien ha recorrido con su música, Latinoamérica, Europa, China y Estados Unidos, ha logrado consolidar con total popularidad su carrera gracias a importantes giras, las más recientes y con éxito rotundo, fue la "Simples Corazones" y "Compadres Tour" con Andrés Cepeda, se recorrieron más de 25 ciudades en los Estados Unidos como : Houston, San Antonio, Dallas, Orlando, Miami, Boston, Nueva York, Washington DC, Atlanta y Charlotte; llenando escenarios tan importantes como el FTX Arena de Miami.
Sus más recientes lanzamientos musicales, "Tú 1ero" y "2005", este último junto a Greeicy y Cali & El Dandee, suman más de 12 millones de visualizaciones en YouTube y más de 14 millones de streams en Spotify. Ha colaborado también con: Jesse & Joy, Reik, Carlos Vives, Juanes, Victor Manuelle, Willie Colón, Miguel Bosé y Diego Torres, entre muchos otros.
El artista se encuentra en la producción de un nuevo trabajo musical que estrenará en el primer semestre de 2022. 
---
FONSECA Kicks Off 2022 With His Single And Video "HÁBLAME BAJITO" With Cuban Artist CIMAFUNK
Listen to "Háblame Bajito" HERE
Enjoy the video for "Háblame Bajito" HERE
MIAMI (January 28, 2022) – Colombian singer and songwriter Fonseca releases his single and video "Háblame Bajito," a collaboration with Cuban artist Cimafunk that urges us to find common ground by listening. Cimafunk is known for his fusions of funk with Afro-Caribbean sounds. For him, this song represents "a return to the barrio, to the way I was raised – respect to be respected. That's what I was taught, and even when there was no way to see eye-to-eye, at least we could speak with civility and tact. As [the Cuban independence leader] Antonio Maceo said, 'one can speak more loudly without speaking more clearly.'" The chorus sums up the concept: "Háblame bajito, que con calma todo se resuelve, habla suavecito, no te pases, no te estreses". (Speak to me quietly, with calmness everything can be resolved. Speak softly, don't go overboard, don't stress out.) "Háblame Bajito" is a rhythmic song that fuses Cuban flare, modern beats and of course Fonseca's signature tropical essence and Cimafunk's funk. Recorded in Bogotá, the track is produced by Simón Mejía and José Castillo, members of the award-winning Colombian group Bomba Estéreo. Cimafunk adds that the two vocalists possess chemistry: "I have always liked Fonseca's music and lyrics. Creating this song with him was a great experience, because we are both tuned in to the same barrio wavelength and believe in mutual respect."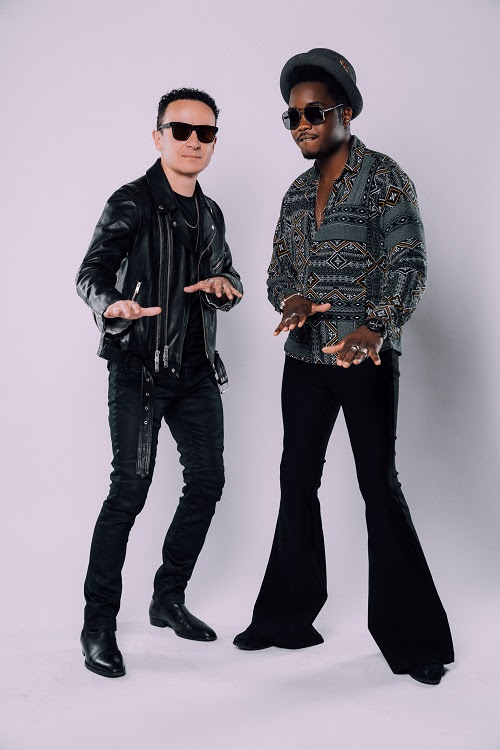 Photo credit: Sony MusicDownload Images HERE 
The video of this song was recorded in Miami, Bogotá and Barranquilla, using mixed design and graphical composition techniques such as painting, digital art, frame-by-frame animation and torn paper. Creating an abstract world where dialogue and respect exist in a universal language that builds bridges between people, the visuals invite us to enjoy life and to dance. This short film is directed by Leo González and produced by María José Marulanda for Nueve Voltios. Rubén Antorveza was in charge of animation and post-production.
Upcoming Concerts:
March 5: Cali, Arena Cañaveralejo – "Compadres Tour" alongside Andrés Cepeda.
March 17: México Auditorio Nacional
About Fonseca
Born Juan Fernando Fonseca, this Colombian singer and songwriter has received seven Latin GRAMMYs® from 17 nominations, as well as a GRAMMY® nomination. He began his professional recording career with his self-titled debut album. International fame arrived with his 2005 album Corazón, which featured the hit single "Te Mando Flores." Since then, he has released eight more albums that have produced multiple #1 airplay hits on the Billboard charts. His album discography includes Gratitud (2008), Ilusión (2011), Fonseca Sinfónico con la Orquesta Sinfónica Nacional de Colombia (2014), Conexión (2015), Homenaje a la música de Diomedes Díaz (2015), Agustín (2018) and Compadres (2020).
Undertaking important humanitarian work, Fonseca in 2017 created the Fundación Gratitud. He has also regularly performed, most recently in December 2021 in New York City, at the annual gala of the Maestro Cares Foundation, which was co-founded by Marc Anthony.
Headlining concerts in Latin America, Europe, China and the United States, Fonseca has most recently dazzled audiences with his Simples Corazones Tour and his Compadres Tour with Andrés Cepeda, which visited over 25 U.S. cities including Houston, San Antonio, Dallas, Orlando, Miami, Boston, NYC, DC, Atlanta, Charlotte, and Miami, where they sold out the FTX Arena.
His most recent singles "Tú 1ero" and "2005," the latter a collaboration with Greeicy and Cali & El Dandee, have garnered over 12 million YouTube views and 14 million Spotify streams. He has also duetted with such greats as Jesse & Joy, Reik, Carlos Vives, Juanes, Victor Manuelle, Willie Colón, Miguel Bosé and Diego Torres.
Fonseca is working on his forthcoming album to be released in the first half of 2022.
About Cimafunk
Cimafunk became a household name in Cuba with his 2018 hit "Me Voy" which led to his designation as "Artist of the Year" by Vistar Magazine and the Lucas Award for most popular video. Part of his debut album "Terapia," "Me Voy", "Paciente" and other songs generated a frenzy, creating a movement in Havana and throughout the island, selling out venues with thousands of fans excited to dance to the groove of Afro-Cuban Funk and millennials replicating his style and appearance, one that draws heavily on his African roots and the black showmen of the 20th century.
Cimafunk's name refers to his heritage as a 'cimarroìn,' Cubans of African descent who resisted and escaped slavery, as well as to the essence of his music that aims to subvert conventional sounds by innovating with rhythms. By bringing out the best in Cuban rhythms and traditions and infusing sounds and styles from Africa and the U.S., Cimafunk has created something unique and special, not only in terms of music but also with the values he stands for.
Named by Billboard as a "Top 10 Latin Artist to watch," Cimafunk stole the show at the 2019 South by Southwest Music Festival and has toured aggressively in the U.S. and Europe. Fito Paez has referred to him as "the future," and Rolling Stone described his music as "an electrifying combination of funk and soul, layered over the five-beat clave, or the heartbeat of Cuban music, brought to Cuba by enslaved people from West Africa."
Just prior to the pandemic, Cimafunk and his band received overwhelming praise for a moving performance on NPR's Tiny Desk concert series. – which NPR recently chose as one of the overall best TDC's of 2020
Cun Cun Pra, Cimafunk's recent 5-track EP, features the contagious party song Cun Cun Pra, a funky pop mover and shaker La Papa, featuring Cuban sensation Diana Fuentes, a sensual R&B remix of Parar El Tiempo, featuring up-and-coming Mexican singer Salma, Caliente, a New Orleans meets Havana horn-heavy, hip hop banger featuring Tairona "Tank" Ball and The Soul Rebels, and El Potaje, a passing of the torch tune, where Cimafunk joins living legends Omara Portuondo, Chucho Valdés, Pancho Amat and la Orquesta Aragón to brings out the past, present and future of Cuban music.
Sigue a Fonseca en / Follow Fonseca on:
www.instagram.com/fonsecamusic/
www.es-la.facebook.com/fonsecamusic/
www.youtube.com/channel/Fonseca