ENRIQUE IGLESIAS estrena el video musical de "TE FUISTE" FT. MYKE TOWERS
Haz clic AQUÍ para verlo
MIAMI (4 de febrero de 2022) – La icónica superestrella global ganador de múltiples GRAMMYs®, Enrique Iglesias, estrena hoy el nuevo video musical de su último sencillo "Te Fuiste" junto al artista urbano multi-platino, el puertorriqueño Myke Towers. El tema se desprende del más reciente trabajo de Iglesias titulado Final Vol. 1. El video oficial de la balada urbana interpretada por Enrique y Myke se grabó en Miami bajo la dirección de Marlon Peña. ¡Ya puedes ver el video AQUÍ!
Desde su lanzamiento el pasado otoño, Final Vol. 1 ha acumulado más de 8.7 mil milones de reproducciones totales en todo el mundo. Asimismo, el undécimo trabajo discográfico de Enrique ya cuenta con 57 discos de platino en 37 países, incluido Estados Unidos. Las canciones que componen el álbum han recibido en conjunto 108 certificaciones de platino en 23 países y 18 certificaciones de oro en 12 países.
Luego del lanzamiento del disco, Enrique emprendió su gira coestelar junto a Ricky Martin. Considerada por USA Today como un "espectáculo efervescente de orgullo latino", la impresionante gira presentada por dos de los artistas latinos más talentosos del mundo continúa definiendo una nueva era en la industria y, sin duda, se destacará como una de las más grandes de todos los tiempos. La revista Pollstar incluyó este histórico evento en su lista "Top 20 Global Concert Tours" y la consideró la gira latina más lucrativa.
---
ENRIQUE IGLESIAS Drops Music Video For "TE FUISTE" FT. MYKE TOWERS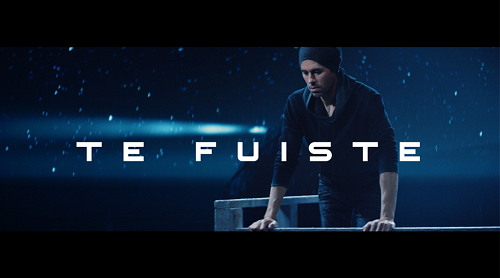 Watch it HERE!
MIAMI (February 4, 2022) – Today, multi GRAMMY® winning global superstar and international icon Enrique Iglesias dropped a new music video for "Te Fuiste" featuring multi-platinum Puerto Rican urbano artist Myke Towers from Enrique's latest album, Final Vol. 1. Directed by Marlon Peña, the official video for Enrique & Myke's urban pop ballad was shot in Miami. Watch the video HERE!
Since its release last fall, Final Vol. 1 accumulated more than 8.7 billion total streams worldwide! Enrique's incredible eleventh studio album has also been certified 57X Platinum in 37 countries including the US. The songs from this album have cumulatively achieved 108 platinum certifications across 23 countries and 18 gold certifications across 12 countries.
Following the album release, Enrique hit the road with Ricky Martin in the fall. Heralded as an "effervescent spectacle of Latin pride" by USA Today, the remarkable tour presented by two of the most talented Latin artists the world has ever seen continues to define an era and is sure to stand out in music history as one of the greatest tours of all time and featured as one of Pollstar's "Top 20 Global Concert Tours" and the most lucrative Latin tour according to Pollstar.
Sigue a Enrique Iglesias en // Follow Enrique Iglesias on:
www.instagram.com/enriqueiglesias/
www.twitter.com/enriqueiglesias/
www.facebook.com/enriqueiglesias/