EMILIA se une a DUKI en "COMO SI NO IMPORTARA"
La carrera musical de Emilia continúa en ascenso y sorprende al unirse con DUKI y lanzar su nuevo single: "Como Si No Importara"
MIAMI (15 de julio de 2021) – Con una letra que habla sobre un amor pasional y secreto, y un videoclip explosivo, Emilia y DUKI juntan su increíble talento en una canción que promete convertirse en una de las preferidas entre en sus fanáticos. "Como Si No Importara" fue compuesta por Emilia, FMK y DUKI, con producción de Big One, y sigue los pasos de su hit "Perreito Salvaje" cuyo video se convirtió en tendencia a solo horas de su lanzamiento y continúa sonando en todas las radios.

El videoclip, que retrata la esperada colaboración entre Emilia y DUKI, se grabó en un penthouse ubicado en North Miami, Florida. "Se rumorea que en este penthouse se hospedó Frank Sinatra en sus mejores momentos, y me pareció ideal para contar un encuentro intimo entre los dos artistas, inmersos en una estética vintage lujosa," dice Martin Seipel director del video.

Emilia, que continúa participando como coach en La Voz Argentina, recientemente brilló en los Premios Heat donde fue parte del panel Latinas Que Trasformaron La Industria y se presentó en vivo junto a Boza para interpretar su más reciente single "Perrito Salvaje".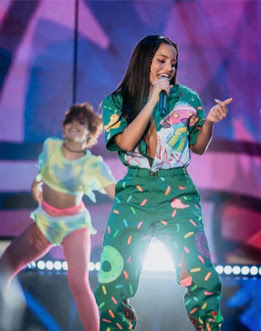 Consolidada comoartista revelación, la carrera de Emilia cobra un nuevo impulso en el 2021 con estos dos nuevos sencillos la joven ha logrado grandes titulares y ha sido reconocida por la industria musical como una de las cantantes referentes de su generación. Emilia ha establecido un nombre para ella misma como "Una de las principales estrellas femeninas de la música latina". – New York Style Guide.

Acerca de Emilia:
Desde sus raíces en Nogoyá, Argentina, ciudad agrícola de 45 mil habitantes, María Emilia Mernes ha llegado a cautivar al mundo en sus facetas de cantante, compositora, actriz, bailarina y modelo.
Después de sobresalir en la música y el modelaje durante su adolescencia, Emilia emprendió su carrera profesional como cantante en el 2016 como vocalista del grupo uruguayo Rombai. En el 2018, se convirtió en solista, firmando con Walter Kolm Entertainment para su representación artística, y con Sony Music Latin para la internacionalización de su música.
Desde mayo 2019 hasta la fecha, Emilia se ha dado a conocer en todo el mundo con éxitos de la talla de "Recalienta" con 19 millones de vistas, "No Soy Yo" junto a Darell con 27 millones, "Billion" con 9.7 millones, "Bendición" junto a Alex Rose con 9.3 millones, y "Perreito Salvaje" junto a Boza con 8.4 millones.
En 2021, Emilia hará su debut actoral interpretando a Sofía en la serie Entrelazados de Disney+ Latinoamérica. Como modelo, sus asociaciones de marca incluyen la colección Women By Nike en Argentina, Benetton Perfumes y la marca estadounidense Fashion Nova, que tiene más de 20 millones de seguidores en Instagram.
La industria de la música también ha tomado nota de sus logros, nominándola en las categorías de Mejor Artista Revelación en las ceremonias de premiación de Univisión Premios Juventud (2020) y Premio Lo Nuestro (2021), así como en los Premios Heat Latin Music Awards (2021).

Acerca de DUKI:
DUKI es el referente indiscutido del trap argentino de expansión internacional, que continúa exportando su sonido al mundo y recientemente ha lanzado su flamante nuevo álbum, "Desde el fin del mundo". Producido por YESAN y ASAN, está compuesto por 18 canciones que reúnen a los representantes sudamericanos más reconocidos del género, como Pablo Chill-e, Khea, Bizarrap, Mesita, Ysy A, Neo Pistea, Farina, Ca7riel, Obie Wanshot, Young Cister, Lara 91k, Pekeño 77, Y Lucho Ssj, entre otros. Cuenta con más de 9 millones de oyentes mensuales y más de 2.000 millones de streams en Spotify. Supera los 1.200 millones de vistas en YouTube y más de 4.6 millones de seguidores en esa plataforma. Además, cuenta con más de 5.8 millones seguidores en Instagram. Con sus giras internacionales agotó fechas en España, Uruguay, Chile, Perú, Estados Unidos y México. En 2019, cerró ante más de 20 mil personas la segunda edición del Festival Buenos Aires Trap en el Hipódromo de Palermo, y finalizó el 2020 siendo la figura más destacada de la edición digital del mismo Festival, con más de 1 millón de espectadores en vivo. Participó en el disco ganador del Grammy 2021 a Mejor Álbum Pop Latino, "YHLQMDLG" de Bad Bunny, en la canción "Hablamos mañana".
---
EMILIA Joins DUKI On "COMO SI NO IMPORTARA"
MIAMI (July 15, 2021) -The young urban singer and songwriter Emilia continues to gain momentum, and surprises us by joining the trap star DUKI on her new single "Como Si No Importara" (As If It Didn't Matter).
With an explosive music video, and lyrics that speak of a passionate and secret love, "Como Si No Importara"finds these two leaders of Argentina's new generation of urban artists combining their extraordinary talents on a song that is sure to become a favorite of their millions of fans. Written by Emilia, FMK and DUKI, and produced by Big One, "Como Si No Importara" is the followup to Emilia's successful single "Perreito Salvaje" featuring Boza, whose music video started trending within hours of its premiere and remains an airplay favorite.
The music video of "Como Si No Importara," which portrays the highly anticipated collaboration between Emilia and DUKI, was filmed in a North Miami penthouse. Director Martín Seipel notes: "It is rumored that Frank Sinatra stayed at this penthouse at the peak of his career. It seemed like the ideal place to relate a rendezvous between the two artists as they are immersed in a luxurious vintage aesthetic."
In the meantime, Emilia continues serving as a coach on La Voz (The Voice) Argentina, and recently participated at the Premios Heat conference panel titled Latinas Who Are Transforming The Industry, while also performing "Perreito Salvaje" at the event with Boza.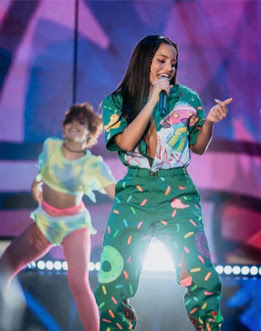 Emilia maintains her momentum during mid-2021 with her two most recent singles. Hailed as a rising star, she has enjoyed critical acclaim while garnering industry recognition as an influential role model. The New York Style Guide recently praised her as "one of the biggest female stars in Latin music."
About Emilia:
From her roots in Nogoyá, Argentina, an agricultural city of 45,000, María Emilia Mernes has gone on to captivate the world as a singer, songwriter, actress, dancer and model.
After excelling in music and modeling during her adolescence, Emilia launched her professional singing career in 2016 as lead vocalist of the Uruguayan group Rombai. In 2018, she went solo, signing a management contract with Walter Kolm Entertainment and a recording contract with Sony Music Latin shortly thereafter.
Ever since May 2019, Emilia has gained international renown with hits such as "Recalienta" (Overheat) with 19 million views, "No Soy Yo" (It Is Not I) with Darell (27 million); "Billion" (9.7M), "Bendición" (Blessing) with Alex Rose (9.3M); and "Perreito Salvaje" (Savage Twerking) with Boza (8.4M).
In 2021, Emilia is to make her acting debut playing Sofía on the Disney+ Latin America series Entrelazados (Tangled Up). As a model, her brand partnerships include the Women By Nike collection in Argentina, Benetton Perfumes, and the U.S. brand Fashion Nova, which has over 20 million Instagram followers.
The music industry has taken note of her accomplishments, nominating her in Best New Artist categories at Univisión's award ceremonies Premios Juventud (2020) and Premio Lo Nuestro (2021), as well as the Premios Heat Latin Music Awards (2021).
About DUKI:
DUKI is Argentina's most internationally renowned trap artist. All 10 tracks from his first album Súper Sangre Joven (Super Young Blood) made the singles charts. Its biggest hit was the Latin GRAMMY®-nominated "Goteo," which spent 24 weeks at #1 in Argentina and also topped the charts in Latin America, while racking up over 114 million views. His EP 24 was another great success and includes a collaboration with the American rapper and producer Juicy J. He scored a major hit in 2020 with "Sold Out Dates," which trended in multiple countries while surpassing 13 million views and 18 million streams. In April 2021, he released his album Desde El Fin Del Mundo (From the End of the World) with 18 songs produced by YESAN and ASAN that bring together South America's top urban acts such as Pablo Chill-e, Khea, Bizarrap, Mesita, Ysy A, Neo Pistea, Farina, Ca7riel, Obie Wanshot, Young Cister, Lara 91k, Pekeño 77, and Lucho Ssj. All 18 songs from the album reached the Argentina Top 200, while the track "Malbec" with Bizarrap has spent over two months in the Top 50. He has over 12 million monthly listeners and 2.4 billion total streams on Spotify. On YouTube, he has over 1.4 billion views and 4.9 million subscribers. He also has over 6.5 million Instagram followers. His tours have sold out venues in Spain, Uruguay, Chile, Peru, USA and Mexico. In 2019, he headlined the second edition of the Buenos Aires Trap Festival at the Hipódromo de Palermo for over 20,000 fans. He wrapped up 2020 as the headlining artist of the festival's digital edition, with over 1 million virtual attendees. He performs on "Hablamos Mañana," included on Bad Bunny's album YHLQMDLG, which was the biggest-selling Latin album of the year and won the 2021 GRAMMY® for Best Latin Pop or Urban Album.
Sigue a Emilia en // Follow Emilia on:
www.instagram.com/emiliamernes/
www.facebook.com/emiliamernes/