El talento imparable NATHY PELUSO obtiene 4 nominaciones al LATIN GRAMMY® en las categorías de Rap, Urbana y Alternativa y presenta su nueva sesión de SPOTIFY SINGLES con una versión en vivo de "MAFIOSA" + un cover de "La Despedida" de Daddy Yankee
MIAMI (29 de septiembre de 2021) – Nathy Peluso sabe provocarnos con su arte. La compositora, cantante, artista alternativa y rapera Argentina sigue dando mucho de qué hablar con su nueva sesión en vivo grabada desde Barcelona para Spotify Singles. Reinventa su imponente éxito "Mafiosa" con influencias de salsa, y con letra que cambia las tornas de la mirada masculina. Como dice la letra, "hay que tener agallas pa' comerme…que hay que tener el cuerpo para aguantarme…" Grabada con una banda completa, esta versión de ''Mafiosa'' es una celebración poderosa que viene de la mano de un cóver sensual de "La Despedida" de Daddy Yankee, donde Nathy personifica su flow único, mezclando el hip-hop y el pop con el estilo de reggaetón de la canción original. Este verano, Spotify también destacó a Nathy Peluso en su programa global de artistas emergentes llamado RADAR, seguido por el estreno de su RADAR mini-documental biográfico. Con más de 4 millones oyentes mensuales en Spotify, su más reciente sencillo "Mafiosa" pronto superará los 13 millones de streams. ¡Haz clic aquí para disfrutar de los 2021 Spotify Singles de Nathy Peluso!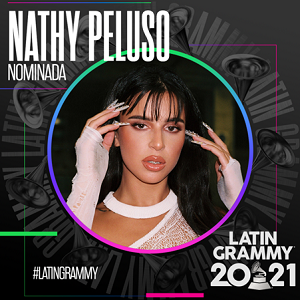 El año pasado, esta artista radicada en Barcelona lanzó su álbum debut Calambre y recibió dos nominaciones al Latin GRAMMY® durante la misma semana. Demostrando su gran versatilidad de nuevo, este año Nathy Peluso obtiene cuatro nominaciones al Latin GRAMMY® cruzando géneros y consolidándose como artista internacional. Sus nominaciones en el 2021 incluyen a Mejor Álbum de Música Alternativa por Calambre, el cual ha acumulado más de 145 millones de streams; Mejor Canción de Rap/Hip-Hop por "Sana Sana" que supera los 240 millones de streams, Mejor Canción Alternativa por "Agárrate" y Mejor Fusión/Interpretación Urbana por un tema con Bizarrap que se hizo viral este año – "NATHY PELUSO: BZRP MUSIC SESSIONS, VOL.36" el cual cuenta con más de 164 millones de streams. La música de Calambre va desde el hip-hop hasta un R&B elegante y nostálgico además de actualizar la salsa clásica. Nathy Peluso tiene el don de crear personajes, y salta con destreza entre estilos, géneros e idiomas. Visceral y vulnerable, sexy e inconformista, en el escenario y en las redes, Nathy comparte su pasión y su sensibilidad única con todo el mundo. "Delito", otro tema consentido por sus seguidores por promover el empoderamiento femenino, ha acumulado más de 85 millones de streams, y la superestrella Cardi B lo cantó en Instagram en una publicación que superó las 19 millones de vistas. Nathy publicó una actuación oficial en vivo de "Delito" para la serie  #PlayAtHome del presentador de televisión estadounidense Stephen Colbert. Da clic aquí para ver la presentación de su canción "Buenos Aires" durante la convocatoria virtual de SXSW 2021.  Calambre recibió excelentes críticas de la prensa especializada, incluyendo The New York Times. The Guardian la nombró como "One To Watch": "Cantante argentina con gran público en las redes sociales se acerca a sonidos latinos tradicionales, rap y R&B. The FADER publicó, "Este álbum está lleno de triunfos… 'Sugga' tiene arreglos de metales realizados por Michael B. Nelson, colaborado entrañable de Prince, y 'Llámame' está suave en su totalidad".  CLASH afirma que "Nathy Peluso es imparable. Conoce a la revolucionaria del pop latino que abre camino propio…" Por su estilo de moda, Nathy Peluso también ha aparecido en la portada de revistas de la talla de Glamour México, King Kong, Rolling Stone Argentina y Galore. La cuenta influyente de Instagram @diet_prada musicalizó su resumen del desfile de Jacquemus en París con "Celebré", otra canción que se desprende de Calambre.
---
Bombastic Talent NATHY PELUSO Scores 4 LATIN GRAMMY® Nominations Across Rap, Urban & Alternative Categories, And Delivers Brand New SPOTIFY SINGLES Session Featuring A Live Version Of "MAFIOSA" + A Cover Of Daddy Yankee "La Despedida"
MIAMI (September 29, 2021) – Nathy Peluso aims to provoke. The Argentine songwriter, singer, alternative artist and rapper, continues to display her artistry for provocative performance in her brand new Spotify Singles recorded live in Barcelona. She reimagines her bossed up salsa-jolted "Mafiosa," a single which empowers women to flip the male gaze. She asserts, "it takes guts to devour me… It takes a real body to handle me…". The 'Mafiosa' full-band rendition is a powerful celebration with a live flair, paired in the session with a sensual cover of Daddy Yankee's "La Despedida," which shows Peluso embodying her own unique groove, blending hip-hop and pop elements into the reggaeton legend's 2021 hit. This summer, Spotify highlighted Nathy Peluso in their global emerging artists program, RADAR, followed by the release of her own biographical RADAR mini-doc. With over 4 Million monthly listeners on Spotify, her latest single, "Mafiosa," is about to cross the 13 Million stream mark. Check out Nathy Peluso's 2021 Spotify Singles streaming here!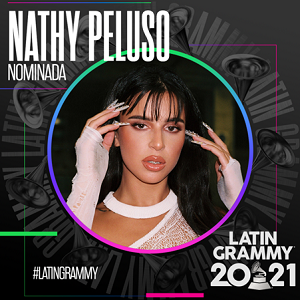 Last year, the Barcelona-based artist's bold and breakthrough debut album Calambre, was released the same week as she received two Latin GRAMMY®s nominations. Showcasing her continued genre versatility – this week – Nathy Peluso scored 4 additional Latin GRAMMY®s nominations spanning genre categories, and proving her status as a leading artist in the international music scene, including 'Best Alternative Music Album' for her debut album Calambre, which has now accumulated 145 Million streams; 'Best Rap/Hip Hop Song' for "SanaSana," a single celebrated by fans with 240 Million streams, 'Best Alternative Song' for "Agarrate" and 'Best Urban Fusion/Performance' for a song which went viral this year, "NATHY PELUSO: BZRP MUSIC SESSIONS, VOL.36." with Bizarrap, which reigns a massive 164 Million streams. On her bold debut album Calambre, Nathy Peluso explores sharp hip hop, sleek retro R&B, even a modern take on old-school salsa. Nathy Peluso thrives at creating characters and easily code switching between styles, genres and languages. Visceral and vulnerable, sexy yet nonconforming, onstage and online, Nathy's passion and unique sensibilities are charming fans all over the world. Fan-favorite "Delito" has accumulated over 85 million streams garnering attention from Cardi B (who sang the song on her Instagram reaching 19 Million new views), a track that also shares a theme of female empowerment. Peluso released an official live performance of her single "Delito" on Stephen Colbert's #PlayAtHome series. Also watch Nathy perform a personal R&B jam "Buenos Aires," as part of the SXSW 2021 virtual conference.  Nathy's acclaimed debut album Calambre  was profiled in The New York Times. The Guardian spotlighted her as "One To Watch": "Argentinian singer with a huge social media following embraces traditional Latin sounds, rap and R&B." The FADER wrote, "The album is full of bright spots… 'Sugga' has horn arrangements by longtime Prince collaborator Michael B. Nelson, and 'Llamame' is totally smoothed-out." CLASH said "Nathy Peluso Is Unstoppable. Meet the Latin pop revolutionary walking her own path…" Nathy Peluso also permeates international fashion with cover appearances on Glamour Mexico, King Kong, Rolling Stone Argentina to Galore, and more; and influential IG @diet_prada soundtracked their Jacquemus show recap in Paris to Nathy Peluso's Calambre.
Sigue a NATHY PELUSO en // Follow NATHY PELUSO on: