El Pianista ARTHUR HANLON y EVALUNA MONTANER Reversionan "UNFORGETTABLE"
Una nueva versión que destila belleza y musicalidad, ahora disponible en todas las plataformas
MIAMI (Agosto 23, 2022) – "Unforgettable," el clásico de Nat King Cole, cobra nueva vida con el piano de Arthur Hanlon y la voz de Evaluna Montaner. Escúchala AQUÍ.
Los dos artistas grabaron una nueva y hermosa versión del tema que ganó un GRAMMY® como "Canción y Grabación del Año" en 1992 en la versión de Natalie Cole junto a la voz de su padre.
En la versión de Arthur y Evaluna, la cristalina voz de Evaluna canta con el piano de Arthur en una interpretación que es un verdadero dueto, subrayando la musicalidad y el extraordinario talento de ambos artistas.
"En el momento que leÍ la lista de potenciales canciones, pensé realmente quiero cantar esta canción. Esta es una gran oportunidad y una gran responsabilidad", dijo Evaluna. "Diría que mi mejor memoria de esta canción es cantarla hoy".
"Es una de esas canciones que siempre ha estado en mi mente y mi corazon", dijo Arthur. "Evaluna y yo hemos trabajado juntos antes. Quise pintar el cielo con mi piano y pude imaginar su voz con esa imagen".
Arthur y Evaluna grabaron la nueva version de "Unforgettable" como parte de la serie audiovisual "Reimagined At Home" (Reimaginada En Casa) de la Academia de la Grabación. Ahora, esta única y bella versión está finalmente disponible en todas las plataformas digitales.
---
Pianist ARTHUR HANLON and EVALUNA MONTANER Release a brand new version of "UNFORGETTABLE"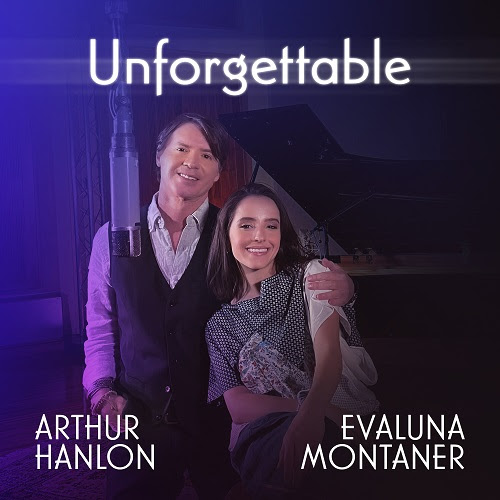 The GRAMMY®-winning classic finds new life with musicianship and beauty. Available in all streaming platforms!
MIAMI (February 23, 2022) – "Unforgettable," the Nat King Cole classic, gets new life with Arthur Hanlon's piano and Evaluna Montaner's vocals. Listen HERE.
The two acclaimed artists recorded a gorgeous new version of the GRAMMY® winning song –which won "Song and Record" of the year in 1992 in the Natalie Cole version recorded with her father's vocals.
Arthur and Evaluna's version features Evaluna singing only with Arthur's piano, in a rendition that is a true duet, highlighting the superlative musicianship of both artists.
"As soon as I read the list of potential songs, I thought 'I really want to sing this song. This is a great opportunity and a big responsibility,'" says Evaluna. "I would say my best memory of this song is singing it today."
"This is one of those songs that's always been in my head and in my heart," says Arthur. "Evaluna and I have worked together before. I was trying to paint the sky with my piano and I could just picture her voice with that."
Arthur and Evaluna recorded their new, sublimely beautiful version of "Unforgettable," as part of the Recording Academy's "Reimagined At Home" series in February.
Now, fans can stream the new version everywhere.
Sigue a Arthur Hanlon en // Follow Arthur Hanlon on:
www.facebook.com/arthurhanlonmusic
www.instagram.com/arthurhanlon