El exitoso sencillo de ENRIQUE IGLESIAS, "ME PASÉ", encabeza las listas en todo el mundo
Al mejor estilo de Enrique Iglesias, conocido por sus éxitos de verano que no sabíamos que necesitábamos, el artista español y dueño de las listas regala a sus fanáticos un nuevo tema rítmico impregnado de reggaetón y perfecto para bailar titulado 'Me Pasé'". – Billboard
"El ritmo urbano que mezcla reggaetón y sonidos pop parece ser la promesa del verano para el hemisferio norte". – CNN En Español
"Enrique Iglesias, considerado por Billboard el artista latino más grande todos los tiempos, festeja el verano con 'Me pasé', un sencillo junto al reggaetonero Farruko. La canción, construida sobre la base de una melodía eléctrica y con un ritmo contagioso, está pensada para ser uno de los éxitos veraniegos". – EFE
MIAMI (29 de julio de 2021) – Luego de 26 días desde que dio inicio al verano con "Me Pasé", el nuevo éxito que se estrenó el pasado 1 de julio, la superestrella global Enrique Iglesias tiene a sus fanáticos en todo el mundo esperando ansiosamente la lluvia de sorpresas que les dará en los próximos meses.
Con todo el poder reggaetonero de Farruko, "Me Pasé" es una primera muestra de los proyectos que Iglesias tiene guardados para los próximos meses entre ellos, su nuevo disco. El sencillo continúa arrasando con ímpetu en EE. UU., Latinoamérica y el mundo y, a la fecha, ha acumulado más de 13 millones de reproducciones globales, convirtiéndose en un éxito masivo en todo el planeta. "Me Pasé" se ha posicionado como la canción más reproducida en varios países como México, Estados Unidos, España, Argentina, Chile, Alemania y Francia. Además, se encuentra en el Top 20 del popular playlist VIVA LATINO de Spotify, y ya hizo su entrada a las principales listas de Spotify y Apple, entre ellas, Dale Play (Apple Music) y Éxitos USA (Spotify).
Con miras a convertirse en otro éxito mundial en la increíble e histórica carrera de Enrique Iglesias, "Me Pasé" se abre camino de manera extraordinaria en varias de las listas de Billboard, incluidas Latin Pop Airplay (en donde ocupa la 2ª posición), Latin Airplay (7ª) y Latin Rhythm Airplay (6ª).
A nivel internacional, el tema debutó a mitad de semana en la posición 39 en Polonia y forma parte de los playlists de las emisoras polacas RMF FM (en donde lidera el género adulto contemporáneo) y Radio Eska (en la que ocupa el primer lugar entre los éxitos actuales). En los Países Bajos, "Me Pasé" fue seleccionado como el nuevo 'alarmschijf' o "megahit" por Q Music, una de las principales emisoras nacionales.
EnYouTube, el video musical oficial, que se filmó en las paradisiacas playas de El Portillo en Samaná, República Dominicana, ha acumulado más de 15 millones de reproducciones a la fecha.
Como prueba auténtica del poder estelar de Iglesias alrededor del mundo y del encanto contagioso de "Me Pasé", la canción provocó de inmediato un movimiento viral en TikTok que ha llevado a fanáticos de todo el planeta a crear casi 20 mil videos dentro de la plataforma.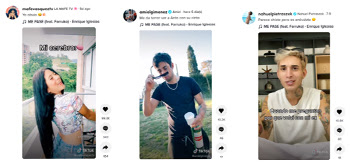 El próximo 25 de septiembre, Enrique Iglesias se presentará en Las Vegas en lo que será el inicio de su gira por Norteamérica junto a Ricky Martin. Los fanáticos serán testigos de un evento histórico en el que dos leyendas de la música latina compartirán escenario. Esta será la primera gira que emprende Iglesias por Estados Unidos desde 2017. Las entradas para varios de los conciertos están por agotarse y ya se han añadido segundas fechas en algunas ciudades. Entradas a la venta en www.livenation.com.
Fechas de la gira Enrique Iglesias & Ricky Martin Live:
Las Vegas, NV – MGM Grand Arena – 25 de septiembre
Rosemont, IL – Allstate Arena – 30 de septiembre
Rosemont, IL – Allstate Arena – 1 de octubre
Boston, MA – TD Garden – 5 de octubre
Toronto, ON – Scotiabank Arena – 7 de octubre
Toronto, ON – Scotiabank Arena – 8 de octubre
Montreal, QC – Centre Bell – 9 de octubre
Philadelphia, PA – Wells Fargo Center – 13 de octubre
Washington, DC – Capital One Arena – 14 de octubre
Newark, NJ – Prudential Center – 16 de octubre
New York, NY – Madison Square Garden – 17 de octubre
Miami, FL – FTX Arena (Formerly American Airlines Arena) – 22 de octubre
Miami, FL – FTX Arena (Formerly American Airlines Arena) – 23 de octubre
Atlanta, GA – State Farm Arena – 29 de octubre
Orlando, FL – Amway Center – 30 de octubre
Dallas, TX – American Airlines center – 3 de noviembre
Houston, TX – Toyota Center – 5 de noviembre
San Antonio, TX – AT&T Center – 6 de noviembre
Edinburg, TX – Bert Ogden Arena – 7 de noviembre
El Paso, TX – Don Haskins Center – 10 de noviembre
Glendale, AZ – Gila River Arena – 11 de noviembre
Sacramento, CA – Golden 1 Center – 13 de noviembre
San Jose, CA – SAP Center at San Jose – 14 de noviembre
Los Angeles, CA – STAPLES Center – 18 de noviembre
Los Angeles, CA – STAPLES Center – 19 de noviembre
Anaheim, CA – Honda Center – 20 de noviembre
---
Enrique Iglesias' Hit Single "ME PASÉ" Tops Charts Around The World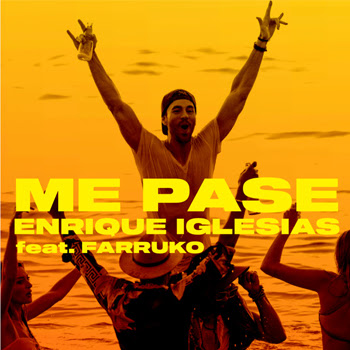 "In True Enrique Iglesias Fashion, Who's Known For Dropping Summer Gems We Didn't Know We Needed, The Spanish Chart-Topping Artist Has Gifted Fans With A Reggaeton-Infused Rhythmic Track Made For Dancing Titled 'Me Pasé'." – Billboard
"The Urban Rhythm That Mixes Reggaeton And Pop Sounds Seems To Be The Promise Of The Summer For The Northern Hemisphere." – CNN En Español
"Enrique Iglesias, Considered By Billboard The Greatest Latin Artist Of All Times, Celebrates The Summer With "Me Pasé", A Single Feat. Farruko, The Song, Built On The Basis Of An Electric Melody And With A Contagious Rhythm Is Design To Be One Of The Summer Hits." – EFE
MIAMI (July 29, 2021) – Global superstar Enrique Iglesias' new hit single "Me Pasé" has made a splash since its release on July 1st. The track has garnered more than 13M total global streams and is currently occupying multiple Billboard charts – #2 on the Latin Pop Airplay, #7 on Latin Airplay and #6 on Latin Rhythm Airplay. "Me Pasé" also leads Spotify play in several countries, including the United States, Mexico, Spain, Argentina, Chile, Germany, and France.
Featuring reggaeton powerhouse Farruko, "Me Pasé" is the first taste of many projects and surprises to come in the upcoming months, including Iglesias's new album. The track continues to experience tremendous momentum in the U.S., Latin America, and worldwide, and is well on its way to becoming another global hit in Enrique Iglesias's incredible and historic career.
The official music video, which was filmed on the stunning beaches of El Portillo in Samaná, Dominican Republic, has accumulated more than 15M views to date. Watch it HERE.
In a true testament to Iglesias' worldwide star power and the infectious summertime appeal of "Me Pasé," the song immediately sparked a viral movement on TikTok, resulting in nearly 20K videos created by fans on the platform from all corners of the globe.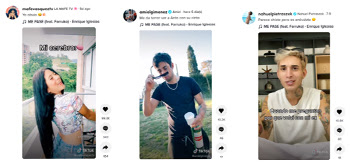 On September 25th Enrique will kick off his North American tour with Ricky Martin. See dates below.
Enrique Iglesias & Ricky Martin Live Tour Dates:
Las Vegas, NV – MGM Grand Arena – September 25th
Rosemont, IL – Allstate Arena – September 30th
Rosemont, IL – Allstate Arena – October 1st
Boston, MA – TD Garden – October 5th
Toronto, ON – Scotiabank Arena – October 7th
Toronto, ON – Scotiabank Arena – October 8th
Montreal, QC – Centre Bell – October 9th
Philadelphia, PA – Wells Fargo Center – October 13th
Washington, DC – Capital One Arena – October 14th
Newark, NJ – Prudential Center – October 16th
New York, NY – Madison Square Garden – October 17th
Miami, FL – FTX Arena (Formerly American Airlines Arena) – October 22nd
Miami, FL – FTX Arena (Formerly American Airlines Arena) – October 23rd
Atlanta, GA – State Farm Arena – October 29th
Orlando, FL – Amway Center – October 30th
Dallas, TX – American Airlines center – November 3rd
Houston, TX – Toyota Center – November 5th
San Antonio, TX – AT&T Center – November 6th
Edinburg, TX – Bert Ogden Arena – November 7th
El Paso, TX – Don Haskins Center – November 10th
Glendale, AZ – Gila River Arena – November 11th
Sacramento, CA – Golden 1 Center – November 13th
San Jose, CA – SAP Center at San Jose – November 14th
Los Angeles, CA – STAPLES Center – November 18th
Los Angeles, CA – STAPLES Center – November 19th
Anaheim, CA – Honda Center – November 20th
Sigue a Enrique Iglesias en // Follow Enrique Iglesias on:
www.instagram.com/enriqueiglesias/
www.twitter.com/enriqueiglesias/
www.facebook.com/enriqueiglesias/