CNCO permanece en el puesto #1 de ventas en Soundscan con su nuevo álbum DÉJÀ VU
El álbum debuta en el puesto #2 de la lista Latin Pop Albums de Billboard
Su sencillo "Tan Enamorados" llega a la posición #1 en México y debuta en la lista Top 40 Latin Airplay en Estados Unidos
El grupo presentó un medley de canciones de su nuevo álbum en Premio Lo Nuestro 2021 con la actuación especial de Ricardo Montaner. Haz clic AQUÍ para verlo
"…dulces armonías cantadas en Spanglish natural y auténtico, guiadas por un suave dembow rítmico". -Los Angeles Times
"…un álbum de cóvers ejecutado con destreza…con una mezcla de reverencia e innovación, homenejeando los originales y utilizando armonías diferentes para darles más impulso". –Billboard
"Qué mejor manera de comprobar que no perteneces a un típico boyband que alcanzar las notas difíciles de los clásicos…este álbum te atrae, una seducción a la vez. Tal vez hace tiempo se trataba de amor, pero los ritmos al estilo reggaetón sugieren la sensualidad, y CNCO logra encender otro tipo de magia dentro de estas canciones nostálgicas". – Associated Press
MIAMI (24 de febrero de 2021) – El galardonado, multiplatino grupo latinoamericano CNCO recientemente lanzó su álbum Déjà Vu, el cual debutó en el primer puesto de la lista de ventas en Soundscan. Asimismo, debutó en la posición #2 de Latin Pop Albums de Billboard, convirtiéndose en su cuarto debut en el Top 5. Además, el álbum se estrenó en la cima de la lista iTunes Albums en cinco países, incluyendo a España y Brasil, al igual que Top 100 en 10 países incluyendo a México (#2) y Estados Unidos (#8); y Top 100 en 13 países en la lista Apple Music Albums.
Su corte promocional "Tan Enamorados" se convirtió en su primer #1 en la lista radial general de México, y recientemente se colocó en el Top 40 de la lista Latin Airplay en Estados Unidos donde sigue en ascenso. Esta canción también forma parte de prestigiosas listas de reproducción de Spotify como ¡Viva Latino!, Amor Amor, Latin Pop Hits y Puro Pop, entre otras de Apple Music.
La semana pasada, CNCO dio su primera presentación del álbum ante el público como parte de Premio Lo Nuestro 2021 con un medley de "Dejaría Todo", "Un Beso", "Entra en Mi Vida" y "Tan Enamorados" con la sorprendente aparición de Ricardo Montaner. Por si fuera poco, el grupo ganó Grupo o Dúo del Año – Pop por quinto año consecutivo. Haz clic AQUÍ para verlo.
CNCO, en conjunto con Radio Disneyen América Latina, editó un especial para el Día de San Valentín que fue transmitido por FOX. En su noche de estreno, el especial contó con más de 785 mil espectadores siendo el segundo programa más popular en Argentina y Chile, y #6 en México.
Además de Premio Lo Nuestro y Radio Disney, CNCO apoyó el lanzamiento de Déjà Vu presentándose en el Desfile de Acción de Gracias de Macy's, Good Morning America, Especial de Año Nuevo de NBC, Despierta América y En Casa Con Telemundo.
Como extra, cada semana CNCO revela un video musical del álbum elegido por su público. La semana pasada, previa a su aparición en Premio Lo Nuestro, el grupo lanzó el video de "Un Beso" el cual viene cargado de nostalgia para la música disco, haz clic AQUÍ para verlo. Y hoy, el grupo lanzó el favorito de sus seguidores, "Entra en Mi Vida"; haz clic AQUÍ para verlo. Después de su presentación en Premio Lo Nuestro, CNCO recibió felicitaciones de parte de Noel Schajris de Sin Bandera, quien dijo, "Siempre soñamos que nuestras canciones navegarán las olas del tiempo y encontrarán nuevos puertos y paisajes…esta canción cumple 20 años este año…es un placer escuchar a estos chicos y verlos en este Déjà Vu musical. ¡Les quedó súper, muchachos!"
CNCO fue nombrado como parte de la lista Forbes 30 Under 30 Music, Generación 2021, siendo el único artista latino en aparecer. Enfocándose en músicos que escalan las listas de popularidad y crean tendencias, los miembros de esta lista son elegidos por jueces como Taylor Swift, quien formó parte de la Generación 2014. Haz clic AQUÍ para leerlo.
---
CNCO's Critically Acclaimed Album DÉJÀ VU Debuts At #1 On Soundscan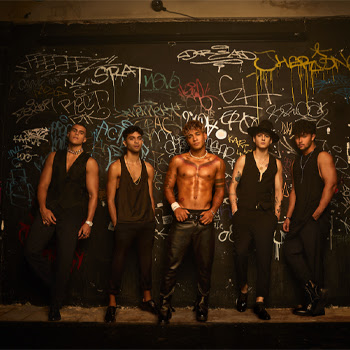 Album Enters At #2 On Billboard's Latin Pop Albums Chart
Single "Tan Enamorados" Hits #1 In Mexico & Enters Top 40 Latin Airplay In The United States
Performed Album Medley At 2021 Premio Lo Nuestro With Special Appearance From Ricardo Montaner. Click HERE To Watch
"…honeyed group harmonies sung in effortless, homegrown Spanglish, guided by a gentle
dembow bounce." –Los Angeles Times
"…a skillfully executed covers album…with a mix of reverence and invention, honoring the originals while utilizing different harmonies to amplify their power." –Billboard
"What better way to prove you're not a run-of-the-mill boy band than go for those hard to hit notes in those hard to forget songs…The album beckons you on, one seduction at a time. It may have been love some time ago, but the reggaeton-adjacent beats lead on with lust, and CNCO re-ignite a different kind of magic within these nostalgic songs." –Associated Press
MIAMI (February 24, 2020) – Award-winning, multiplatinum Latin-American group CNCO's critically acclaimed new album Déjà Vu debuted at #1 on Soundscan following its release, as well as entered Billboard's Latin Pop Albums chart at #2, making it the group's 4th top 5 debut. Additionally, the album hit #1 on the iTunes Album chart in 5 countries including Spain and Brazil, and Top 100 in 10 countries including Mexico (#2) and U.S. (#8), as well as Top 100 in 13 countries on the Apple Music Album's chart.
The group's single "Tan Enamorados" hit #1 in Mexico on the General Airplay chart, a first for the group, and recently entered the Top 40 of the Latin Airplay chart in the U.S. where is continues to rise. The single was also featured on coveted Spotify playlists including ¡Viva Latino!, Amor Amor, Latin Pop Hits and on Puro Pop, among others on Apple Music.
Last week, CNCO made the debut live performance of the album at the 2021 Premio Lo Nuestro Awards where they performed a medley of tracks off the album including "Dejaria Todo," "Un Beso," "Entra en Mi Vida" and "Tan Enamorados" with a surprise appearance from Ricardo Montaner. The group also took home the award for "Pop Group or Duo of the Year" for the 5th consecutive year. Click HERE to watch.
CNCO, in conjunction with Radio Disney in Latin America, also put on a Valentine's Day special that aired on FOX. In its first night, the special reached a high of over 785k viewers and ranked as the #2 program in Argentina and Chile, and #6 in Mexico across all programming.
In addition to Premio Lo Nuestro and Radio Disney, CNCO also performed on Macy's Thanksgiving Day Parade, Good Morning America, NBC New Year's Eve Special, Despierta America and En Casa Con Telemundoin support of the album.
As an added bonus, CNCO has been dropping music video's weekly for songs off the album with help from fans voting. Last week prior to their performance on Premio Lo Nuestro, the group dropped the disco themed video for "Un Beso" HERE and today, released the fan voted winner "Entra en Mi Vida" HERE. Following their performance of the song Premio Lo Nuestro, CNCO received major love from Sin Bandera's Noel Schajris, saying "We always dream that our songs will navigate the waves of time and find new ports and landscapes, this song turns 20 years old this year…it's a pleasure to check out these guys and see them in this musical Déjà Vu. It was super boys!"
CNCO was recently named an honoree on the esteemed annualForbes 30 Under 30 Music List, Class of 2021. The list, which looks at people topping charts and shifting culture in music, was just this year by class of 2014 alum Taylor Swift, among others. CNCO marked the only Latin act honored in the Class of 2021. See HERE.
Sigue a CNCO en // Follow CNCO on: