CNCO estrena el video musical de "EL AMOR DE MI VIDA"
La última producción visual que se desprenderá de su álbum Déjà Vu
El 14 de mayo, el quinteto dará concierto disponible a nivel mundial vía livestream. Haz clic AQUÍ para obtener boletos
Su sencillo "Tan Enamorados" es Top 10. En la lista Latin Pop Airplay de Billboard
MIAMI (18 de marzo de 2021) – El galardonado, multiplatino grupo latinoamericano CNCO hoy lanza el video musical de "El Amor de Mi Vida", marcando el décimo y último visual de su álbum aclamado por la prensa especializada Déjà Vu, el cual debutó en el puesto #1de la lista MRC Data. Haz clic AQUÍ para ver "El Amor de Mi Vida", y ve al final la lista completa de cortometrajes que se desprenden de esta producción discográfica.
El primer corte promocional del álbum "Tan Enamorados" se convirtió en su primer #1 en la lista radial general de México, y recientemente se colocó en el Top 10 de la lista Latin Airplay en Estados Unidos donde sigue en ascenso. Además, el sencillo ha alcanzado el #1 en Guatemala, #4 en Argentina, #8 en Chile, #19 en Perú, #11 en Ecuador, #5 en Puerto Rico, #7 en Panamá, #15 en República Dominicana y #6 en El Salvador. También, apareció en las listas de reproducción de Spotify que incluyen ¡Viva Latino!, Amor Amor, Latin Pop Hits y en Puro Pop, entre otros en Apple Music. Además, la canción se ubicó en el Top 200 de Spotify en 16 países y en Viral 50 en 17, muchos de los cuales alcanzaron su punto máximo en el Top 10.
Adicionalmente, casi todas las pistas de Déjà Vu se han incluido en Spotify Viral 50 en varios países, así como en las listas de Apple Music. "Dejaría Todo", el próximo sencillo del grupo, se ubicó en Spotify Viral 50 en más de 15 países, así como en el Top 100 de Apple Music en más de 10. El sencillo está comenzando a aparecer en las radios de América Latina en general y también en las listas de éxitos, alcanzando el #4 en Argentina, #5 en Perú, #1 en Colombia, #16 en Ecuador, #34 en México, #14 en Guatemala, #15 en República Dominicana y #21 en El Salvador.
A principios de este mes, CNCO anunció que el 14 de mayo el grupo dará un concierto disponible a nivel mundial por livestream, en alianza con Ocesa. Este evento marca su primer concierto desde el comienzo de la pandemia, y CNCO está preparando un repertorio que incluye sus más grandes éxitos y las canciones de Déjà Vu. Haz clic AQUÍ para comprar tu boleto.
CNCO dio su primera presentación del álbum a mediados de febrero como parte de Premio Lo Nuestro 2021 con un medley de "Dejaría Todo", "Un Beso", "Entra en Mi Vida" y "Tan Enamorados" con la sorprendente aparición de Ricardo Montaner. Por si fuera poco, el grupo ganó "Grupo o Dúo del Año – Pop"por quinto año consecutivo. Haz clic AQUÍ para verlo.
El quinteto fue nombrado como parte de la lista Forbes 30 Under 30 Music, Generación 2021, siendo el único artista latino en aparecer. Enfocándose en músicos que escalan las listas de popularidad y crean tendencias, los miembros de esta lista son elegidos por jueces como Taylor Swift, quien formó parte de la Generación 2014. Haz clic AQUÍ para leerlo.
Videos del Álbum:
"Hero"
"Un Beso"
---
CNCO Drop Music Video For "EL AMOR DE MI VIDA"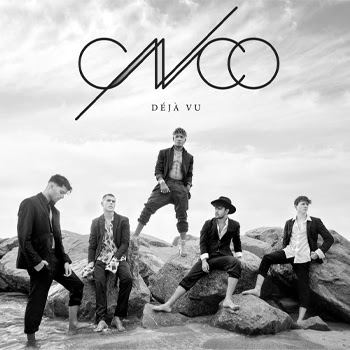 Release Marks Final Video From Déjà Vu Album
Global Livestream Concert Event Set For May 14th. Tickets On Sale Now HERE
Single "Tan Enamorados" Top 10 On Latin Pop Airplay In The U.S.
MIAMI (March 18, 2021) – Award-winning, multiplatinum Latin-American group CNCO drop the video for "El Amor de Mi Vida" today, marking the 10th and final visual from their critically acclaimed album Déjà Vu, which debuted at #1 on the MRC Data chart. Click HERE to watch "El Amor de Mi Vida," and below for the full video list.
The lead single off the project, "Tan Enamorados," which hit #1 in Mexico on the General Airplay chart, a first for the group, continues to climb in the Top 10 of the Latin Pop Airplay chart in the U.S. Furthermore, the single has reached #1 in Guatemala, #4 in Argentina, #8 in Chile, #19 in Peru, #11 in Ecuador, #5 in Puerto Rico, #7 in Panama, #15 in Dominican Republic and #6 in El Salvador. The single was also featured on covered Spotify playlists including ¡Viva Latino!, Amor Amor, Latin Pop Hits and on Puro Pop, among others on Apple Music. Additionally, the song charted on Spotify's Top 200 in 16 countries, and on the Viral 50 in 17, many of which peaked in the Top 10.
Furthermore, nearly all of the tracks off Déjà Vu have charted on the Spotify Viral 50 in multiple countries, as well as on the Apple Music charts. "Dejaría Todo," the group's upcoming single, charted on the Spotify Viral 50 in over 15 countries, as well as in the Top 100 Apple Music charts in over 10. The single is beginning to chart at radio in Latin America on the general and pop charts as well, already reaching #4 in Argentina, #5 in Peru, #1 in Colombia, #16 in Ecuador, #34 in Mexico, #14 in Guatemala, #15 in Dominican Republic, and #21 in El Salvador.
Earlier this month, CNCO announced a global livestream concert event in partnership with Ocesa set for May 14th. The event, which will mark the group's first concert since before the pandemic, is set to see CNCO perform their hits, as well as songs off Déjà Vu. Tickets are on sale now HERE.
Last month, CNCO made the debut live performance of the album at the 2021 Premio Lo Nuestro Awards where they performed a medley of tracks off the album including "Dejaría Todo," "Un Beso," "Entra en Mi Vida" and "Tan Enamorados" with a surprise appearance from Ricardo Montaner. The group also took home the award for "Pop Group or Duo of the Year" for the 5th consecutive year. Click HERE to watch.
CNCO was named an honoree on the esteemed annualForbes 30 Under 30 Music List, Class of 2021. The list, which looks at people topping charts and shifting culture in music, was just this year by class of 2014 alum Taylor Swift, among others. CNCO marked the only Latin act honored in the Class of 2021. See HERE.
Album Music Videos:
"Hero"
"Un Beso"
Sigue a CNCO en // Follow CNCO on: