CNCO emprende una nueva era con su canción inédita "TOA LA NOCHE"
Anoche en los Premios Juventud, el grupo estrenó este sencillo con una inolvidable actuación en vivo
Haz clic AQUÍ para conseguir entradas para su gira por centros nocturnos en los Estados Unidos que comenzará el 19 de agosto en Austin
y concluirá el 18 de septiembre en Tampa, con 16 fechas en total
MIAMI (23 julio de 2021) – Anoche en los Premios Juventud por Univisión, CNCO regresó en grande, emprendiendo una nueva era con el estreno en vivo de su canción inédita "Toa La Noche". Esta agrupación dio una actuación inolvidable. Haz clic AQUÍ para verla.
Haz clic AQUÍ para conseguir "Toa La Noche".
Antes de comenzar su nueva era, CNCO hizo sus primeras sesiones de grabación como cuarteto para encontrar su nuevo sonido. El grupo estuvo acompañado por el icónico artista urbano Wisin, quien recientemente cosechó otro éxito con "Fiel", tema que permaneció seis semanas en el puesto #1 de canciones latinas en todo el mundo. "Toa La Noche" nació entre ellos en La Base Studios de Wisin en Puerto Rico, contando además con la co-autoría de Christian Linares, Jose Cotto, Jean Rodríguez y Los Legendarios, estos últimos también fungen como productores del tema.
Otra buena noticia es que CNCO está de regreso a los escenarios para dar una gira de 16 fechas por centros nocturnos en los Estados Unidos que comenzará el 19 de agosto en Austin y concluriá el 18 de septiembre en Tampa. Haz clic AQUÍ para comprar entradas y ve al final la lista completa de presentaciones.
El grupo fue nombrado como parte de la lista Forbes 30 Under 30 Music, Generación 2021, siendo el único artista latino en aparecer. Enfocándose en músicos que escalan las listas de popularidad y crean tendencias, los miembros de esta lista son elegidos por jueces como Taylor Swift, quien formó parte de la Generación 2014. Haz clic AQUÍ para leerlo.
Mantente al pendiente de más noticias emocionantes sobre este grupo, que pronto se darán a conocer.
Gira por Estados Unidos:
Agosto
5—Dallas—Uforia Latin Mix Live*
7—Houston—Uforia Latin Mix Live*
19—Austin
21—Chicago
26—Ciudad de Nueva York
27—Syracuse, NY
28—Boston
29—Washington, DC
Septiembre
2—San Francisco
3—Los Ángeles
5—Anaheim
9—Phoenix
10—Houston
11—San Antonio
12—Dallas
16—Atlanta
17—Ft. Lauderdale
18—Tampa
Fechas no pertenen a la gira por centros nocturnos.
---
CNCO Launch New Era With Single "TOA LA NOCHE"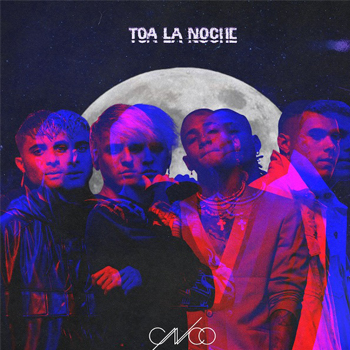 World Premiere Debut Of Single With Unforgettable Performance On Last Night's Premios Juventud
U.S. Club Tour On Sale Now HERE. The 16 Date Run Is Set To Kick Off On August 19th In Austin, TX & Wrap On September 18th In Tampa, FL
MIAMI (July 23, 2021) – CNCO made a grand comeback last night, launching their new era with single "Toa La Noche." The group also debuted the song, accompanied with an unforgettable debut performance on Univision's Premios Juventud. Click HERE to watch the performance.
Buy/Stream "Toa La Noche" HERE
Before kicking off the new era, CNCO went back in the studio for the first time as a 4 piece to find their new sound. The group hopped in the studio with legendary reggaeton star Wisin, who most recently had his #1 hit "Fiel," that was the top Latin song in the world for 6 consecutive weeks. "Toa La Noche" was born out of their time in Puerto Rico at Wisin's La Base studios, written by the group and Wisin, alongside Christian Linares, Jose Cotto, Jean Rodriguez and Los Legendarios, who also produced the track.
Additionally, CNCO will be back on the road for a 16 date U.S. club tour, set to kick off on August 19th in Dallas, TX and wrapping on September 18th in Tampa, FL. Tickets are on sale today HERE and routing can be seen below.
CNCO are honorees on the esteemed annualForbes 30 Under 30 Music List, Class of 2021. The list, which looks at people topping charts and shifting culture in music, was just this year by class of 2014 alum Taylor Swift, among others. CNCO marked the only Latin act honored this year. See HERE.
Stay tuned for more exciting news coming soon.
Tour Dates:
August 5th—Dallas, TX—Uforia Latin Mix Live*
August 7th—Houston, TX—Uforia Latin Mix Live*
August 19th—Austin, TX
August 21st—Chicago, IL
August 26th—New York, NY
August 27th—Syracuse, NY
August 28th—Boston, MA
August 29th—Washington, DC
September 2nd—San Francisco, CA
September 3rd—Los Angeles, CA
September 5th—Anaheim, CA
September 9th—Phoenix, AZ
September 10th—Houston, TX
September 11th—San Antonio, TX
September 12th—Dallas, TX
September 16th—Atlanta, GA
September 17th—Ft. Lauderdale, FL
September 18th—Tampa, FL
Dates are not part of U.S. club tour.
Sigue a CNCO en // Follow CNCO on: