CARLOS VIVES y RICKY MARTIN los artistas ganadores del GRAMMY® lanzan "CANCIÓN BONITA"
Escucha "Canción Bonita" AQUÍ
MIAMI (14 de abril de 2021) – Carlos Vives, artista ganador de múltiples premios GRAMMY®, comparte su nueva aventura musical "Canción Bonita" con su amigo, el reconocido artista global y ganador de múltiples GRAMMY®, Ricky Martin, un poderoso encuentro de los sonidos de Colombia y Puerto Rico en una sola canción.
"Canción Bonita" es una declaración de amor a Puerto Rico, una historia encantadora que se ha venido tejiendo desde que Carlos y Ricky se conocieron hace muchos años en La Isla, misma que ha inspirado varios de sus éxitos musicales y que los ha unido desde siempre.
Colores vibrantes, energía contagiosa, vibra positiva y hasta el calor de La Isla del Encanto son varios de los elementos que unen a este par de leyendas musicales y que van a encontrar en "Canción Bonita".
El video estuvo bajo la dirección de Carlos Pérez (Elastic People) y fue filmado en el Viejo San Juan, Piñones y el icónico bar El Batey, destacando la estética, la cultura y la historia de Puerto Rico.
"Espero que esta canción llegue al corazón de la gente y que el mundo conozca la belleza de San Juan, su importancia en la música para las corrientes contemporáneas, su gente increíble y la belleza de uno de los lugares más alucinantes del mundo", expresó Carlos Vives sobre lo que representa esta canción. "Siempre quiero regresar a San Juan, pero regresar esta vez con Ricky para cantarle y declararle nuestro amor, es un recuerdo para toda la vida. Si quieren saber por qué los artistas puertorriqueños son tan carismáticos y exitosos, caminen por San Juan con nosotros oyendo 'Canción Bonita'", concluyó el artista.
"'Canción Bonita' es el tema perfecto para esta colaboración con mi hermano Carlos Vives. El amor de Carlos por Puerto Rico es genuino y esto le da un valor auténtico a la letra. Una verdadera celebración a nuestra tierra que tanto nos regala. Estoy seguro de que lo van a disfrutar tanto como nosotros", expresó Ricky Martin.
El jueves, Vives y Ricky Martin presentarán "Canción Bonita" en la 6ta entrega anual de los Latin American Music Awards (Latin AMA's).
Vives ha causado sensación este año con su aparición en A Tiny Audience de HBO, en donde contó la historia detrás de su gran éxito "Robarte Un Beso" e interpretó las canciones favoritas de sus fans tales como "Déjame Entrar" y "Santa Marta, Kingston, New Orleans". De igual forma, recientemente participó en un evento virtual, hablando sobre su libro Cumbiana: Relatos De Un Mundo Perdido con más de 75 estudiantes de escuelas beneficiadas por la Fundación Cultural Latin GRAMMY® en Estados Unidos, México y Puerto Rico y donó su libro a las escuelas participantes.
2020 fue un año lleno de éxitos para Vives, quien recibió tres Latin GRAMMY® y el Billboard Hall of Fame en los Premios Billboard de la Música Latina. El próximo 23 de abril Carlos se unirá a la Orquesta Filarmónica de Los Ángeles en el Hollywood Bowl, junto al reconocido director venezolano Gustavo Dudamel para ofrecer un espectacular concierto que recoge los principales éxitos de su carrera. Definitivamente, Carlos Vives es uno de los nombres más importantes de la música latina, creador de un nuevo sonido a partir de la herencia cultural de su país, que ha permitido la aparición de una nueva generación de artistas colombianos.
Acerca de Carlos Vives:
Dos veces ganador del GRAMMY® y 15 veces ganador del Latin GRAMMY®, Carlos Vives es una de las figuras más importantes de la música latina y creador de un nuevo sonido a partir de las músicas tradicionales de la costa Caribe y la región norte de Colombia. El trabajo de Vives como artista gira en torno al estudio, el conocimiento y la divulgación de la identidad colombiana en sus múltiples facetas y en su compleja diversidad. En 1993 creó la banda La Provincia como un homenaje a los músicos de las regiones más apartadas y rurales del Caribe y como un laboratorio para nuevos talentos de la música contemporánea. Con la banda ha viajado por el mundo llevando la cultura y el valor de la identidad colombiana a todos los rincones del planeta, ganando reconocimiento internacional para la música del país. Su álbum "Vives" superó las 2 mil millones de reproducciones e incluye los himnos mundiales "La Bicicleta" (ft Shakira) y "Robarte un beso" (ft Yatra), generando entre ambos videos un total combinado de 2.5 mil millones de vistas en YouTube. Su premiado trabajo "Cumbiana" incluye no solo el disco sino también el documental ganador del Latin GRAMMY® "El mundo perdido de Cumbiana" y el libro "Cumbiana, relatos de un mundo perdido", creando un verdadero universo creativo en torno al origen y la evolución de la cumbia. En el año 2015 fundó la iniciativa Tras La Perla para promover el desarrollo sostenible de la ciudad de Santa Marta y su región de influencia en la Sierra Nevada y la Ciénaga Grande. Y en el año 2016 creó la escuela de música Río Grande, recogiendo diversas experiencias artísticas a partir del diálogo entre la música colombiana, las nuevas propuestas locales y las músicas del mundo. Como indica su eslogan más querido, "unidos en la diversidad", Carlos ha marcado a generaciones enteras a través de la música y la promoción de la cultura colombiana.
---
GRAMMY® Award Winning Artists CARLOS VIVES & RICKY MARTIN Release "CANCIÓN BONITA"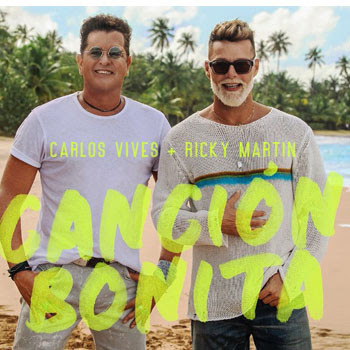 Listen To "Canción Bonita" HERE
MIAMI (April 14, 2021) – Carlos Vives – the multi-GRAMMY®-winning platinum-selling singer, songwriter, author, and actor – shares his new musical venture "Canción Bonita" with his friend, renowned global artist and multiple GRAMMY® winner, Ricky Martin, a powerful collaboration combining the sounds of Colombia and Puerto Rico.
"Canción Bonita" is a declaration of love for Puerto Rico, a charming story that has been woven since Carlos and Ricky met on the island years ago that inspired several of their musical successes which has united them forever.
Vibrant colors, contagious energy, positive vibes, and even the warmth of La Isla del Encanto are some of the several elements that unite this pair of musical legends in "Canción Bonita".
The video, directed by Carlos Pérez (Elastic People), was filmed in Old San Juan, Piñones and the iconic El Batey bar, highlighting the aesthetics, culture, and history of Puerto Rico.
Carlos Vives and Ricky Martin on the collaboration:
"I hope this song reaches the hearts of the people and that the world knows the beauty of San Juan, its importance in music for contemporary currents, its incredible people, and the beauty of one of the most amazing places in the world," said Carlos Vives about the song. "I always wanted to return to San Juan, but to return this time with Ricky to sing with him and declare our love for the island, it is a memory for a lifetime. If you want to know why Puerto Rican artists are so charismatic and successful, walk through San Juan with us listening to Canción Bonita," he concluded.
"'Canción Bonita' is the perfect theme for this collaboration with my brother Carlos Vives. Carlos's love for Puerto Rico is genuine, and this gives authenticity to the lyrics. It's a true celebration of our island that has given us so much. I'm sure you're going to love this song as much as we do," expressed Ricky Martin.
On Thursday, Vives and Ricky Martin will perform "Canción Bonita" at the 6th Annual Latin American Music Awards.
Vives has been making waves this year with his appearance on HBO's A Tiny Audience, where he told the story behind his massive hit "Robarte un Beso" and performed fan favorite songs such as "Déjame Entrar" and "Santa Marta, Kingston, New Orleans." He also participated in a virtual event, speaking with more than 75 students from schools across the U.S., Mexico and Puerto Rico about his book, Cumbiana: Relatos De Un Mundo Perdido and donated the book to schools supported by The Latin GRAMMY® Cultural Foundation.
2020 was a milestone year for Vives as he received three Latin GRAMMY®'s and earned the Billboard Hall of Fame award at Latin Billboard Awards. On April 23, he will join the Los Angeles Philharmonic Orchestra at the Hollywood Bowl with renowned Venezuelan director Gustavo Dudamel, to offer a spectacular concert that includes the main successes of his career. Carlos Vives is one of the most important names in Latin music, being a creator of a new sound based on the cultural heritage of his country, opening the doors for a new generation of Colombian artists.
About Carlos Vives:
Two time GRAMMY® and fifteen time Latin GRAMMY® winner, Carlos Vives is one of the most influential and important figures in Latin music today. As creator of a new sound influenced by the traditional sounds of the Caribbean and the northern region of Colombia, Vives' work is inspired by the study, knowledge and dissemination of Colombian culture, identity and its complex diversity through music. In 1993, he founded the band La Provincia which celebrated musicians from remote and rural areas around the Caribbean and served as a home for new and emerging talent in contemporary music. Vives and La Provincia took Colombian culture, identity and music around the world, quickly gaining international recognition. His album Vives surpassed 2 billion streams and included the global hits "La Bicicleta" (Shakira) and "Robarte un beso" (Yatra), which have both generated a combined 2.5 billion views on YouTube. As a tireless educator and cultural ambassador of Colombia, Vives is an avid supporter of Colombian poet Rafael Pombo's legacy, which he paid tribute to by producing a series of albums titled Pombo Musical, which were made to keep children connected to national values. In 2015, he founded Tras La Perla to promote sustainable development in the city of Santa Marta and its region influenced by the Sierra Nevada and Ciénaga Grande. In 2016, he also created the Río Grande Music School with the purpose of offering new artistic experiences based on dialogue influenced by Colombian music, new local music proposals and music from around the world. Undoubtedly, Carlos Vives has made, and will continue to make his mark across generations through music and advocacy of his culture.
Sigue a Carlos Vives en // Follow Carlos Vives on:
www.instagram.com/carlosvives/
www.facebook.com/carlosvivesoficial/
Sigue a Ricky Martin en // Follow Ricky Martin on:
www.instagram.com/ricky_martin
www.instagram.com/ricky_martin