BOMBA ESTÉREO anuncia DEJA su primer álbum en 4 años
Ve el video de "Agua" AQUÍ; la canción cuenta con la artista colombiana, Lido Pimienta, y con el dúo afrocubano OKAN
El nuevo álbum de Bomba, Deja será lanzado esta primavera; fue mezclado por Damian Taylor (Björk, Arcade Fire)
MIAMI (2 de febrero de 2021) – Las estrellas colombianas, Bomba Estéreo, anuncian el esperado lanzamiento de su primer álbum en cuatro años. Aprovechando el anuncio, la banda comparte las primeras tres canciones del álbum: "Agua","Deja" y"Soledad".
El video de "Agua" fue dirigido por la cantante de Bomba, Liliana "Li" Saumet y Jhoy Suarez. Fue filmado en la costa colombiana, cerca de casa de Li. "El video viene de una idea que tuve sobre un ritual, entrando a un mundo paralelo en el que nos encontramos con una conexión más profunda con la naturaleza, de un modo más surreal y femenino", explica Li. "Quería comenzar el álbum con esta energía femenina, cada mujer representa un elemento distinto de la naturaleza. Para mí, también se trata del lugar en el que vivo, en donde las montañas se encuentran con el mar".
Conceptualmente, Deja está dividido en cuatro secciones que corresponden a los cuatro elementos: Agua, Aire, Tierra, y Fuego. "El álbum es sobre la conexión y la desconexión de los seres humanos – del planeta y de uno mismo", dijo Saumet. "Es sobre cómo estamos desconectados, más conectados a los aparatos electrónicos y a las cosas virtuales que a las cosas reales. Así que decidimos usar los cuatro elementos, porque son parte del equilibrio dentro de los seres humanos".
Mientras despierta el 2021, tratando de quitarse las telarañas de año turbulento lleno de incertidumbre, Bomba Estéreo trata de asegurarnos que todo estará bien. En medio de la pandemia, la banda de electro-folk-dance y una comunidad de colaboradores se juntaron en una casa de playa en Santa Marta. En la costa del Caribe de Colombia, en donde las montañas de la Sierra Nevada se encuentran con el mar, dejaron salir todas sus emociones para grabar su nuevo álbum Deja.
Bomba, cuyos miembros base son el compositor y beatmaster, Simón Mejía, y la vocalista y letrista, Li, ha sido una fuerza mayor en la escena de música alternativa/Caribbeat/dance desde su éxito de 2010 "Fuego". Con sus lanzamientos subsecuentes, Elegancia Tropical (2013) nominado al Latin GRAMMY®, Amanecer (2015) y Ayo (2017), ambos nominados al GRAMMY®, se posicionaron a la vanguardia de las bandas híbridas, llenando salas en New York, París y Tokio.
Deja nació en el bus de su gira de 2018, cuando, durante una serie de fechas de verano en Europa, el beatmaster y compositor Simón empezó a improvisar con José. "Era nuestra última gran gira como banda", recuerda Simón. "Fuimos a casa pensando que nuestro siguiente tour sería aún más grande, pero luego llegó la pandemia".
En Deja, Simón y Li querían hacer un álbum que representara un esfuerzo más "comunitario". Simón notó que su química con el guitarrista José Castillo y con el percusionista folclórico Efrain "Pacho" Cuadrado incrementaba al tocar shows en vivo. Por su lado, Li reclutó a su amiga de antaño Lido Pimienta para la sesión – ellas habían colaborado anteriormente en "Nada", una canción que aparece en la playlist de Barack Obama de "Lo mejor de 2020".
"Yo quería colaborar con Lido para explorar nuevos sonidos con mi voz", explica Li. "Ella tiene un toque underground que me gusta y también había invitado a unos colaboradores cubanos, un dúo llamado OKAN. Fue increíble tener a más mujeres conmigo, me sentí más apoyada, tranquila y a salvo".
Esta vez, la banda decidió auto producir su álbum (fuera de un par de productores invitados como Trooko) y construyó un estudio provisional en casa de Li en Santa Marta. "Todos terminamos ahí e hicimos un álbum que tiene de lo mejor del Bomba clásico, como en Elegancia, y muchos elementos de composición nuevos que incorporaron José y Pacho", dijo Simón. El alargamiento de la pandemia le dió a la banda mucho tiempo para producir y mezclar Deja con el gran apoyo de Damian Taylor, conocido por su trabajo con Bjork y Arcade Fire.
"La canción que da título al disco es una de las más conmovedoras de Deja", observó Simón. "Es un intento de lidiar con las cosas problemáticas que no deberíamos tratar de esconder en nuestra búsqueda constante de distracción. Deja habla sobre la depresión", dice Li. "Tanto Lido como yo hemos tenido contacto cercano con personas que han sufrido de depresión y, lamentablemente, han muerto por ella. Esta canción le dice a la gente que tienen que encontrar una forma de salir de ella, cantando, bailando o incluso llorando. Si esta canción le funciona al menos a una persona, misión cumplida".
Deja es uno de esos álbumes que, incluso en sus secciones más discrepantes, forma una unidad. Es un álbum que transmite alegría, pérdida, emoción y tristeza a la vez. "Están pasando algunas cosas densas en el mundo y tenemos que compartirlas," dice Li. "Hicimos este álbum para que lo puedas bailar en una discoteca, pero a la vez tiene un significado más profundo. Está hecho para bailar perreo con conciencia".
---
BOMBA ESTÉREO Announces DEJA, First Album In 4 Years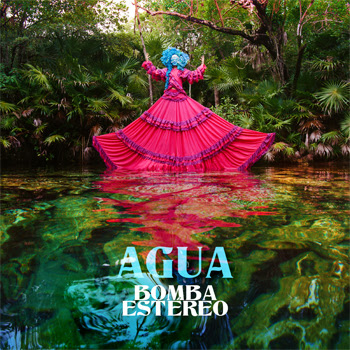 Watch The "Agua" Music Video; The Song Features Colombian Artist Lido Pimienta And Afro-Cuban Duo OKAN On Backing Vocals

Bomba's New Album Deja Will Be Released This Spring; It Is Mixed By Damian Taylor (Björk, Arcade Fire)

MIAMI (February 2, 2021) – Colombian stars Bomba Estéreo have announced Deja, their long-awaited first album in 4 years. The band has released the album's first 3 songs to accompany the announcement – "Agua," "Deja" and"Soledad."

The "Agua" music video was directed by Bomba's singer Liliana "Li" Saumet and Jhoy Suarez. It was filmed on Colombia's Caribbean coast near Li's home. "The video comes from an idea I had about a ritual, entering into a parallel universe in which we find ourselves in a deeper connection with nature, in a more surreal and feminine way," Li explains. "I wanted to begin the album with this feminine energy, each woman represents a different element in nature. For me, it was also about the place I live, where the mountains meet the sea."

Deja is divided conceptually into four sections that correspond to the earth's four elements: Agua, Aire, Tierra, and Fuego. "The album is about the connection and disconnection of human beings—from the planet, from one's own self," Li says. "It's about how we're disconnected, more connected to electronic devices and virtual things than real things. So, we decided to use the four elements, because they're part of the equilibrium of human beings."

As 2021 awakens, trying to shrug off the dark cobwebs of a tumultuous year of uncertainty, Bomba Estéreo is trying to reassure everyone that it's going to be okay. In the middle of the pandemic, the Colombian electro-folkloric dance band and a community of collaborators got together in a Caribbean beach house in Santa Marta. Where the Sierra Nevada mountains meet the sea, they let it all go and recorded the album Deja.

Bomba, whose core members are beatmaster/composer Simón Mejía and vocalist/lyricist Li, have been a major force in the alternative/Caribbeat/dance scene since 2010's smash hit "Fuego." Subsequent releases like Latin GRAMMY® nominated Elegancia Tropical (2013), GRAMMY® nominated Amanecer (2015), and GRAMMY® nominated Ayo (2017) have put them at the forefront of influential hybrid-beat bands, as well as blowing up dancehalls from New York to Paris to Tokyo.

Dejawas born on a tour bus in 2018, when, during a long European summer tour, beatmaster/composer Simón started to jell with José, crafting tracks on the fly. "It was our last big tour as a band," Simón recalled. "We went home thinking our next tour is going to be even bigge, but then the pandemic came."

For Deja, Simón and Li wanted to make the album more of a "community" effort. Simón found increasing chemistry playing live shows with guitarist José Castillo and the folkloric percussion of Efrain "Pacho" Cuadrado. Li recruited her longtime friend Lido Pimienta for the session – the pair's previous collaboration "Nada" ended up on President Obama's "Best of 2020" playlist.

"I wanted to collaborate with Lido to try new sounds with my voice," Li explains. "She has that underground edge that I like, and she also invited some Cuban collaborators with her, a duo named OKAN. It was beautiful to have more women with me, I felt more supported, safer and at ease."

This time, the band decided to self-produce the album (outside of a couple of invited guest producers like Trooko) and constructed a makeshift studio in Li's home in Santa Marta. "We all wound up there and we made an album that has some of the best of classic Bomba, like Elegancia Tropical, and a lot of new composing elements that José and Pacho brought," Simón said. The pandemic's delaying effects also gave the band plenty of time to produce and mix Deja with a major assist from Damian Taylor, known for his work with Björk and Arcade Fire.

The title track is one of the more moving songs on the album, as Simón observed, an attempt to deal with problematic things that we should not try to hide away in our quest for constant diversion. "Deja talks about depression," Li explains. "Both Lido and I have had close contact with people who have suffered from depression and regrettably have died from it. This song tells people that you have to get out of it somehow, by singing, dancing, even crying. If this song works for one person, mission accomplished."

Deja is one of those albums that, even in its disparate sections, forms a unity. It's an album that transmits joy, loss, exhilaration, and sadness all at once. "Some heavy things are happening to the world and we have to share them," Li says. "We made this album so you can dance to it at a club, but at the same time it has a profound meaning. It's meant for you to dance perreo with a conscience."
Sigue a Bomba Estéreo en // Follow Bomba Estéreo on:

www.instagram.com/bombaestereo/
www.facebook.com/BombaEstereo/