BECKY G y KAROL G lanzan "MAMIII"
LOS ÁNGELES (10 de febrero de 2022) – Las superestrellas globales Becky G y Karol G acaban de lanzar un poderoso sencillo denominado "MAMIII". Con un irresistible ritmo bailable y letras pegajosas, la tan esperada colaboración está destinada a convertirse en un himno empoderador que inspira una actitud de fuerza, independencia, positivismo y estilo, tal y como una "MAMIII" (mami). "MAMIII" ya está disponible en todas las plataformas digitales de música via Kemosabe Records/RCA Records/Sony Music Latin. Para escuchar y/o descargar "MAMIII" de Becky G y Karol G haz clic AQUÍ.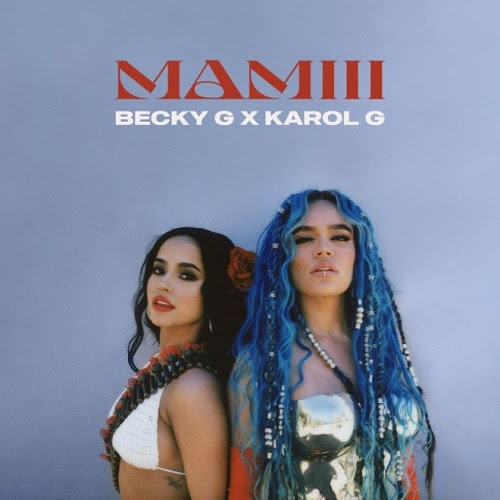 El sencillo fue producido por el hitmaker Ovy on the Drums, y fue escrito por Ovy, Becky G, Karol G y Elena Rose. 
El poderoso dúo que forman estas dos reinas de la música viene de tiempo atrás, ya que ambas colaboraron en una canción de Mau & Ricky ("Mi Mala") en 2018 y desde entonces habían querido reunirse una vez más. 
"Siempre he dicho que juntas somos más. Cuando las mujeres se unen y trabajan juntas… ¡El efecto es tan poderoso y significante! KAROL y yo llevábamos mucho tiempo esperando este momento, pero sabíamos que la canción tenía que ser perfecta y tenía que representar nuestros espíritus y corazones. ¡Estoy tan encantada de que finalmente pudimos grabar 'MAMIII' y traerles a nuestros fans algo que han querido por mucho tiempo! La unión de las Gs es un momento emocionante y estoy alegre de poder compartir este momento con mi amiga a quien admiro", expreso Becky. 
Acerca de Becky G
La joven cantante, compositora, actriz y activista Becky G nació para estar en los escenarios y su carrera multifacética promete convertirla en una figura icónica. Los logros de la superestrella global de veinticuatro años de edad incluyen tres éxitos #1 en el listado Latin Airplay de Billboard, un papel protagónico en "Power Rangers" y participó como estrella invitada en la serie ganadora del premio Emmy, "Empire". Su exitosa carrera también incluye el lanzamiento de su propia marca de belleza Treslúce así como su programa de Facebook Watch denominado "Face to Face con Becky G". Ha realizado giras junto a grandes artistas como Katy Perry, Demi Lovato, J Balvin, Fifth Harmony y Jason Derulo y ha grabado colaboraciones con Daddy Yankee, Maluma, Anitta, Natti Natasha, ZAYN, Bad Bunny, Ozuna, Pitbull y CNCO, entre otros. Becky G ha ganado el American Music Award como Artista Favorita Latina por dos años consecutivos (2020 y 2021) así como el premio E! People's Choice al Artista Latino del 2020. También ganó el Latin American Music Award como la Artista Femenina Favorita en 2018 y 2019. Además, en 2018 recibió el Latin AMA por Canción Urbana Favorita (por "Mayores"); y fue galardonada con el premio Diamond Play Button de parte de YouTube por haber sobrepasado 10 millones de suscriptores en la plataforma digital (actualmente cuenta con más de 19 millones).  Nieta de inmigrantes mexicanos, nacida y criada en Inglewood, California, Becky no ha sido ajena a las dificultades que vive su comunidad, ya que apasionadamente utiliza su enorme plataforma para denunciar la desigualdad y concientizar sobre temas sociales actuales, como Black Lives Matter y DREAMers, y se ha propuesto contribuir al bienestar de su comunidad a través de esta labor. La joven fue honrada con el premio Agente de Cambio en Premios Juventud 2020 por su espíritu activista y utilizar su plataforma para inspirar un cambio positivo. En los Latin American Music Awards 2019 recibió el premio Evolución Extraordinaria por el éxito fenomenal que ha logrado a su corta edad. También fue galardonada por la Academia Latina de la Grabación como una de las Mujeres Jóvenes Líderes del Entretenimiento (Leading Ladies in Entertainment – 2018) y por su ciudad natal, Inglewood, California, por sus contribuciones a la comunidad hispana. Así mismo, ha sido reconocida como una de las "18 adolescentes que sacuden la cultura pop" ( "18 Teens Shaking Up Pop Culture") de Rolling Stone y una de las 21 artistas menores de 21 que han logrado ser exitosas ( " 21 Under 21 ") de Billboard.  La multifacética estrella ha sido co-presentadora de una serie de prestigiosas galas de premios a lo largo de los años, incluyendo los European Music Awards 2019 (MTV) y el especial televisivo de los Latin GRAMMY Ellas y Su Musica. Asimismo, en 2020 como iniciativa propia desarrolló y produjo su podcast En La Sala con Amazon Music-Live, que presentó desde el salón de su casa durante el confinamiento por la pandemia COVID-19, con el que en cada episodio donó 10 mil dólares a organizaciones sin fines de lucro y habló con importantes invitados, desde la vicepresidenta electa Kamala Harris sobre política hasta la estrella del reggaetón J Balvin sobre salud mental. Recientemente estrenó su propio programa de televisión en Facebook "Face to Face with Becky G" y su primera entrevista fue con Demi Lovato. Tras haber lanzado exitosas colecciones de marcas de maquillaje para Colourpop, Becky G recientemente lanzó su propia marca de belleza, nombrada Treslúce. Treslúce Beauty crea, celebra y apoya la herencia y la cultura latina, con fórmulas de alto rendimiento, conscientes y aptas para veganos que ofrecen un arte de alto impacto. Treslúce se inspira en la herencia mexicana de Becky y pretende celebrar todas las culturas latinas.  Cabe mencionar, que actualmente la artista también es embajadora de la marca Xfinity Comcast así como Michelob Ultra Pure Gold. Cabe destacar, que en octubre de 2019 Becky lanzó su álbum debut MALA SANTA, que fue certificado 8X Platino en EE.UU, Platino en España y Oro en México.  
Acerca deKarol G
Reconocida internacionalmente como la artista femenina líder más relevante del momento, Karol G se ha convertido no solo en un ícono de la cultura pop sino en una potencia importante e influyente en la música latina a nivel global. Ha colaborado con artistas grandes como Anuel AA, Bad Bunny, J Balvin, Luis Fonsi, Nicki Minaj, Nicky Jam, Ozuna, Quavo, Jonas Brothers y muchos más. Es la cantautora de los éxitos más importantes de la música latina, incluyendo "Tusa" junto a Nicki Minaj, la cual se convirtió en la canción latina #1 del 2020, después de un recorrido en la cima de todos los charts globales.  Karol G es ganadora de un Latin GRAMMY e infinitos premios, incluyendo 50 certificaciones de Diamante por la RIAA en los Estados Unidos. Tras logros imprescindibles, la superestrella ha demostrado una transición perfecta hacia mercados internacionales, rompiendo barreras de lenguajes y de estereotipos. Cerrando el 2020, fue proclamada por Billboard como la artista latina #1 del mundo por segundo año consecutivo. Además, es la artista femenina con mejor desempeño en ventas generales, contando con más de 24 mil millones de reproducciones a nivel global y más de 80 millones fanáticos en sus redes sociales. Demostrando su poder como potencia artística internacional, su disco más reciente, "KG0516" hizo historia con el debut más grande para un álbum en español de una artista femenina latina. El disco se apoderó de la posición #1 de los listados "Top Global Álbum Debuts" de Spotify, "Top Latin Albums" de Apple Music y "Top Latin Albums" de Billboard. Obteniendo el mejor desempeño de un disco en español por un acto latino femenino, "KG0516" cerró su primera semana de lanzamiento con más de 24 mil unidades vendidas, y actualmente cuenta con más de 11 mil millones de streams combinadas de audio y video en las plataformas digitales de música.  
---
BECKY G & KAROL G release"MAMIII"
Photo Credit:  Emilio Sanchez 
LOS ANGELES (February 10, 2022) – Global superstars Becky G & Karol G have just released their powerhouse single "MAMIII." Destined to become an empowering anthem, the long-awaited collab is an uptempo Reggaetón party track inspiring a feel-good attitude of strength, confidence, independence, and style, just like a "MAMIII" (mami).  
"MAMIII" is available now on all digital streaming platforms via Kemosabe Records/RCA Records/Sony Music Latin. To stream or download "MAMIII" click HERE.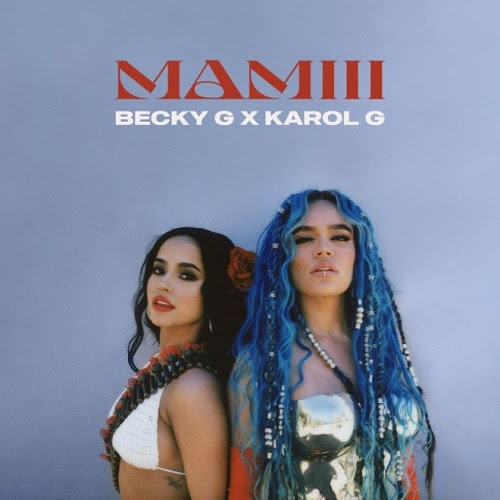 Produced by hitmaker Ovy on the Drums, "MAMIII" was written by Ovy, Becky G, Karol G and Elena Rose. 
The powerful pairing of these two Latin music queens has been a longtime coming as the two collaborated in a Mau & Ricky song ("Mi Mala") in 2018 and ever since have wanted to come together once again. 
"I've always said that juntas, somos mas. When women unite and work together, we're able to create a meaningful and lasting impact. KAROL and I had been waiting for this moment for a while, but we knew the song had to be perfect and represent both of our spirits and hearts. I am so glad that we were finally able to record 'MAMIII' and bring our fans something I know they've wanted for a while. The G's together is an exciting moment for everyone, and I'm glad I can share this moment with my friend and someone I truly admire," Becky expressed. 
About Becky G
Multiplatinum, award-winning singer, songwriter, actress and activist Becky G was born for the spotlight and her multifaceted career is shaping up to be nothing short of iconic. The 24-year-old global superstar's achievements include three number one hits on the Billboard Latin Airplay Charts, a starring role in "Power Rangers", guest-starring in Fox TV's Emmy-winning "Empire" series, her very own beauty brand Treslúce and Facebook Watch show "Face to Face with Becky G". She has toured alongside Katy Perry, Demi Lovato, J Balvin, Fifth Harmony and Jason Derulo and has recorded collabs with Daddy Yankee, Maluma, Anitta, Natti Natasha, ZAYN, Bad Bunny, Ozuna, Prince Royce, Pitbull and CNCO, among others. Becky has won the American Music Award for Favorite Latin Female Artist two years in a row (2020 and 2021) and the E! People's Choice Award for The Latin Artist of 2020. She was awarded the Latin AMA for Favorite Female Artist two years in a row (2018 and 2019) and received the Latin AMA for Favorite Urban Song (for "Mayores") in 2018. She was also presented the YouTube Diamond Play Button for surpassing 10 million followers on the platform (she now has over 19M). As the granddaughter of Mexican Immigrants, born and raised in Inglewood, California, Becky is no stranger to hardships and is passionate about her community. She uses her massive platform to speak out against inequality and raise awareness on social issues, including Black Lives Matter and DREAMers, and has made it a point to give back to her community along the way. Becky garnered the Agent of Change award at the 2020 Premios Juventud (Latin Youth Choice Awards) for her activism and using her platform to inspire positive change. In 2019, she accepted the Extraordinary Evolution Award at the 2019 Latin American Music Awards for her success as a young performer who has reached the pinnacle of success in a short period of time. She has also been honored by the Latin Recording Academy as one of the Leading Ladies in Entertainment (2018) and by her home city of Inglewood, California for her contributions to the Hispanic community; she has been recognized as one of Rolling Stone's "18 Teens Shaking Up Pop Culture" and one of Billboard's "21 Under 21". The multitalented star has hosted a number of prestigious award shows throughout the years including the 2019 European Music Awards (MTV) and the Latin GRAMMY Ellas TV special. In 2020, she hosted and produced her "En La Sala" podcast with Amazon Music – live from her living room during the lockdown. With every episode, Becky donated $10K to a charity of her choice, and spoke to high-profile guests from Vice President-elect Kamala Harris about politics to reggaetón star J Balvin about mental health. She recently premiered her very own Facebook watch show "Face to Face with Becky G" and her first interview was with Demi Lovato. After having released successful makeup collections for the Colourpop brand; Becky G recently launched her very own beauty brand, Treslúce. Treslúce Beauty creates, celebrates and supports Latinx heritage and culture, with high-performance, conscious, vegan-friendly formulations that deliver high impact artistry. Treslúce is inspired by Becky's Mexican heritage and seeks to celebrate all Latinx cultures.Becky is currently a brand ambassador for Xfinity Comcast and Michelob Ultra Pure Gold. Her debut album Mala Santa was released in October 2019 and has been certified 8X Platinum in the United States, Platinum in Spain and Gold in Mexico. Click HERE to stream or download the album. 
About Karol G
Internationally recognized as the most prominent female artist of the moment, Karol G has become not only a pop culture icon but also an important and influential powerhouse in Latin music globally. She has collaborated with notable artists like Anuel, Bad Bunny, J Balvin, Luis Fonsi, Nicki Minaj, Nicky Jam, Ozuna, Quavo, The Jonas Brothers and many more. She is the singer-songwriter of Latin music's biggest hits, including "Tusa" with Nicki Minaj, which became the #1 Latin song of 2020, after staying at the helm of all global charts. Karol G is the winner of a Latin GRAMMY and a multitude of other awards, including 50 Diamond certifications from the RIAA in the United States. With so many indispensable achievements, the superstar has made a seamless transition into international markets, breaking language barriers and dismantling stereotypes. Closing 2020, she was proclaimed the #1 Latin artist in the world for the second year in a row by Billboard. Karol G is one of the top-selling female artists, with more than 20 billion streams globally and more than 80 million fans across social networks. Further asserting herself as an international powerhouse, her most recent album, "KG0516" made history with the biggest debut for a Spanish album by a Latin female artist. The album seized the #1 spot on Spotify's "Top Global Album Debuts," Apple Music's "Top Latin Albums" and Billboard's "Top Latin Albums." Becoming the best performing album in Spanish by a Latin female act, "KG0516" closed its first week of release with more than 24 thousand units sold, and currently has more than 11 billion combined audio and video streams across digital music platforms.
 Sigue a Becky G en // Follow Becky G on: