ANDY RIVERA presenta "LA OFICIAL" (REMIX) junto a ZION & LENNOX
MIAMI (12 de agosto de 2020) – Andy Rivera, joven artista colombiano que se destaca entre los más importantes y vigentes de la escena urbana mundial actual, une fuerzas con dos leyendas musicales para presentar el remix de su tema "La Oficial".
Esta nueva entrega de Andy llega tras el éxito arrasador de "Qué Rico Repetirlo", sencillo que ya cuenta con más de 15 millones de streams en plataformas, y que continúa los pasos del Certificado Platino, "Alguien Me Gusta".
En épocas de pandemia, Rivera no deja de sorprendernos con lanzamientos enérgicos que hacen añorar la fiesta, pero que también nos traen el lado emotivo y romántico del género urbano.
"La Oficial" Remix, donde se mezclan ritmos urbanos y melodías alegres, cuentan con la firma de artistas de la talla de ZION Y LENNOX, logrando la canción ideal para bailar y dedicar a la persona especial.
Esta canción marca un paso importante en la carrera de Rivera para quien esta colaboración "es un sueño cumplido" que hace junto a un dúo al que confiesa tenerle gran admiración.
En su versión original, el tema tuvo un auge al que Andy le atribuye el desarrollo de este remix. Varios artistas del género se interesaron en el mismo, lo que supuso un gran paso en la evolución del artista que encontró en el dúo conformado por Zion & Lennox el complemento perfecto para esta versión. Fue así como durante un encuentro en Bogotá entre Zion y Andy Rivera, junto a Maya, productor de Rivera, donde la magia sucedió y este sencillo fue una realidad. Lennox grabó sus partes en Puerto Rico y para el video Zion viajó a Medellín.
La nueva versión ya se encuentra disponible en todas las plataformas musicales, así como anteriores lanzamientos de Andy Rivera como "Alguien me gusta", "Qué le pasa a mi ex" y "Préstamela a mí".
---
ANDY RIVERA Presents "LA OFICIAL" (REMIX) Featuring ZION & LENNOX
MIAMI (August 12, 2020) – One of the most prominent Colombian artists in the urban music world is without a doubt Andy Rivera, who joined forces with two of the most important names in the latin music industry to present the highly anticipated remix of his hit single "La Oficial".
This new release comes after the huge success of "Qué Rico Repetirlo", counting with more than 15 million streams and Platinum Certified single in Colombia, "Alguien Me Gusta".
Rivera continues to surprise us with powerful releases that make us long for the party during times of quarantine but also carry the romantic and emotional side of the urban music genre. "La Oficial" Remix, dances between urban rhythms and happy melodies while it features reggaeton legends: ZION & LENNOX. This collaboration is a big step in the evolution of the Pereira-born artist, who found in Zion & Lennox the perfect complement to the song.
For Rivera, this collaboration is such an important highlight in his career and describes it as a "dream come true", as he confesses to admire the duo deeply. The magic happened during an encounter between Zion and Andy Rivera in Bogotá, along with Rivera's producer "Maya" Lennox layed down his tracks in Puerto Rico and Zion flew to Medellín for the video shoot.
"La Oficial" Remix is now available on all music platforms, as well as his previously released hits: "Alguien me gusta", "Qué le pasa a mi ex" and "Préstamela a mí".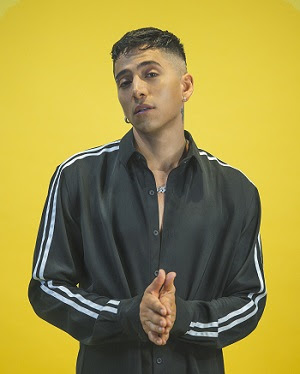 Sigue a Andy Rivera en / Follow Andy Rivera on:
www.instagram.com/andyrivera/?hl=es-la
www.facebook.com/andyriveramusic/
www.twitter.com/AndyRivera_?ref