Aclamado por sus éxitos en el género urbano, el artista revelación puertorriqueño RAUW ALEJANDRO rompe todos los esquemas con "TODO DE TI", un irresistible sencillo para el verano
MIAMI (20 de mayo de 2021) – Los grandes artistas no conocen límites ni tienen miedo de experimentar. Disfrutar el éxito dentro de un género en particular no los inhibe. Cuando el talento es natural, todos los estilos son buenos para componer melodías pegajosas.
Con sólo 28 años de edad, la estrella revelación puertorriqueña Rauw Alejandro se prepara para sorprender y deleitar a sus millones de fanáticos con "Todo De Ti", un exuberante sencillo que se aleja momentáneamente del reggaetón y la estética tradicional urbana que lo elevaron a la fama global.
Escúchalo AQUÍ
Un tema que parece diseñado especialmente para convertirse en el himno sensual del verano 2021, "Todo De Ti" es una explosión de pop bailable para paladares exquisitos. Producida por Mr. NaisGai, tiene ecos de James Brown, Bruno Mars y la eterna nostalgia por la exaltación de la década del 80. La canción va de la mano con un atmosférico video dirigido por Marlon Peña. Con la participación del legendario basquetbolista Shaquille O'Neal, el espectacular video demuestra el talento de Rauw para bailar, además de su carisma natural ante las cámaras.
Ver AQUÍ
"Siempre me ha gustado lo diferente, no tengo miedo a experimentar", exclama Rauw con la misma espontaneidad que define a su música. "Mi primer disco, Afrodisíaco, se enfocaba en mis raíces. Pero no me gusta encasillarme ni quedarme en un solo género. Estaba en Puerto Rico y pensé en hacer algo más creativo, un sencillo que fuera perfecto para el verano que se acerca".
Iniciando su carrera en el 2017, Rauw Alejandro se ha convertido rápidamente en figura indispensable de la música latina contemporánea, grabando exitosas colaboraciones con Luis Fonsi, Camilo, Farruko, Selena Gómez y su amigo de la infancia Anuel AA. Un éxito descomunal, Afrodisíaco con casi 4000 millones de reproducciones en las plataformas digitales.
---
Acclaimed For His Global Hits In The Urban Genre,Puerto Rican Star RAUW ALEJANDRO Defies Expectations With
"TODO DE TI,"  An Irresistible Summer Anthem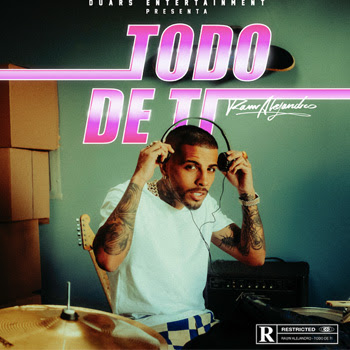 MIAMI (May 20, 2021) – Great artists know no limits. They're not afraid to experiment. Enjoying success within the confines of a specific genre will never hold them back. When talent flows freely, all styles are welcome in the art of creating beautiful melodies.
At only 28 years of age, Puerto Rican rising star Rauw Alejandro is ready to surprise and delight his millions of fans with "Todo De Ti," an exuberant single that momentarily sidesteps the reggaetón and urban aesthetic that elevated him to international stardom.
Listen HERE
A song that could easily become this summer's anthem, "Todo De Ti" delivers a sensuous slice of dance-pop for sophisticated palates. Produced by Mr. NaisGai, it echoes James Brown, Bruno Mars and the pervasive nostalgia of '80s dancefloors. The song is paired up by an atmospheric video directed by helmer Marlon Peña, boasting a guest appearance by basketball legend Shaquille O'Neal. A video that showcases both Rauw's dancing abilities and his natural charisma.
Watch HERE
"I like things that are different – I am not afraid to try new things" exclaims Rauw with the same spontaneity that defines his music. "My first album, Afrodisíaco, focused on my musical roots. But I would never want to limit myself to a single genre. I was in Puerto Rico and thought of experimenting with some creative sounds, crafting a single that would be perfect for the summer."
Bursting into the music scene in 2017, Rauw Alejandro has rapidly become a key figure in contemporary Latin music, releasing successful collaborations with Luis Fonsi, Camilo, Farruko, Selena Gómez and childhood friend Anuel AA. A massive international success, Afrodisíaco boasts almost 4 billion streams on digital platforms.
Sigue a Rauw Alejandro en // Follow Rauw Alejandro on:
www.instagram.com/rauwalejandro/
www.twitter.com/rauwalejandro/
www.facebook.com/rauwalejandro/