ABRAHAM MATEO Se Une A VIZE X SOFÍA MARTÍN Y Presenta "YO POR TI"
¡Escúchalo AQUÍ!
MIAMI (June 17, 2022) – El artista, compositor y productor español Abraham Mateo se une a VIZE y Sofía Martín para lanzar un nuevo éxito de baile veraniego que fusiona el mundo de la música dance con el house y los sonidos latinos. El nuevo tema llamado "Yo Por Ti" es una canción de amor sensual y pecaminosa, que es perfecta para esos calurosos días de verano en la playa o las noches de discoteca bajo el cielo despejado. Con unos versos impecables y una letra chispeante, los intérpretes desprenden una química incomparable que hace que la canción sea única.
El videoclip de "Yo Por Ti" se rodó a finales de mayo en la región de Cádiz, al sur de España, en zonas de playa tan emblemáticas como Chiclana de la Frontera o Zahara de Los Atunes. El propio Abraham Mateo es originario de la región, lo que hace que el rodaje de este vídeo musical sea muy especial. Míralo AQUÍ.
Refiriéndose a la colaboración, Johannes, de VIZE, dice: "He tocado la canción varias veces durante mis sets de DJ en las últimas semanas y el público la cantaba enseguida. Es una sensación superespecial para una canción inédita como esta. Para nosotros, es algo muy emocionante lanzar un tema en español porque hace tiempo que queríamos hacerlo".
Sofía Martin añade: "'Yo Por Ti'" reúne lo mejor de dos mundos y, por lo tanto, es probablemente la mejor descripción de lo que soy también como artista. La canción es una combinación entre la producción de electro pop y dance pop alemana y una letra en español, que añade unas influyentes capas de géneros como el pop latino, el reggaeton y la música electrónica latina. El resultado es una canción que muestra la variedad en su máxima expresión, y me encantaría dedicársela no solo a mis propias raíces, sino también a la diversidad y al colorido general de este mundo, al sentimiento de libertad, conexión y simpleza".
Como artista con más de 10 años de experiencia, Abraham Mateo continúa labrándose un nombre. Actualmente está trabajando en su próximo álbum de estudio que, sin duda, mostrará su versatilidad y variedad como artista. Este nuevo tema le sigue los pasos a su reciente sencillo "Quiero Decirte" junto a Ana Mena.
Acerca de Abraham Mateo
Abraham Mateo es la mayor estrella joven de España de los últimos años. Nacido el 25 de agosto de 1998, ya lleva 14 años actuando. Sus éxitos recientes como "Me Vuelvo Loco" con la reconocida boy band CNCO y "¿Qué Ha Pasao'?" con Sofía Reyes, demuestran su amplia gama de estilos musicales y su hermosa gama vocal y tonos. Nacido en San Fernando, Cádiz, España, compone y produce no sólo para sí mismo sino también para otros A-listers como Ivy Queen, Gente de Zona, Belinda, Samo, Juan Magan y Lérica. El primer reconocimiento internacional de Abraham llegó cuando tenía 14 años, cuando fue nominado en la categoría de Mejor Artista Nuevo para los Premios Juventud de Univisión en 2013. El mismo año, su canción "Señorita" pasó casi un año en el Top 50 de España. Su vídeo musical fue nombrado el más visto en España por YouTube. Sin embargo, incluso a esa temprana edad ya era un profesional experimentado. Con tan solo 9 años, fue galardonado con el Premio Revelación en el concurso nacional de música para niños de España. Desde entonces se ha embarcado en cuatro grandes giras que comprenden más de 120 conciertos en países como España, Portugal, México, Argentina, Chile y Perú, logrando entradas agotadas en múltiples ocasiones. Las influencias musicales de Abraham incluyen pop, reggaetón, R&B e instrumentación tradicional española, una amalgama que hace que su música sea reconocible al instante. Entrando en la década de 2020 con grandes planes, Abraham está preparando su próximo álbum de estudio con Sony Music Latin.
Acerca de VIZE
En los últimos tres años, el dúo de EDM VIZE («Vi» por Vitali y «Ze»por Zestovskih) ha tenido un éxito sin precedentes en Alemania y en toda Europa: VIZE cuenta con más de 1500 millones de reproducciones en línea, 1.3 millones de discos vendidos, más de 20 discos de oro y platino en ocho países, además de más de 40 singles y remixes publicados para y con gente como Felix Jaehn, Sam Feldt, Afrojack, Leony, Dimitri Vegas & Like Mike, Papa Roach, Capital Bra, Mark Forster, Alan Walker y Tokio Hotel. El dúo, formado por el productor Vitali Zestovskih y el DJ Johannes Vimalavong, también se ha labrado en poco tiempo una reputación como acto de gira que ha realizado ya conciertos, espectáculos y festivales en Asia, el Reino Unido y toda Europa. Durante el verano de 2022, tocarán en festivales como Tomorrowland, Lollapalooza, Parookaville y otros.
Acerca de Sofía Martín
Sofía Martín es una cantautora trilingüe nacida en Alemania y criada en España. Actualmente reside en Berlín. Su educación multicultural tuvo una gran influencia en su música y contribuyó a su amor por los diferentes estilos musicales. Desde muy joven, creciendo en Alicante (su ciudad natal), Sofía empezó a escribir canciones en tres idiomas. La música de Sofía está muy influenciada por una mezcla de ritmos latinoamericanos contemporáneos y sonidos electrónicos. Tiene una presencia escénica encantadora y es capaz de encapsular sus irresistibles melodías creando una atmósfera alegre para cantar y bailar. Sus recientes lanzamientos «Tóxica», «Adrenalina» y «Vamos A Bailar» la presentan como una nueva promesa en el género dance y latin dance. Sus canciones han sido reproducidas en todo el mundo unas 10 millones de veces hasta la fecha.
---
ABRAHAM MATEO Joins VIZE x SOFÍA MARTÍN To Present New Single  "YO POR TI"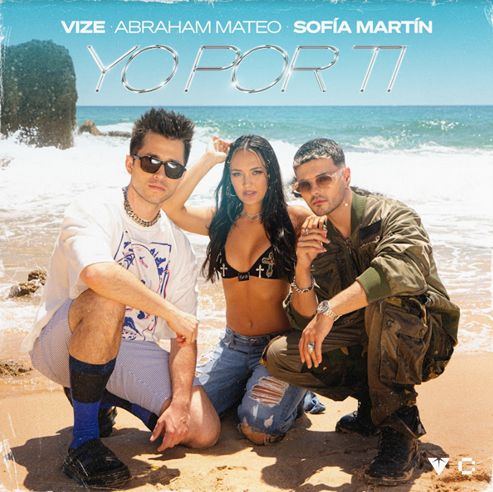 Listen HERE!
MIAMI (June 17, 2022) – Spanish artist, composer and producer Abraham Mateo joins VIZE and Sofía Martín to release a new summer hit that brings together the worlds of Dance and House Music with Latin sounds. The new single called "Yo Por Ti" is a sultry and sinful love song, perfect for those sweaty summer days at the beach or club nights under clear skies. With impeccable verse lines and sparking lyrics the two singers unfold a chemistry that is incomparable and makes the song so unique.
The music video for "Yo Por Ti" was shot in the region of Cádiz, Southern Spain, at iconic beaches like Chiclana de la Frontera and Zahara de Los Atunes. Abraham Mateo himself is originally from the region making this music video shoot extra special. Watch HERE.
"I played the song several times during my DJ sets in the past weeks and the crowds were singing along to it right away. That is a super special feeling for an unreleased song. It's a really exciting thing for us to release a Spanish-language track because we have been wanting to do this for some time now" says Johannes of VIZE about the collaboration.
"'Yo Por Ti' brings together the best of two worlds and is therefore probably the best description of who I am as an artist, too. The song is a combination between German Electro-/Dancepop production and Spanish lyrics, adding influence from the genres Latin Pop, Reggaeton and Electro Latin Music. The result is a song that shows variety at its best and I would love dedicate it not only to my own roots, but also to general diversity and colourfulness in this world, the feeling of freedom, connectedness and ease" Sofía Martin adds.
As an artist with a career spanning over 10 years, Abraham Mateo is continuing to make a name for himself. He is currently working on his next studio album which will undoubtedly show his versatility and range as an artist. This single follows his recent hit "Quiero Decirte" alongside Ana Mena.
About Abraham Mateo
Abraham Mateo is Spain's biggest young breakout star of recent years. Born August 25, 1998, he has already been performing for 14 years. His recent hits such as "Me Vuelvo Loco" with the renowned boy band CNCO and "¿Qué Ha Pasado? with Sofia Reyes, demonstrate his wide range of musical styles and beautiful vocal range and tones. Born in San Fernando, Cádiz, Spain, he composes and produces not only for himself but also for other A-listers such as Ivy Queen, Gente de Zona, Belinda, Samo, Juan Magan and Lérica. Abraham's first international recognition came when he was 14 years old, when he was nominated in the Best New Artist category for Univisión's Premios Juventud (Youth Awards) in 2013. The same year, his song "Señorita" spent nearly a year on Spain's Top 50 singles chart. Its music video was named the most watched in Spain by YouTube. However, even at that young age he was already a seasoned pro. When he was just 9 years old, he was awarded the Revelation Prize at Spain's national music contest for kids. He has since gone on to embark on four major tours comprising over 120 concerts in such countries as Spain, Portugal, Mexico, Argentina, Chile and Peru, achieving sellouts on multiple occasions. Abraham's musical influences include pop, reggaeton, R&B and traditional Spanish instrumentation, an amalgam that makes his music instantly recognizable. Entering the 2020s with big plans, Abraham is preparing his next studio album with Sony Music Latin.
About VIZE
Within the last three years, EDM duo VIZE ("Vi" for Vitali and "Ze" for Zestovskih) have enjoyed unprecedented success in Germany and throughout Europe: VIZE has more than 1.5 billion streams and 1.3 million records sold, more than 20 gold and platinum awards in eight countries, plus over 40 released singles and remixes for and with the likes of Felix Jaehn, Sam Feldt, Afrojack, Leony, Dimitri Vegas & Like Mike, Papa Roach, Capital Bra, Mark Forster, Alan Walker and Tokio Hotel. The duo, consisting of producer Vitali Zestovskih and DJ Johannes Vimalavong, have also built up a reputation as a touring act within a very short time, having played gigs, shows and festivals in Asia, the UK and all over Europe. They will be playing festivals like Tomorrowland, Lollapalooza, Parookaville and more all throughout summer 2022.
About Sofía Martín
Sofía Martín is a trilingual singer-songwriter born in Germany and raised in Spain. She is currently based in Berlin. Her multicultural upbringing had a heavy influence on her music and contributed to her love for different styles of music. From a young age growing up in her hometown Alicante, Sofía began to write songs in three languages. Sofía's music is heavily influenced by a mix of contemporary Latin American rhythms and electronic beats. She has a charming stage presence and is able to encapsulate her irresistible melodies, creating an upbeat atmosphere to sing and dance along to. Her recent release "Tóxica", "Adrenalina" and "Vamos A Bailar" have manifested her as a hyped newcomer in the Dance and Latin Dance genre. Her songs have been streamed close to 10 million times worldwide so far.
Sigue a Abraham Mateo en // Follow Abraham Mateo on:
www.facebook.com/AbrahamMateoOficial
www.instagram.com/abrahammateo/